Kris Jenner's Makeup Artist Reveals Her Best Tricks (& None Involve Kontouring)
Stefanie Keenan/Getty Images for Full Picture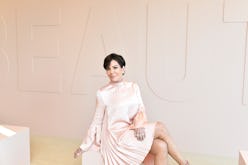 A few years ago, as an entertainment writer in Los Angeles, I found myself working as an editor for the Kardashian-Jenner Official Apps and meeting up with the entire family for dinner at Nobu in Malibu to celebrate the launch. While Kourtney, Kim, Khloé, Kendall, and Kylie were all (of course) stunning IRL, the person I really couldn't take my eyes off was Kris Jenner. In her early sixties, Jenner sparkled a bit more brightly than anyone in the room, with that signature twinkle in her eye and her warm but don't-mess-with-me demeanor. And her skin — her skin! Not only was there was nary a wrinkle in sight on the family matriarch's face, but her skin was glowy and overall healthy-looking. Perhaps my reasons for reaching out to Ash K. Holm, Kris Jenner's makeup artist, were just a tiny bit selfish, then.
As an artist, Holm helps women of every age look absolutely flawless; from Jenner (63), to her daughters Kourtney Kardashian (39) and Kim Kardashian (38), to celebrities like Carmen Electra (46) and Kristin Cavallari (31) — and I jumped at the chance to unearth some of her go-to makeup techniques for enhancing at any age.
Ahead, Holm shares her favorite products, tips, and tricks for lessening fine lines (only if you want to), keeping lips plump, and faking an eye lift with nothing but strategically placed eyeshadow — including the one beauty rule Jenner always breaks.
The Key To Healthy-Looking Skin? Hydrating Makeup
"I find moisturizing products to work well with mature skin," Holm tells The Zoe Report. "Keeping the skin hydrated makes it look plump and youthful." First, she preps her clients with Laura Mercier Hydrating Primer, because it "smoothes out the skin while keeping it moisturized," she says. Next comes foundation: The makeup artist recommends Dior Air Flash Foundation for full coverage, or Nudestix Nudies Tinted Blur for a more lightweight look. "Finally, the NARS Radiant Creamy Concealer is amazing for mature skin," Holm reveals. "It has a soft finish and hydrates the skin."
Her Genius Trick For Keeping Jenner's Skin Glowy, Not Cake-y
Holm admits that setting powder is notoriously tough to pull off when you're dealing with fine lines, since it can settle into creases. "Wrinkles can be tricky because you want to cover them without making the makeup look heavy," she tells us. Luckily, she's figured out the ultimate hack for keeping makeup in place, minus the caking: ditching the powder brush in favor of a damp Beautyblender. "Applying the Laura Mercier Translucent Powder in this way adds moisture and makes the skin look fresh and lightweight," she says.
Is Powder Or Cream Blush Better For Aging Skin?
"When choosing powder or cream blush for your skin, it all comes down to the finish," Holm says. "Cream blush can look like skin and very natural." If you do decide to go the powder route, Holm suggests applying with a light touch to keep skin from looking dull or flat.
The Unexpected Skincare Product She Always Uses
"Lip masks with collagen help to diminish fine lines on lips," the makeup artist advises. Use the Nannette de Gaspe Youth Revealed Mouth Mask before applying lipstick — adding this anti-aging step to your routine is an easy way to make your smile look years younger. As far as Jenner's go-to lip product post-masking session? Kylie Lip Kit, obviously. Holm reveals on Instagram that Jenner is a fan of the neutral shades Todd Kraines (a muted peach) and Queen (a warm yellow nude).
How To Fake An Eye Lift With Shadow
"I do like to play up the eyes sometimes on more mature skin," Holm tells us. "To prevent crow's feet, prep the skin with Bliss Eye Do All Things eye cream. Then apply a thin layer of concealer and push into skin with a damp Beautyblender."
The makeup artist will often "fake an eye lift" on her clients with some strategic shadow application. "Changing the shape of your eyeshadow can change the actual shape of your eye to create an optical illusion," she explains. To make your eyes look open and lifted, apply a light shadow all over the lid and up to the brow bone, then brush a darker shade into the crease, focusing the color on the outer corner. Instead of lining your lower lash line with eyeliner, opt for a soft shadow and "wing" the color past your outer corner (as seen on Kristin Cavallari, below).
The Only Beauty Rule Holm Believes In
There are some old school rules in place when it comes to makeup and mature skin — for instance, that older women should avoid shimmer and heavy eye makeup (both are said to accentuate wrinkles). But Holm doesn't subscribe to any of those limiting beliefs, and often reaches for sparkly, smokey shadows when doing Jenner's makeup. Her one rule? Be bold with eyes and lips, but "when it comes to the skin, less is more."