The 10 Best Lip Liners We Can't Stop Buying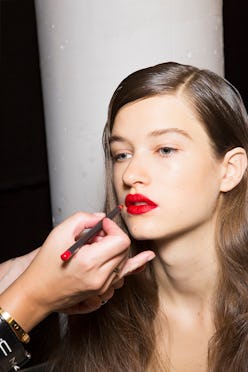 Lip liners are makeup's true unsung heroes. They keep lip color in place and prevent it from fading and feathering, but they don't get the credit. And just like their lipstick counterparts, these pencils come in a multitude of shades with a variety of benefits. In honor of one of our most prized (and least acknowledged) beauty essentials, we've compiled a roundup guaranteed to keep your lips looking amazing all day.
The Best Lip Liners We Can't Stop Buying
This super-creamy formula is pigmented without being too drying. The color range is full of nudes and pinks, so it's perfect for every day.
This drugstore mainstay holds its own against pricier alternatives thanks to its long-wear formula. Even better, there's a built-in sharpener in the lid, so it's great for on-the-go application.
This cult favorite will slide on easily and stay put all day long. It's got a massive shade range so you're guaranteed to find the right hue.
This wonder product is a multi-tasker. Use it as a primer for pesky pimples or on the waterline to brighten. Its clear shade acts as an invisible fence to protect even the brightest pigment from feathering or budging an inch.
Lips looking thin? Turn to Buxom for a fuller-looking pout. This creamy formula doubles as a lip liner and creamy stain, thanks to its handy lip brush.
This pencil is creamy enough to be worn all over the lips without drying, while also staying strong around the lip line.
Use this pencil to fix uneven shape and give your lips more life. The paraben-free formula is smudge- and transfer-proof, so you won't have to worry about it going anywhere after you eat or sip.
This waterproof formula is the MVP of long-lasting lip liners—it can last under water for up to five hours.
Charlotte Tilbury's Lip Cheats do exactly that: fake an amazing pout without looking phony or clown-like.
This velvety matte liner delivers both pigment and longevity. It has over 12 hours of wear time, making it the perfect day-to-night option.