This Might Be The Most Multitasking Skincare Oil Ever
@glowbyamgy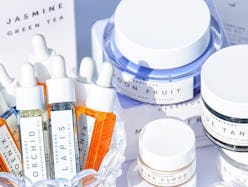 If it seems like increasingly more morning smoothie fixings are showing up in your skincare routine, you're not wrong. Yogurt is a much-beloved base for DIY face masks; kale can be found in cleansers and creams from Youth to the People and Pacifica; and K-beauty empire Glow Recipe recently released an entire line of blueberry-infused products. But the latest superfood to make the jump from the kitchen cabinet to the bathroom cabinet might be the sweetest one yet: Raspberry seed oil is the skincare essential you'll wonder how you ever lived without.
Read more: Why Frankincense Oil Is Like "Liquid Gold" For Your Skin
Small but mighty, cold-pressed raspberry seeds produce an oil that's packed with a veritable laundry list of skin-healthy vitamins and nutrients, including — but not limited to — vitamins A, C, and E; phytosterols; essential fatty acids like linoleic, alpha-linolenic, and oleic acids; and ellagitannins. Which, sure, sounds impressive... what does it all mean?
Read more: How To Apply Face Oil Properly, Because You Definitely Need It In Your Routine
"Raspberry seed oil (RSO) is rich in vitamin E and vitamin A, both of which provide antioxidant protection," Ron Robinson, a cosmetic chemist and founder of BeautyStat.com, tells The Zoe Report. As antioxidants, these vitamins (along with vitamin C) help fight the effects of pollution on the skin. They neutralize free radicals — aka, damage-causing particles produced by things like pesticides and industrial emissions — to keep skin hydrated, plump, and free from fine lines and wrinkles. "The antioxidants in this oil slow collagen degradation as well," Dr. Aanand Geria, a dermatologist with Geria Dermatology, tells The Zoe Report. In other words, RSO is a anti-aging powerhouse.
"Vitamin E should also help to reduce the appearance of scars," Dr. Geria adds. A representative for botanical-based skincare brand Sunday Riley, which features RSO in its Juno Face Oil, tells TZR that raspberry seed oil acts as a carrier oil "to allow for deeper penetration of vitamin E, for powerful protection and long-lasting moisture."
Also on that moisture tip: "Phytosterols, which are found in RSO, help skin stay hydrated by improving skin's ability to retain water," Robinson tells us — which dry winter faces could definitely use right about now.
"Raspberry seed oil is known to be particularly high in linolenic acid, which can help to alleviate symptoms associated with inflammatory conditions such as eczema and psoriasis," Dr. Geria says. The substance, in tandem with alpha-linolenic and oleic acids, also regulates the skin's natural oils. "Raspberry seed oil acts like an adaptogen, bringing all skin types into balance," Nadine Artemis, the founder of Living Libations (whose Red Raspberry Seed Oil is one of the only straight RSO formulas on the market), tells TZR. Basically, both dry skin types and oily skin types can benefit from a dose of this potent skincare ingredient.
Ellagitannins — sometimes called ellagic acids — make this a great choice for acne sufferers, as well. "Ellagitannins, in particular sangulin, exhibit antibacterial activity," Marie Veronique Nadeau, the founder of the Marie Veronique skincare line, tells us via email. In addition to killing acne-causing bacteria, ellagitannins are "super soothing to skin lesions, rashes, rosacea, and eczema," Artemis says.
But perhaps the most interesting quality of raspberry seed oil is its ability to protect skin from the sun naturally. Although this hasn't been studied at length (and you should totally still layer sunscreen over your RSO skincare), some studies have shown that the oil actually absorbs UVB and UVC rays and scatters UVA rays. "One study found the oil to have a sun protection quality equal to that of titanium dioxide and may provide protection similar to SPF 25," Artemis tells us.
You might think that a substance this powerful might have the potential to cause irritation, but that's not the case here. "Raspberry seed oil is good for all skin types, especially those with acne or eczema," Robinson says. While he suggests that those with berry allergies steer clear, Dr. Geria agrees that there are no known risks with RSO.
However, maybe because of its power, raspberry seed oil is rarely the hero of any given skincare formulation. It can usually be found near the end of the ingredient list of natural serums and face oils; and Robinson speculates that's because "it is relatively high in antioxidants, a little may go a long way."
Ahead, 12 ways to add a touch of anti-aging, hydration-boosting, acne-fighting raspberry seed oil to your skincare routine.
Shop Raspberry Seed Oil Skincare