Everything You Need To Know About Natural Beauty
Shutterstock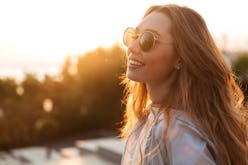 Clean beauty is having a moment right now. Between hearing friends talk about switching to a natural skin-care routine (are fruit enzymes really as good as salicylic acid?) and seeing all the clean brands at your favorite boutique, it's hard to even think about shopping for new beauty products now without considering what's in the formulas you might put on your skin.
But this isn't really new — at all. Natural beauty products have actually been around for ages, and it's only now they're (finally) in the spotlight. That's because we've been learning more and more about the potential harm of certain ingredients and the benefits of other, clean ones. Plus, formulas now offer better performance and are more sophisticated than ever. That's why we've teamed up with bareMinerals (the creators of clean) to make sense of it all. Here's everything to look for, the ingredients you should know, and how to be confident you're putting the safest, most effective formulas on your skin.
It's All About The Ingredients
The best natural beauty formulas are full of powerful botanical ingredients — such as nourishing plant and seed extracts — and free of questionable ingredients like parabens, sulfates, synthetic fragrance, and phthalates. You can also count on them to be non-toxic and cruelty-free. By being full of what's good and free of anything potentially harmful, these products are not only safe, but they offer serious perks, too. Take bareMinerals Gen Nude Radiant Lipstick, for example. The creamy formula hydrates lips with a combination of mango, cocoa, and shea butters instead of the usual petrolatum, which comes from oil refining.
The SPF Matters
If you've always wondered about the difference between chemical and mineral sunscreens, here's the scoop. According to the Environmental Working Group, some chemical sunscreen ingredients, like oxybenzone and avobenzone, are absorbed by the body and may actually mimic hormones, which can have serious consequences. Meanwhile, natural beauty formulas usually contain mineral (or physical) sun blockers, such as titanium dioxide or zinc oxide. These sit on top of skin and reflect UV rays rather than soaking in. You can find them in a number of bareMinerals makeup and skin care products, including concealers and foundations — like the ORIGINAL Loose Powder Foundation SPF 15, which is also full of clean mineral pigments and mica (for a luminous glow). Plus, the formula is free of talc and preservatives.
Check For Hidden Red Flags
What's good: Scanning ingredient lists for potentially harmful ingredients like parabens and phthalates. What's even better: Knowing where they tend to hide. Parabens can appear as long chains with prefixes such as butylparaben, propylparaben, isopropylparaben, and isobutylparaben. And the word "fragrance" on a label can mean pretty much anything, since manufacturers don't have to disclose what, exactly, is in synthetic fragrance. In some cases, that can include phthalates — which is why opting for formulas free of both any kind of paraben and synthetic fragrance is your safest bet.
See Results Without Sacrifice
There used to be a pervasive myth that natural beauty products weren't as effective, but that's certainly no longer the case. Not only are the formulas high-performance, pigmented, and long lasting (bareMinerals BAREPRO Glow Highlighter lasts up to 16 hours), they also rely on powerful botanical ingredients whose benefits are backed by legitimate clinical testing. In fact, this is the very foundation of the bareMinerals clean without compromise promise. Their products — which come in a range of finishes (radiant to matte) and coverage levels (sheer to full) — also help improve skin over time.
Feel Better About Your Beauty
The best part about taking your beauty routine clean? You can ensure that everything you put on your skin is beneficial, safe for your body, and effective — the bareMinerals ORIGINAL Loose Powder Foundation is so pure you can sleep in it! So even after those nights when you may forget a step or two, you can wake up feeling calm and clear.
This post is sponsored by bareMinerals.