Jen Atkin Tells Us Her 4-Step Hair Routine & Hints On Ouai's Next Big Launch
Emma McIntyre/Getty Images for Finery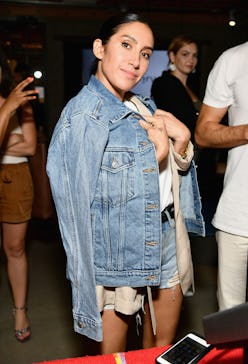 "OMG, your hair is amazing," Jen Atkin, hair icon, says to me within five seconds of sitting down at the Mane University x Dyson Head of the Class event in Los Angeles. It's not a humble brag (well, not completely)... but it speaks to her warmth and openness. I instantly feel like she's my best friend. One that I happen to share with 2.6 million other people who follow her on Instagram.
Let's get the bullet points out of the way. If you're not one of her followers, Atkin is also known as a celebrity stylist; founder and CEO of haircare company OUAI as well as education platform Mane Addicts; and an in-demand collaborator. In this season alone, she's released chic luggage with CalPak, and revolutionary styling tools with Dyson. She's a woman with many roles and one mission: to make good hair days easy, effortless, and accessible to all. So easy, in fact, that she has her own four-step hair routine.
The woman who basically runs the beauty world likely doesn't have much downtime to primp, anyway. Between crowdsourcing ideas for new product launches and teaching women how to do their hair IRL with free Mane University x Dyson pop up classes, Atkin really listens to women and aims to offer them hair care that make sense in today's over-scheduled, social-driven world.
Take her argument for the staying power of effortless waves, for example: "Instead of having a really intense beauty routine, I'd rather sit on the couch and scroll through Instagram," Atkin tells The Zoe Report. Um, same.
In Atkin's eyes, this complete understanding of her customer has contributed to her success more than anything else. "My biggest hurdle is that I never went to business school," she says. "I'm a college dropout. I don't know the first thing about raising money, I don't know the first thing about anything." Instead, she learned to navigate the business world by getting curious and asking a lot of questions. She cites celebrity friends and clients like Jessica Alba and the Kardashian sisters as business besties, and shares that the group is always down to give advice. "Asking questions is just good business," she says.
After over a decade in the industry, Atkin has learned a thing or two about running a company, connecting with customers, and, of course, doing her hair in record time before back-to-back meetings.
Ahead, the stylist shares her daily styling regimen (it takes 20 minutes, tops), why embracing your natural texture is key, and how she broke into the business of beauty.
How To Manage Your Mornings Like A Boss (And Still Get Bendy Waves)
"I think the best thing to do is to really focus on asking your hairstylist for a cut that works with your natural texture, because none of us have time to sit and blow our hair for an hour, and then set it with the curling iron," Atkin tells TZR, noting that she's dedicated to featuring tips from more stylists of color through the Mane Addicts platform (including Ursula Stephen, hair care entrepreneur Vernon François, and texture expert Lacy Redway).
"Then really focus on what you're using in the shower and get products that work with your natural texture. If you have greasy roots and really dry ends, shampoo with two different shampoos — something that's cleansing at the root, and something that's hydrating at the ends," she says.
She also calls the new Dyson Airwrap (a no-heat tool that dries hair and styles it at the same time, depending on the attachments you use) a game-changer for rushed mornings. "I've known about it for three years, and actually went out to London to sit with the engineers. With the Airwrap, not only do you protect your hair from extreme heat damage, but you're drying and styling at the same time. We've never had that option before — it's like a no brainer."
Atkin's Not-So-Secret Weapons
"I just colored my hair so my ends are a little dry, and so I've been using the Airwrap's Firm Smoothing Brush function so that I can literally brush through and dry my hair in, like, six minutes.
"I use OUAI Wave Spray, I also use Dry Shampoo Foam at my roots, because I get greasy — you don't have to dry shampoo on dirty hair, by the way, you can use on dry clean hair for volume and texture. And then I use Matte Pomade from mid-length to ends. Twenty minutes, I'm done."
(And if Jen Atkin, the ultimate multi-hyphenate, has 20 minutes to do her hair morning, we all have 20 minutes to do our hair in the morning.)
How She Broke Into A Male-Dominated Industry
"I know the numbers and the statistics of women that are in business and behind beauty brands, and it's changing — but we still have a lot of work to do. It's all older men who own the major companies. When I started doing hair, Sally Hershberger was the only stylist I knew who was a woman. She really gave me the feeling that I'd be able to make it in that world.
"There should be no competition when it comes to us women in business. We have to support one another because really, we have to really shatter those glass ceilings. I don't think any woman would be annoyed by another woman asking for her help."
Mentors Matter
Atkin credits finding a mentor in Sonia Kashuk as one of the keys to her success. Atkin idolized Kashuk (a makeup artist who turned herself into a household name with her affordable-priced line of cosmetics in Target) from afar for years, and asked her publicist to set up a lunch date for the two of them. "I sat down at lunch and just said, 'You're my mentor and I need to ask you questions,'" the stylist reveals. "And she has been somebody who I really give a lot of credit to for helping me in the beginning."
Social Media Isn't Just For Likes
"I feel like everyone has so much opportunity now with social media. Even though you might not have a lot of followers, you can still engage with so many brands and so many people by tagging them, by mentioning them and getting on their radar," she says.
"If I was a person I was just starting out, believe me, I would be hitting up every single influencer and every single photographer and every single makeup artist. I'd say, 'Let's collaborate, let's do something, I'm willing to work for free.'"
Obviously, it requires a level of privilege to be able to work for free — but Atkin actually hired one of her social media strategists via Instagram DM, so there's hope for landing a paying gig with this social media strategy, too. "Reach out to people you admire and really try to assist them," she advises — and be your own biggest fan. "If I were to talk about my friends I would go on and on and on; but women are embarrassed to do that for themselves. To succeed in business, you really have to be your biggest promoter."
OUAI's Surprising Best-Seller
"My e-commerce team just told me two weeks ago that Air Dry Foam is one of our best sellers now. When we were creating it, we did a bunch of crowdsourcing and everyone was like, 'I need an air dry product.' I thought it was going to take some explaining — what does it mean for girls who have wavy hair, or girls who just want to tame frizz and get in and out of the bathroom? — but it flew off the shelves. This is like our big hit."
OUAI's New Launches Will Be...
"I can say that we had a huge success with Scalp & Body Scrub and Rose Hair & Body Oil," Atkin tells TZR. "So look forward to similar dual action products."