You Can Get Celebs' Glowing Emmy Awards Skin With This $190 Product
Frazer Harrison/Getty Images Entertainment/Getty Images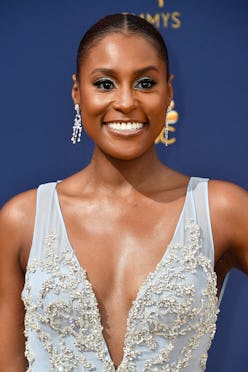 It's honestly mind-boggling how glowing celebrities are able to get their skin for awards shows — their faces often rival their outfits in shine. But while it probably seems like it could cost hundreds or even thousands of dollars to prep for such a big event, the truth is that sometimes, even the stars turn to affordable products to get their glow. Case in point: the $190 product that helped give Issa Rae her stunning beauty look for the 2018 Emmy Awards. Sure, that's not exactly pocket change, but its cost pales in comparison to some of the facials and treatments some celebs get before awards shows.
The DERMAFLASH 2.0 LUXE is an at-home dermaplaning device designed to remove dead skin cells, built-up debris, and peach fuzz from your face to create a smoother canvas for makeup. It's become a popular device as of late, so it's no surprise that the stars and their makeup artists are turning to it along with the rest of the beauty world.
"I prepped Issa's skin with the DERMAFLASH 2.0 LUXE for the Emmys because her skin is the centerpiece of her beauty," said Rae's makeup artist in a press email. "The brightness and glow after we Flashed her was stunning!"
It's not just Rae that reaped the benefits of this device for the 2018 Emmy Awards, either. In fact, Taraji P. Henson's makeup artist Ashunta Sheriff swears by the product as well.
"Before makeup you should always Flash," said Sheriff in a press email. "DERMAFLASH 2.0 LUXE with its new ergonomic grip and style makes it super easy to pack and have on hand for major events. [It] removes the dead layer of skin including peach fuzz to leave behind silk baby smooth skin which only makes makeup glow that much more!"
Looking to recreate Issa Rae's glowing skin yourself? Good news: Experimenting with the DERMAFLASH 2.0 LUXE won't require a professional glam squad. Instead, you can use the skin-softening tool at home with three easy steps.
Before getting to work, the brand recommends prepping your complexion with a dollop of PREFLASH, a lightweight, creamy cleanser that wipes skin free of any makeup or residue. Work a small amount of the formula across damp skin, rinsing well and patting dry.
Next comes the fun part: Using the DERMAFLASH 2.0 LUXE for your dewiest skin yet. Beginning in front of your ear (think: right at the high-point of your cheekbones), hold your skin taught and glide the tool across your face using gentle strokes. Keep in mind that you'll want to avoid your skin's most sensitive areas, including your lips, nose, and eyelids.
After you've zapped to your heart's content, massage a small amount of POSTFLASH (a hydrating moisturizer that's spiked with camellia sinensis leaf extract) to soothe and soften your skin with ease. Pro-tip: Make sure you dispose the single-use tip of the device before using it again (just press the tool's eject button and point it towards a trash can).
Now that you're ready to use the tool like a pro, make sure to shop the DERMAFLASH 2.0 LUXE before it sells out — your glowing, Issa Rae-worthy complexion will thank you.