This Crowd Favorite Natural Mascara Is 40 Percent Off Right Now In Credo Beauty's Sale
ImaxTree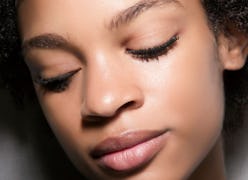 Whether you're a clean beauty enthusiast or just learning about the benefits of naturally-derived skin care and makeup, you've likely heard of Credo. The trusted clean beauty retailer is known for selling good-for-you products that work, and right now its sale section is packed with goodies — including one of the best natural mascaras from Ilia, a beauty brand with high reviews and top-selling products that consistently sell out on Credo's site.
Regardless of how well-versed you are in the world of clean beauty, it's a concept worth exploring – and what better way to do so than by browsing a big sale? One glance at the site's price-reduced page and it's clear that there's a cult-fave product for just about every step in your routine, from skin care and makeup to haircare and body care, all at 40 percent off their starting prices.
Many of the bestselling beauty items have already sold out, like the $9.60 Kari Gran Lip Whip Peppermint Tinted Balm (down from it's original price of $16) and the $27 Dr. Alkaitis Organic Soothing Gel (initially $45). Both products are also five-star rated on the site.
Plenty of popular finds are still in stock, however, like the 40-percent-off Ilia Mascara for $15.60. The clean mascara comes in four different shades ranging from black to copper, and promises to create naturally full-looking lashes. Fair warning: Ilia's mascaras consistently sell out, so this one will no doubt be gone quickly. A top-rated Axiology Lipstick is also included in the sale, down to $18 from its initial $30. The lip color comes in twelve bold shades and is formulated with just ten ingredients.
When shopping for clean beauty products, you want to feel confident that the items you buy are actually safe for your body (not to mention safe for the planet). That's the idea behind Credo, which backs all of its goods with the Credo Clean Standard. Thanks to the brand's rigorous screening process, you can be sure that whatever you buy will be free of harsh chemicals, harmful preservatives, animal byproducts, and more from its dirty list.
During the sale, keep an eye out for other sure-to-sell-out items, like a wide assortment of makeup safe for sensitive skin from Studio 78 Paris, and a variety of essential oils from Lake & Skye. Shop several of the clean beauty essentials below, and click over to Credo's site for even more.