These Professional Organizing Tips Transformed My Beauty Cabinet
Compliments of NEAT Method.
Shutterstock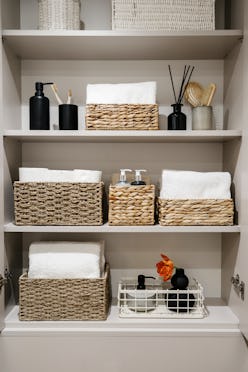 We may receive a portion of sales if you purchase a product through a link in this article.
"Once I see products on my kitchen table and in my bedroom I know it's time to clean," I said to a fellow beauty editor friend of mine while she nodded her head in agreement. Tasked to educate our readers on the latest and greatest launches, formulation updates, and emerging brands you should know, we beauty editors are constantly inundated with dewy serums, hydrating moisturizers, leave-in conditioners, exfoliating gel cleansers, caffeinated eye masks, and so much more. As you can imagine, my tiny New York City apartment just doesn't have the space to fit all these shipments in a concise and organized manner — so things wind up being stashed haphazardly in whatever bare corner or spot I can find, making for quite a mess. Which is why I finally bit the bullet and reached out to the professional organizers at NEAT Method to figure out a practical system that can keep my incoming beauty products organized and out of the way.
When my home is not overwhelmed with work packages, I actually love my living space and the instant peace and calm it imparts upon entry — hence, my desperation to preserve my little sanctuary. Within minutes of meeting NEAT Method owner Louisa Roberts and her team, I understood that even the most beautiful and pristine spaces can be polluted with clutter. In that initial conversation, Roberts helped me strategize a streamlined plan for housing all my beauty products — both the things I'm currently testing for work and the items I personally use regularly. And as it happens, the six tips they gave me aren't just applicable for beauty closets, but any room or space in the home.
Read on to discover their approach to clutter and the crucial insights I learned from the all-star organizers as they took my beauty collection from disarray to tucked away in eight short hours. (Plus, the products they swear by to help get on top of any home or office disaster.)
Make Sure Your Organization System Is Maintainable
As a general rule of thumb, NEAT Method believes that creating systems you can actually stick to makes all the difference. "This is one of the most common causes for disorganization — individuals creating intricate, overly specific systems that they are not able to maintain" Roberts shares. NEAT Method doesn't have cookie cutter solutions. Instead, they conduct an in-person consultation of your space, inquiring how you would like things to run, what the storage structure currently is, and measurements of the room for efficiency and accuracy to ultimately design to your specific needs and space.
"Organization is centered around having categorized, functional systems," Roberts says. "If these systems are not designed in a way that is compatible with your lifestyle, they become too difficult to keep up with when life gets busy."
Take Inventory Of What You Have
Avoiding product hauls isn't always possible as I test multiple items a month and don't necessarily have the freedom to decline certain things, but the NEAT Method team noted that being able to have more visibility into my beauty closet would make me more aware of what items I have on hand and how long they've been there. This would inform me of what items are expiring and can be disposed of, what items I've already tested and can be donated or placed into my bathroom, and what items can be discarded. The very thought of this elimination system was music to my ears as I looked around at the unorganized bags, boxes, and cubbies where items were stacked and/or shoved out of sight.
To maximize space and manage the influx of beauty mailers I receive weekly, Roberts suggested I purchase another bookshelf in addition to the one already in my office, (ineffectively) housing my entire beauty collection. One would be for the office and store more priority and currently used items, and one would live in my living room for surplus products and items saved for future use. For the latter, we opted for the Wayfair Kanissa Ladder Bookcase that could match my desk. "I didn't expect to expand the office storage into the living room, but our plans have to be flexible in a smaller space," Roberts says. "Vertical shelving is a great solution that doesn't take up too much wall real estate."
Lay Everything Out
In addition to the two overarching tips, NEAT Method has a four-pegged approach to organizing. Going back to taking inventory of what items you have on hand, it's important to take every item out of its current storage to better assess your situation. This made me a bit anxious, seeing all my items splayed out on my floor, but the team assured me that the space must look worse before it looks better. "Our first tip for any organizing project is to de-clutter," says Roberts. "We find that especially with beauty and skin care products, it can be easy to accumulate items that you no longer need — whether it's travel-sized samples or expired products."
Essentially, too much inventory leads to clutter. And when you clear out the duplicates and expired items, you gain back much-needed space.
Categorize & Color Code
My original system had each beauty category on its own shelf in my bookcase. The top shelf was for body products, including lotions, oils, scrubs, serums, and washes. The next shelf had all facial formulas like moisturizers, essences, face creams, cleansers, and serums. The third level was a miscellaneous section, holding candles, vitamins, fragrances, makeup, nail polish, and supplements. My bottom shelf housed hair care like shampoo, conditioner, leave-ins, curl puddings, gels, and sheens. There was truly no order within these levels, and each time I got more mailers the box would land on my floor or get shoved into a larger box to deal with later. Big surprise, I never got to those items and they just kept piling up.
With the help of NEAT Method, we deciding we would have 23 bins or containers for products I'm currently testing, everything from masks and fragrances to beauty gadgets and nail polish. By getting really specific with each category, we ensured that each item would have a home. "Since [you are] always receiving and sampling different products, our system needed to consist of categories that were easy to maintain, as they continue to evolve and change based on [your] work projects," Roberts adds.
My new space redesigned and completely tidy thanks to the NEAT Method.Natsha Marsh
And because visual clutter can cause mental disarray, the team developed a system and sourced storage items that were neutral in color to blend in with my apartment's existing decor and style.
Use Tools That Complement Your Space
Next, the team thoughtfully selected storage units to support the functionality and aesthetic of the system. "In the living room, we chose a darker palette to go with the industrial style wood shelf and black dining table to contain the products," says Roberts. For this, NEAT Method Slate Oxford Bins and Black Grid Baskets were used. "We also wanted a few opaque bins to tuck products into, so the living space didn't feel overwhelmed by colorful products and packaging." Lastly, we added a Revival Crescent Rug underneath the kitchen table to create a clear divide between the living space and beauty stash.
In the end, I was left with a system that was not only easy on the eyes, but easy on my life for the long run. Ahead, shop the organizational products that came to my rescue and saved the day.