My Dark Circles Have Met Their Match In Topicals Faded Under Eye Masks
I look well-rested — even if I'm not.
Courtesy of Simedar Jackson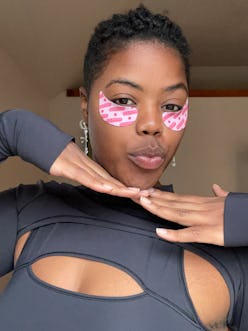 We may receive a portion of sales if you purchase a product through a link in this article.
In our series Trial Run, TZR editors and writers put the buzziest new beauty products to the test and share their honest reviews. This week, beauty writer Simedar Jackson is testing the buzzy Topicals Faded Under Eye Masks.
The seasonal marathon during the month of December until the new year is full of office holiday parties, end-of-year work rushes, and Sagittarius birthday celebrations that all but destroy any semblance of sleep cycle normalcy and routine. No matter how much I attempt to avoid looking exhausted, my under eyes are always a dead giveaway of the struggle.
This year, I showed up to a family event after yet another late-night outing ahead of New Year's Eve and was greeted by an immediate observation from an uncle who told me, "You look like you haven't been to sleep yet." Thank you so much, Uncle Gus.
While most people complain of puffiness following a streak of overindulgence, my under eyes burrow down deeper and darken like a tropical storm, giving me the look of someone who's been resurrected. For this reason, most eye products focused on moisture and de-puffing alone leave something to be desired. Swelling is usually brought under control nicely with caffeine-packed creams and applying cold packs, but darkness is a more difficult beast. Darkness under the eyes can generally be attributed to actual hyperpigmentation or thinning skin that reveals dark veins beneath.
Addressing the problem topically requires a cocktail of hydration that plumps, brighteners that even out abnormal darkness, and strengtheners that build skin's structure. After nearly 30 days of holiday adjacent events and a week spent in the Caribbean sun, I needed all of the help I could get. Coincidentally, I'd been waiting for the right time to test out the new faded under-eye masks from Topicals, and the attention brought to my sleepy disposition was just the sign I was looking for.
Fast Facts
Price: $22
Size: Six pairs of masks per box
Clean/Cruelty-Free: Yes
Best for: Treating dark, sunken under eyes.
Ingredient highlights: Kojic acid, caffeine, adenosine and glutathione
What we like: The subtly cooling and flexible hydrogel material stays put throughout the entire application without any discomfort
What we don't like: Each pair is individually wrapped and single-use
Rating: 5/5
How TZR Keeps Score: 1/5: Making a return; 2/5: Keeping as a backup; 3/5: Finishing to the last drop; 4/5: Recommending to my group texts; 5/5: Already on auto-replenish
The Formula
Named after the brand's cult-favorite dark spot serum, the Faded Brightening Under Eye Masks claim to brighten, hydrate, and de-puff the under-eye area in 15 minutes. The ingredient deck boasts many of the beloved ingredients from the original product including the powerfully brightening kojic acid, tranexamic acid, licorice root, and alpha arbutin. The masks also have the added ingredients of caffeine to de-puff and glycerin to deeply hydrate, as well as glutathione and adenosine. Adenosine is popular in anti-aging products for its demonstrated ability to encourage collagen production and effectively smooth out wrinkles. In this case, collagen production can help to thicken thin under-eye skin and reduce the shadowy effect that makes you look generally run-down. The powerhouse antioxidant glutathione not only has the potential to fade hyperpigmentation but also suggests its own anti-aging benefits that support the foundation of healthy skin and promote seemingly awake under-eyes.
The Packaging
Each box comes with six pairs of individually wrapped masks, making them easy to toss in a makeup bag. The instructions suggest using the masks two or three times a week for the best results, making them good for about a month's worth of eye-lifting and brightening power. Considering each application is single use and individually wrapped, I'd love to see more information about recycling instructions for the outer wrapping, the plastic backing, and the masks themselves.
The shape of these eye masks is also unique. They are slightly larger than similar masks I've used before, and ultimately deliver benefits to a larger surface area of the eyes for more seamless results. My absolute favorite part of the packaging is the iconic pink Faded logo splashed across the masks. You can't help but take a photo!
My Experience & Results
With another dinner looming ahead that very evening, I wasted no time incorporating the masks into my next get-ready-with-me. I decided to use them fresh out of the shower to allow them to work their magic while I got dressed — and to test how well they held up while moving around. I immediately noticed how substantial the hydrogel felt after peeling the mask off of the plastic backing. They secured to my eyes with a Bandaid-like grip (without the painful stickiness) that allowed me to gently pull my eyes upward to secure the tail-end of the mask and attempt to get some lift along with the claimed product benefits. Despite how well they adhered, they didn't feel uncomfortable or obstructing. I could see myself easily getting lost in work while wearing these at my desk.
The masks felt subtly cooling and although they are full of active ingredients, there was no tingling sensation while wearing. After 15 minutes, I removed each mask and immediately noticed a difference. Generally speaking, I really did look less tired. However, I was primarily impressed with the noticeable brightness achieved in such a short period of time. The dark purple color in the corners of my under eyes had softened significantly. The area was visibly less hollow and I also noticed brightness in the shape of the mask itself indicating the product's effectiveness. I needed less concealer than expected and somehow passed for someone who hadn't been out and up late for three nights in a row.
My under eyes before using Faded Under Eye Masks.Courtesy of Simedar Jackson
My under eyes after using Faded Under Eye Masks.
Is It Worth The Hype?
I've previously written about my skepticism around eye creams, so there are very few I reach for in my own skin care collection. Surprisingly, these masks have jumped to my top-two list of favorite eye products within one use. I love that you can see results immediately, which fuels me to stay consistent rather than using them like a novelty product. I'm looking forward to seeing long-term results after I work my way through the entire box. For only $22 — I might just stock up.