Celebrity Nail Pros Say 'Soft Girl Spring' Extends To Your Manicure, Too
The actual most wonderful time of the year.
@OPI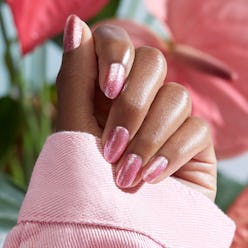 We may receive a portion of sales if you purchase a product through a link in this article.
Regardless of what any temperature-predicting rodents have to say, believe this: spring is nigh. And with it comes the warmth, the flowers, and the overall optimism that's just part and parcel with a fresh, new spring. While transitional dressing can always be a little tricky, tweaking your manicure is one of the easiest and most immediate ways to usher in the season. Spring nail polish colors, in all their happy-go-lucky glory, can help bridge the gap 'til summer and possibly even boost your mood along the way. But while the spring 2023 nail color trends definitely capture the essence of the season, they're still so excitingly unexpected.
This past winter was all about opulent takes on the classic moody colors typically associated with the season. Deep browns and grays got dressed up in "glazed donut"-style chrome finishes, textured charms and beads acted like nail accessories, and red carpets were dominated by vampy oxbloods. This spring's nail trends take a decidedly more relaxed approach to manicure colors, focusing on Mother Nature-inspired shades and finishes that can make anywhere feel sunny and 65 degrees. Below, TZR taps two top nail experts for a firsthand look at what nail colors to expect to see everywhere this spring.
Cocktail-Colored Nails Will Rule
"We are seeing an extension of the great classics that took the nail world by storm recently," shares Nails.INC founder Thea Green, listing glazed donut manis, neon French tips, and pastels as just a few examples. She says to count on spring nail trends being just as fun and playful, with options for maximalists and minimliasts alike. Traditional spring colors like yellow-toned grass green, soft blues and purples, orange-tinted reds, and every shade of pink are back again this year, too. The new class of spring colors, though, are mixing things up. An editorial nail artist and CEO of the Nailing Hollywood agency, Mazz Hanna says to be on the lookout for more muted citrus shades rather than those with full-on brightness. "Think the inside of a lemon, lime, and orange rather than the vibrant outside peel," she explains.
For inspiration, just look to your favorite springtime drinks. The shades of muddled fruit in your cocktail is the perfect jumping-off point for spring's biggest nail color trend.
The Best Products For Cocktail Nails
Glazed Finishes Are Finished
If 2021 was all about the French manicure resurgence, 2022 was absolutely dedicated to glazed nails. Created by nail artist Zola Ganzorigt and popularized by her client Hailey Bieber, the gauzy, shimmery finish was everywhere last year — but it might stay in last year.
Hanna theorizes that the trend is losing steam, but could be replaced by similarly-interesting finishes. "I feel like this spring we'll be seeing a lot more metallic and pearlized versions of the more vibrant shades of last spring." For example, she explains, if a classic pastel purple was popular last year, the spring 2023 version would be a pearlized, "unicorn-esque" version of the same shade. "Last year we saw more pigmented pastels but this year everything feels a bit softer."
The Best Products For Unicorn Nails
Nude Nails Get An Upgrade
As Green points out, there's usually a synchronicity between fashion on the runway and nail trends as a whole — and while this year is similar, she says, it's about pushing boundaries. "We are seeing a lot resurface from the Y2K era, bringing about the blue and neon pink hues, but also moving with the bare-face movement." In other words, she says, "the no manicure-manicure is here to stay."
Originally created and coined by nail artist Tom Bachik for his client Jennifer Lopez, the emerging "lip gloss nails" trend perfectly exemplifies Green's notion of barefaced manicures. By focusing on neat edges, clean cuticles, and just enough color and shine, the style looks especially shiny and even juicy, not unlike the way actual lip gloss works.
To get in on the spring vibes a little early, shop all the trending shades now.
The Best Products For Lip Gloss Nails