I Tried This $1,900 LED Mask For Brighter & Tighter Skin
Spoiler alert: I totally get the hype.
Natasha Marsh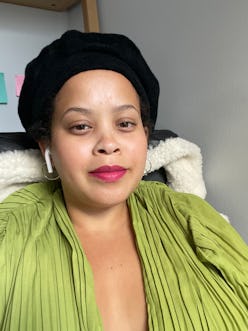 We may receive a portion of sales if you purchase a product through a link in this article.
In our series Trial Run, TZR editors and writers put the buzziest new beauty products to the test and share their honest reviews. This week, beauty writer Natasha Marsh is testing the buzzy Shani Darden by Déesse PRO LED Light Mask.
Shoppers remorse, that all-too familiar deep regret after purchasing an unnecessary item, is a real thing. I feel it every time I spend more than $300 on myself, regardless of how long I've been pining over a specific item. I go back and forth in my mind, wondering if the product or service was an actual need or a want and whether or not I should keep it. Which is why when I heard about Shani Darden's buzzy (and fairly new) PRO LED Light Mask — retailing for a staggering $1,900 — I gasped. Could I stomach an item that costs nearly as much as my rent in the name of glowing skin? And, could this miracle mask really be so much more beneficial than a regular spa facial or more affordable competitor product?
For context, LED light therapy devices are not new. This beauty technology has long been used in professional and at-home tools for its anti-inflammatory, anti-aging, and acne-fighting benefits via blue, red, green, and yellow light functionalities (although not always all together). However, unlike other LED masks on the market, Darden's guarantees next-level glow and firmer and clearer skin in just six weeks, with it's 237 high output LED lights — the highest grade on the market right now.
Intrigued at the price and Darden's shining industry reputation (Emily Ratajkowski, Rosie Huntington-Whiteley, and Jessica Alba are all fans), I reached out to the brand to test the product myself for a few weeks. It's recommended to use the mask four times a week, so I set out on my first at-home LED light mask journey to see if the product was really worth the hype, and more importantly, the price. Ahead, my thoughts on the tool, the benefits, and why I am now an ardent fan of the luxury product.
Fast Facts:
Price: $1,900
Clean/Cruelty Free: Yes
Best For: All skin types
Benefits: Acne, hyperpigmentation, dullness
What we like: Multiple light frequencies
What we don't like: 4x a week usage
Your Rating: 4.3/5
My Minimalist Skin Care Routine
I've never been a huge fan of getting ready. The entire process of taking a shower, blowdrying my hair, cleansing my face, putting on makeup, and then getting dressed seems exhausting and tedious. Therefore, apart from weddings or special occasions, I stick to a rather minimalist routine when it comes to skin care — indulging in a gentle cleanser, moisturizer, vitamin C, and sunscreen. I credit my lack of breakouts and hyperpigmentation to this low maintenance routine. For this reason, I've never tried out at-home skin devices and LED masks. They've always seemed too expensive and arduous for my simplistic approach to beauty.
The Shani Darden By Déesse PRO LED Light Mask
Launched in May 2022, the LED Light Therapy Mask works with a combination of red, blue, and near infrared wavelengths in 10-minute doses. It also has a neck attachment that will produce quicker results on the neck than a topical routine. As for benefits, within six weeks it claims to improve the appearance of fine lines and wrinkles, skin tone and texture, and reduce mild to moderate acne.
With all the LED devices out there, what really intrigued me about this mask was that it's FDA approved. There are many hurdles and paperwork to go through before getting the FDA stamp-of-approval which made me feel OK about putting this on my face.
My Experience & Results
Admittedly, I was a little worried to apply LED light to my face. Sure, I've been exposed to it in 80% of the professional facials I've had, but doing it by yourself at home, as a non-professional, is a different story. I'm happy to report it was a rather seamless experience. Four times a week, after properly cleansing and moisturizing my skin, I would apply both devices, the neck strap and face attachment, and chilled out for 10 minutes to let the mask work its magic.
And work it did. I was elated to see my dark under-eye circles lighten within the first two weeks (something that's a constant struggle and often takes up to a month to see results with consistent eye cream application) and my sun spots faded significantly, revealing a more even-toned complexion. But the biggest joy I experienced was the lit-from-within glow I now have every day, sans skin care products and layered-on serums and creams. The mask has created a natural glow I typically only get after a really good facial.
As for my neck, apart from sheet masks, I've never worn a device on this part of my body and was worried about side effects. But, as it turns out, this is a true hero product for stubborn "tech neck" lines and wrinkles. And in combination with other creams I'm currently using on the area, I'm starting to see the etched lines disappear the more and more I use it.
Post-mask, I would follow up with a hydrating serum to further lock in the benefits. Darden assured me that four times a week for six weeks is when you see the greatest results and as I start my third week already experiencing the benefits, I can't wait to see what happens with more consistent use.
Is It Worth The Price Tag?
If you are a skin care lover who is always after the latest and greatest products that yield the best benefits, you'd be wise to invest in Shani Darden's PRO LED Light Mask. It not only rids your skin of pesky blackheads and whiteheads but it works to lighten and smooth out skin tone — providing a facial-level glow. And speaking of facials, if you currently treat yourself to professional treatments each month, the cost of this expert-level LED Light Mask could cancel those out in a matter of months, saving you money in the long run.