Yes, You Really Should Refresh Your Lingerie Drawer This Fall
Out with the linen, in with the silks.
@doralarsenlingerie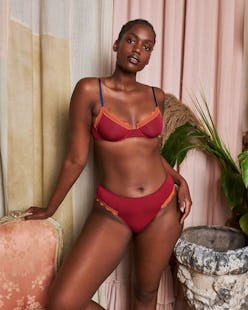 We may receive a portion of sales if you purchase a product through a link in this article.
Those of us with limited close space — hello, my fellow New Yorkers! — know the annual summer-to-fall wardrobe swap all too well. It usually occurs on a rainy Sunday afternoon in September, with a feel-good cleaning Spotify playlist blasting in the background. (This can't just be me.) You carefully inspect each piece of clothing and shoes, deciding whether they need to be tossed in the donations pile or not. There is one section of your closet, however, you may unknowingly neglect during this time: the lingerie drawer. But according to the pros, even your undergarments aren't immune to a seasonal refresh; in fact, you'll benefit from making some swaps.
Jennifer Zuccarini, the founder of cult-favorite lingerie label Fleur du Mal, notes that should you should start your update by tucking away styles you won't be wearing as much in the fall and winter, such as bralettes and undies in soft hues (especially white) and lightweight fabrics (like, say, anything made with linen). As for proper storage, the lingerie enthusiast recommends putting your pieces in a mesh bag. "For most clothing, you don't necessarily want to seal it up in plastic," she explains. "It's better to have a bit of air circulation." Alice Bruniera, the brainchild of Italian underwear brand softandwet, is on the same page as Zuccarini, adding that storing pieces in small pouches is a sound way to avoid pulled threads on your lingerie.
Keep reading for more expert advice on switching your lingerie between warm and cold seasons, as well as a vetted assortment of styles to shop this season.
Key Silhouettes
If summer is all about flimsy little underthings that come as close to going bare as you can, then autumn is a time to be a little more... structured. What to stock up on first? According to Zuccarini, strapless bras. "If I'm traveling, for example, I always pack one because you never know when you'll need it." Besides offering a bit more coverage in a transitional season (whereas, in the depths of August, perhaps you might let things fly free), the silhouette will surely come in handy for upcoming holiday parties. Meanwhile, Georgia Larsen, founder of London-based lingerie brand Dora Larsen, notices many people reaching for underwire styles in the fall, as our mindsets tend to shift toward more polished and pulled-together outfits.
Opaque thigh-high stockings are another autumn favorite of Zuccarini, who says they are a sexy-yet-cozy way to keep warm. "You're not dealing with multiple waistbands; you can even wear them under pants without anyone seeing them." And on a similar note, you may want to invest in a cute pair of high-waisted briefs because Zuccarini, for one, is still noticing the underwear peeking out from low-rise pants trend. This season, try tapping into the look via a logo-adorned style (hint, hint: Miu Miu) or an understated pair — whatever you're more comfortable with.
Core Fabrications
"I'm a big fan of silk because it's thermo regulating, so it keeps you warmer when it's cool out and it keeps you cooler when it's warm out," says Zuccarini. And while many people consider the material too delicate for everyday wear, the founder is more than happy to put that misconception to bed. "It's a durable, beautiful fabric that feels so nice." Zuccarini adds that jersey knit and cashmere — yes, like Katie Holmes' viral Khaite style circa 2019 — are also excellent fall lingerie materials, as they offer warmth and comfort as well.
Standout Trends
In the upcoming months, Zuccarini predicts lingerie in shades like deep indigo, purple, and, of course, red will take center stage. "I think it's going to be a really great season for red, which ebbs and flows; red's not always the most popular [color choice]." Larsen echoes Zuccarini, noting that Dara Larsen's bestselling shades in the fall are deep reds and jewel tones. "They're really picking up again."
Of course, what would a fall lingerie assortment be without a few sheer looks? "It's classic sexy without being overtly sexy, and it just makes you feel really special and quite put together," Larsen says about the material, which is one she sees surge in popularity during the season. What's more, Larsen always associates the colder months with embroidery and lace — two elements that look especially cute when subtly peeking out from under your clothing.
Proper Care
Due to sweat and sunscreen, many people tend to wash their lingerie frequently in the summer. But during the fall, you needn't clean your bra every time you wear it — Zuccarini says after three wears is a good time to throw it in the laundry. She adds, "Every time you wash something, you're breaking it down. And in the fall and winter, you can wash them a little bit less." Zuccarini also suggests throwing your pieces (especially the more delicate ones) into a mesh laundry bag (which protects them from snagging on certain parts of the machine) and then setting the washer to cold water.
The more important rule to follow? Avoid putting your lingerie in the dryer at all costs. "The heat breaks down all the Lycra or elastin in the fabric, and shrinks it too," explains Zuccarini. Here's what to do instead: Allow the piece to air dry over a towel, suggests Bruniera. "Once you've hand washed your lingerie, gently squeeze out water without twisting too hard, which could cause damage to its delicate fibers and alter the garment's shape," she says. "Laying your lingerie on a towel first will help absorb most of the excess water; once that's gone, the towel can be removed and it'll dry quicker."