The Silver Lining To Summer's End Is Embracing These Fall Denim Looks
Say it with me: team high-rise, tapered leg!
@claire_most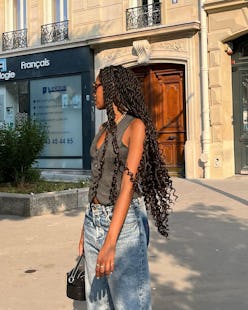 We may receive a portion of sales if you purchase a product through a link in this article.
There's something to be said about flipping your wardrobe come fall. The pieces you haven't worn in months — think a beloved mohair sweater, a sleek leather blazer, or a pair of true blues — now make a front row appearance in your closet, reminding you why you loved them in the first place. But there's also something to be said for switching things up with a few new key buys, especially if said update is fresh take on jeans. This coming fall 2023 season, especially, is full of denim trends worth trying — all of which are sure to revivify your other basics.
On the Fall/Winter 2023 runways, designers continued to embrace popular silhouettes like baggy designs, matching sets, and maxi skirts. For Liane Wiggins, head of womenswear at Matches, her personal favorite styles range from the "elevated balloon leg denim from Alaïa" to "the baggy jeans with skinny silver horsebit hardware from Gucci." Another name to look out for in this space, she says, is Danish designer Cecilie Bahnsen, who debuted her first-ever denim collection for Fall 2023. "The collection featured hand appliquéd detailing on elevated, tonal double denim sets. This was such an exciting development to see," she tells TZR.
Another place to look for inspiration? The celebrity scene. Stars like Hailey Bieber, Rihanna, and Katie Holmes have recently been illustrating how to wear everything from low-slung bottoms to Y2K-inspired denim maxi skirts. And there's no better time to try these silhouettes than in the coming months ahead, as the cooling temperatures will allow for your jean designs to be styled with ease.
"The fall months call for easy layers — for example, you can layer a denim jacket under a wool over coat for additional warmth," advises SLVRLAKE co-founder Louise Edgley. She points to the piece's versatility as a linchpin in chic autumn looks. "The ideal jean should transcend seasons and trends, making them the hardest working item in your rotation." In short? A good pair of jeans (or two) will be your wardrobe MVPs.
Ahead, our fashion experts break down six fall denim trends to know as you start shopping for next season.
Long Denim Skirts
"This fall is going to be another maxi skirt-heavy season for sure," Still Here co-founder and designer Sonia Beyda Mosseri predicts. In the summer, the buzzy item been paired with fitted tanks and sandals, but you can expect to see it teamed with sweet knits and loafers in a few months.
Oversized Jeans
Another trend sticking around for a bit? "We're going to see a lot of baggy jeans," Mosseri predicts. A stark contrast to the days of skinnies (RIP), this looser fit is comfortable, cool, and fun to work into your outfits. Come fall, play with proportions when styling them and pair yours with everything from slim cardigans to cropped jackets.
High Rise & Tapered Leg
The high-rise jean featuring a tapered leg has received a resounding stamp of approval from It-girl denim brands like Toteme, Frame, Tibi, and Khaite. "Their Abigail [style] in particular continues to see strong traction," Wiggins shares. "This shape looks great accessorized with a mule or a heel." Pair it with a chunky knit and outerwear for a cozy outfit.
Matching Sets
Get ready for every brand to lean into an elevated Canadian tuxedo. "Matching sets and suiting [in this area] are themes I am obsessed with and excited to see," says Mosseri. Brands like Toteme, for example, prove how elegant the outfit can be with their boat-neck denim top and matching curved-hem skirt. When the temperatures drop, you can easily throw on a long car coat and thigh-high boots for even more coverage.
Unisex
Broadly speaking, unisex fashion brands have been growing in popularity, but the shift is also quite evident in recent denim trends. Alongside new gender-fluid brands like Tanner Fletcher, names like AG Jeans, Mother, Guess, and Closed have all introduced universally-sized denim within their existing collections.
Low-Rise
The nostalgic (and polarizing) denim trend that just won't quit, low riders are likely going to linger around for another season, according to both Mosseri and Edgley. And if you're on the fence about the general aesthetic, rest assured there are plenty of ways to make it feel elevated. A few suggestions? Skip the whaletail thong and opt for a bodysuit and blazer instead — or simply swap in a long and lean knit for an elongated effect.