The History Of Thongs Is More Intriguing Than You Might Think
A little bit of fabric with a long back story.
Kevin Winter/Getty Images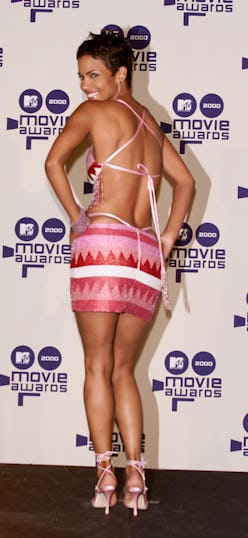 The thong is a paradoxical garment: it is often associated with overt sex and sexuality, but at the same time can be functional and (dare we say) discreet when worn under clothes to prevent those dreaded visible panty lines. These days, most people have a pair — or at least had a pair — of the once-controversial item in their undergarment drawer, be it of the lacy black or stretchy neutral variety. But the teeny-tiny silhouette has followed a long, twisty-turny path to its current ubiquity. Dive a bit deeper into the history of thongs and you'll find they have gone through quite the evolution, particularly in the last three decades.
The thong was first popularized because of — what else? — discussions around women's nudity. During the New York City World's Fair in 1939, showgirls first adopted the look as a way to remain covered, while still showing skin, to get around anti-nudity laws at the time. The thong was wildly popular on the beach in the '60s, expanded to performers wearing the skimpy styles on stage in the '80s (hi Cher!), and emerged as the scandalous-yet-coveted undergarment of the '90s and early '00s (remember how risqué it felt to see or even talk about it with your peers?). Even today, when a celebrity posts a thongkini photo on social media or wears it underneath a dress on the red carpet, the look instantly makes headlines.
Scroll down for more major thong history-making moments and hear from experts on where the intimate item might head in the future.
Kim Kardashian in a thong dress in 2023.Jose Perez/Bauer-Griffin/GC Images
Dua Lipa's exposed thong moment in 2022 on New Year's Eve.@dualipa
The Past
Believe it or not, thongs were initially made for men: the indigenous hunter-gatherer group San Bushmen wore the bottoms as early as 42,000 BCE for both practicality in hunting and for cultural expression. Minoan and Mycenaean men ran around in loincloths as early as 3,100 BCE and Japanese sumo wrestlers donned "mawashi" loincloths for the sport, which dates back to the third century BCE. But, like other items of clothing originally designed for men (see: high heels and handbags), the undies became associated exclusively with women's style in the mid-20th century.
At the 1939 New York World's Fair, Mayor Fiorello La Guardia (who was on a campaign against "filth and lewdness," which included bans on burlesque theaters) prohibited the dancers from performing naked. Showgirls were a common and popular act at world fairs, so to circumvent this rule they wore thongs. This is the first documented appearance of the garment that's female-oriented. On a similar note, Rudi Gernreich, an Austrian American designer who had designed the topless monokini in 1964, "invented" the thong bikini as a response to the LA City Council banning public nudity in 1974.
According to fashion historian Einav Rabinovitch-Fox, the thong became increasingly intertwined with our everyday lives when the silhouette was incorporated into beachwear. "By the '70s, people were used to the bikini, so the showing of skin is acceptable there," she tells TZR. It was also an extension of that decade's pre-AIDS sexual revolution in which women asserted their equality and sexual freedom in various ways, including — obviously — more open ideas about sexual freedom and revealing clothing. It was, Rabinovitch-Fox says, a "moment where we could show off and be happy with our bodies."
By the 1980s, the thong had entered into popular culture, thanks to music and fashion icons adopting it as an edgy, transgressive piece of clothing. Cher famously pioneered the look onstage and in interviews — most memorably when she wore a black thong one-piece in her 1989 video of "If I Could Turn Back Time." Her outfit was so controversial at the time that MTV had to remove it from their prime-time coverage due to viewer and even government outcries.
The Peak
The sensual panty hit its greatest cultural significance in the '90s and early '00s. The public was riveted during President Bill Clinton's 1998 impeachment trial to hear of Monica Lewinski's infamous "thong flash," where she revealed the top straps of her underwear while flirting with Clinton. "In this moment, the thong solidified its reputation of being underwear for the male gaze," says Rabinovitch-Fox.
The look was turning into a symbol of sexiness and, frankly, impropriety. We were really, really obsessed with celebrities' underwear (or lack of) in the 1990s and 2000s. Paris Hilton, who wore a lot of visible thongs, often with Juicy tracksuits, even appeared at the Lloyd Klein Fall/Winter 2001 runway show wearing a white lacy whale tail above her low-rise jeans. Britney Spears officially owned the style during her instantly iconic 2000 VMAs performance featuring (what else?) a bedazzled thong over her glittery bodysuit.
And who can forget Sisqó's 1999 "Thong Song," featuring a graphic music video with many, many examples of thongkinis? Sisqó claims that the song boosted Victoria's Secret thong sales by 80%. "Whether that impressive number is literally true or not, I'm sure [the music video] motivated one to go out and buy a new one," muses fashion forecaster Darian Harvin.
The influence Victoria's Secret had in popularizing the thong as sexy male fantasy underwear cannot be ignored. Fans were obsessed with its popular annual fashion show that featured "Angels" like Gisele Bündchen, Adriana Lima, Tyra Banks, and Alessandra Ambrosio walking down the runway in barely-there bras and skimpy bottoms. (If Tyra wore a lacy thong, well, we 100% wanted one too!) For Fleur du Mal founder Jennifer Zuccarini, who worked at Victoria's Secret as design director from 2008 to 2011, the thong was the most popular-selling silhouette for most of her career.
Spears at the 2000 MTV Video Music Awards.KMazur/WireImage/Getty Images
Hilton at the Lloyd Klein 2001 show.Arnaldo Magnani/Liaison
In the 2010s, the design diminished slightly in popularity with the rise of the granny panty; Zuccarini saw a rise in boy-short and cheeky styles as well. Despite the ascendence of more "modest" panty silhouettes, though, this was also a decade that gave rise to the Kardashians and their va-va-voom standard of beauty. With that came the popularization of the Brazilian Butt Lift (BBL) and an appreciation for a curvier figure in our culture, so skimpy underwear and bikini bottoms still had a place to show off one's assets. "Having a new butt can require new underwear and a reevaluation of your desire to add thongs to your visual wardrobe," Harvin surmises.
The Present
In the late 2010s, the visible thong started reappearing on runways and red carpets as a throwback visual statement. In 2014 at the CFDA Awards, Rihanna stunned the crowd with her Swarovski crystal-embellished Adam Selman dress that revealed the undergarment. Beyoncé showed off her take on the look in her December 2020 British Vogue feature, and who can forget Bella Hadid walking the Versace Spring/Summer 2021 runway in trousers that revealed skimpy strings?
Kendall Jenner attends the 2017 Met Gala.Kevin Mazur/WireImage
Post-pandemic, going outside and wearing fewer clothes — including nudity as a fashion statement, exposed abs, and underwear-as-outerwear — have also surged in popularity. Rabinovitch-Fox argues that, this time around, the thong isn't about attractiveness at all, but more about reclaiming your body while wearing it. She shares that she hears more open discussions about gender and orientation on her campus at Case Western Reserve University. "For young people especially, thongs are not for one particular gender or one particular body," she says. "This trend is not about reclaiming hyper-femininity but more: 'I feel good about my body no matter what it looks like.' It's sexuality, not sex."
Thus, many brands are now designing the undergarment with comfort and wearability in mind (versus a pure display of sultriness for the male gaze). Zuccarini adds, "The number one complaint I hear from people who don't like thongs is that they're uncomfortable." And with the rise of more inclusive underwear and intimates brands comes a better focus on what the piece should actually feel like when you put them on. For Fleur du Mal, many of their thongs use folded edges instead of elastics, so that the band does not dig into your skin. Size-inclusive label Parade, meanwhile, focuses on underwear that won't roll or bunch, and their thongs are both cooling and moisture-wicking.
Queer-founded intimates brand TomboyX aims to design undergarments for bodies all along the gender and size spectrum. Chief Merchant Katrine Fritz says the brand prioritizes silky elastics, soft fabrics, broad frontal coverage, and velvety threads for better, less uncomfortable thongs. Their offerings include a variety of fits, rises, leg openings, and waistband constructions — they even have "tucking" underwear (a thong option will debut in November 2023). The style can be worn both by individuals who want their underwear to act like shapewear and people who are tucking in their genitals; the thong will be made of double-layered polyester that dries quickly and delivers a "soft tuck" to the front of the body via gentle compression, Senior Designer Tani Bland shares.
The Future
According to Bland, one of the fastest-growing trends in intimates will be more nonbinary and gender-neutral designs. She expects this type of dressing will become bolder, too: "Original nonbinary clothing designs and styling such as oversized styles in muted, neutral, or more masculine color tones are no longer the norm." In other words, expect fitted, colorful unisex clothing (including the thongs and underwear categories) to become more popular.
Moreover, Rabinovitch-Fox notes that though the boxer is the hot underwear item right now, thongs will always remain a staple in our wardrobes. "We are living in [fashion] cycles," she says — and wonders, semi-jokingly, whether we'll ever see a granny panty and thong hybrid.
"I think that because of the thong's functional utility, it will always be present, and therefore will always have an opportunity to cycle back into the trend cycle," adds Harvin, noting that this tiny piece of fabric will always remain culturally and sartorially relevant.