Don't Sleep On The Styling Potential Of A Denim Jacket
Here are six genius ways to wear one.
@rocky_barnes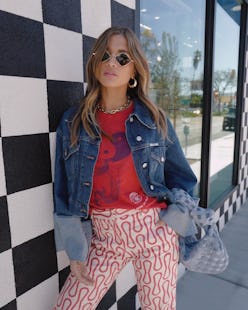 We may receive a portion of sales if you purchase a product through a link in this article.
For as long as I can remember I've kept some sort of denim jacket on heavy rotation, be it tailored and faded (from J.Crew), a slouchy bomber fit (A.P.C. men's), or in a waistband-skimming cut (Mother). My silhouette of choice has shifted over the years, but my love for the style has not. It is, in my opinion, a keep-forever kind of staple one can seamlessly integrate into their wardrobe — regardless of whatever trends are floating in and out of fashion. But the best way to work a jean topper into an outfit? The answer to that changes by the season, and this spring, there's more than a few good solutions to try.
For Mytheresa's VP of Fashion Buying Tiffany Hsu, the Canadian tuxedo look feels particularly of-the-moment. "I love how brands uplifted denim over the past season and a double-denim look can make your outfit seem much more intentional," she says, pointing out Magda Butrym as a go-to brand for her blues. "I would pair a denim jacket that doubles as a top with coordinating jeans to create a full look." Meanwhile, the denim connoisseurs at West Coast-cool brand Frame suggest looking for timeless piece with understated updates. "Subtle but significant details added to classic style make it feel current without looking dated as soon as the season is over," the team tells TZR over email. "Denim jackets are a classic piece for any wardrobe, and thoughtful touches make it feel unique and updated." In other words: tiny, thoughtful tweaks will make a design feel modern, but not so aggressively so that you can't pair it with everything.
Keep scrolling for more jean jacket inspiration for spring, from the pieces worth buying to styling ideas for each.
Ultra-Cropped
Denim on denim has, of course, been done to death — but that doesn't mean there aren't exciting new ways to approach the combination. For a formula that feels especially relevant, start with a long jean skirt and add in a coordinating bra and bolero-length jacket.
Embellished
Pearl and crystal details are such a fun and feminine way to make your workaday jacket more special. Turn the statement piece into a cohesive lewk by adding in equally blingy pants and a playful crochet knit.
As A Shirt
A trim-fit denim jacket can double as a top on cooler days so long as your style it just right. Our best advice? Keep the bottom two or three buttons undone and wear with vintage-y mid-rise jeans.
Matchy-Matchy
When in doubt, just let a ready-made co-ord do the work for you! And should you be interested in baring a little midriff ('tis the season for it), layer in a boxy, belly-button grazing button-front blouse instead a top you tuck in.
Wide Sleeves
Something as simple as the addition of loose, bell-shaped sleeves completely updates the traditional silhouette. So why not pair it with equally unexpected items? For festival season, squiggly print pants and a graphic tee feel so inspired.
Faded Black
Switching up the shade of your denim completely reinvigorates the look. Consider trying moody charcoal — it looks so chic with shades of gray, white, and black.