This Viral Instagram Top Lets You Go Braless Without Baring It All
*Immediately adds to cart.*
@dylanasuarez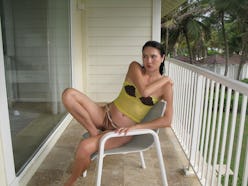 We may receive a portion of sales if you purchase a product through a link in this article.
My bedtime wind-down routine typically goes like this: I read for an hour or so, then aimlessly scroll through Instagram until I can't keep my eyes open. And because nearly half of the accounts I follow are cool-girl brands and well-dressed influencers, there's always an outfit or a piece of clothing that catches my eyes right before I drift off. This week, my latest obsession from the IG feed is Cult Form's sheer tube top, which is going viral on the app right now. Fashion girls such as Maria Bernad, Dylana Lim Suarez, and Fia Hamelijnck have all worn it.
The transparent style features two seashell designs on the chest, which is right in line with 2023's mermaidcore aesthetic. This was precisely the goal for the brand's founder Merve Abedan: "[I wanted to] create a look where the wearer could feel like a mermaid anytime and anywhere," Abedan tells TZR, noting that this item is part of the Istanbul-based brand's larger The Shore of Pearls collection.
While this tube top looks super cute at the beach, you can wear it anywhere to channel your inner Ariel. "We love seeing people style it as streetwear," Abedan says, citing the design's versatility. Indeed, the Cult Form piece moonlights as a playful going-out look, and Bernad's event-ready outfit below is a prime example of how to dress it up. The Parisian creative styled it with a burgundy lace midi skirt, pink sequin bag, and beige kitten heels. Similarly, Hamelijnck recently incorporated the top into her sporty-chic outfit during Copenhagen Fashion Week Spring/Summer 2024.
Take these social media trendsetters' word for it: This popular top can be worn a near-endless amount of ways. Check out five such cute outfit ideas, ahead.
Dive On In
Have one last beach trip planned this summer? If yes, now is the perfect excuse to get your hands on this top. For a day at the shore, take styling inspiration from Suarez, who paired the piece with the label's bronze pearl-embellished swim bottoms. To spruce up your outfit up further, add in dainty gold earrings.
Hit The Streets
If a look appears at CPHFW, you can bet on it surging in popularity . For a day of shows, the Amsterdam-based influencer teamed the summery style with Cult Form's signature '80s-inspired biker tights. A pair of sky-high shoes took the outfit to new heights (literally). Come fall, forgo shorts in favor of stirrup leggings. And if you're still feeling chilly, wear the top over a thin long-sleeve tee.
Cover Up
Understandably, wearing the see-through top solo may feel like a risky move (especially on a particularly windy day, as it might not stay in place). For extra coverage, layer it over a delicate bralette, as Abedan demonstrates above, and then slip on printed pants that add personality to your outfit.
Party Time
Summer party season is coming to a close (sorry, someone had to say it!), so why not pull out all the stops at your next soirée? Wearing the viral sheer style is bound to win you compliments from fellow guests. And if you're worried about the top feeling too beachy, style it with a romantic lace skirt and glam bag.
Poolside Cool
There are two types of people at the pool: the ones who cannon ball right into the water and the ones who prefer to chill by the side (preferably with a glass of wine in hand). Should you identify with the latter, look to Turkish influencer Duygu Özaslan for wardrobe ideas. She styled her top with a silk scarf and pearl necklace — this combination is better suited to people watching than doing the backstroke.