The Spring 2024 Trends At Copenhagen Fashion Week Are Worth Trying Now
Getty/Alena Zakirova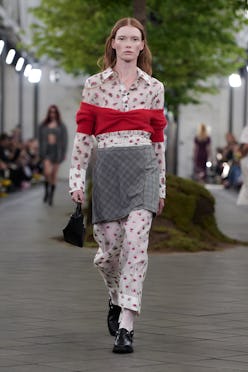 By now, Copenhagen has established itself as a fashion capital to watch. And it's easy to see why: The city's bi-annual shows, and the street style outside of them, are laced with playful "why didn't I think of that?" creativity. (After looking at the showgoer looks this season, this editor ran to her closet to figure out which dress she can wear over jeans — a signature combination for Danish dressers.) The designer collections for Copenhagen Fashion Week Spring/Summer 2024 certainly lived up to this reputation. The runways were packed with fresh trends to try — many of which you can add to your outfit rotation right now.
Take fashion-girl beloved label Stine Goya's preppy polo sweater and pleated leather skirt pairing. While it would make for a simple winter-to-spring formula next year, why wait that long? You can easily wear it when September rolls around as a summer-to-fall transitional look. Across the catwalks, brands — specifically Skall Studio, Gestuz, Munthe — also all offered some version of a button-down shirt and denim situation, providing another foolproof formula to try at this very moment.
Should the aforementioned pieces feel slightly too minimal and neutral for your taste, check out Helmstedt's collection. It was an explosion of psychedelic colors and playful cloud motifs that'll surely inspire you to take a few fashion risks. No matter where your personal style leans, there's a look or two to shake up the way you get dressed.
Saks Potts Matt Jelonek/Getty Images
Helmstedt Matt Jelonek/Getty Images
Some other cool happenings worth mentioning during Copenhagen Fashion Week? Ganni debuted its latest sneaker collab with New Balance (peep the yellow kicks on the catwalk) while Gigi and Bella Hadid's older sister Alana modeled for Saks Potts, wearing the skirt over pants trend. And while the clothes were the draw for guests at Stine Goya, the set decor deserves some praise as well. A series of made-for-Instagram tables where covered with clothes, cutlery, and china on which sat jellied dishes, flowers, and loaves of bread. According to the label in a press release, "this was Goya's take on the idea of homecoming, and to drive home the message she brought along two old friends, [model] Helena Christensen and [designer] Camilla Staerk to walk in the show." (Now that is memorable.)
To keep the inspiring energy and fashion momentum going, study up on the top Spring 2024 trends from Copenhagen Fashion Week ahead.
Goodnight Moon
Skall StudioMatt Jelonek/Getty Images
Henrik VibskovMatt Jelonek/Getty Images
HelmstedtMatt Jelonek/Getty Images
Sleepwear but make it fashun. Across the runways, you may have noticed your favorite designers sneaking in a look or two that paid homage to pajamas. At Skall Studio there was a loose, flowing tunic that had the ease of a nightgown; at Henrik Vibsko, a model wore a yellow printed robe. If you want to wear your PJs out, look to Helmstedt's cloud motif top, which could easily be paired with jeans or a silky satin slip skirt. The Garment's two piece striped set, meanwhile, offers a one-and-done outfit.
Basic Instincts
Stine GoyaAlena Zakirova/WireImage
Baum und Pferdgarten Matt Jelonek/Getty Images
Saks PottsCourtesy of Saks Potts
Before you say "boooring" at button-downs being a trend, hear us out. Brands at Copenhagen Fashion Week showed everyone that this closet staple is one of the most malleable pieces to work with, and the end results were one-of-a-kind. At Stine Goya, the designer gave us a double-layered lavender sequin number while Rikke Baumgarten and Helle Hestehave of Baum und Pferdgarten zeroed in on shirting details. They made the chest pockets and buttoned placket so stark white that they popped against the navy blue stripes. Plus, who could forget that Saks Potts made a button down shirt-inspired bag? This piece is all but sure to go viral once available to shop.
Big Talk
The Royal Danish AcademyCourtesy of The Royal Danish Academy
RemainCourtesy of James Cochrane
If you like your clothes to completely envelope your body, look to labels like The Royal Danish Academy, Stamm, Remain, and Latimmier — they all presented clothing with oversize, exaggerated proportions. Need a new top? Slip into The Royal Danish Academy's gigantic collegiate polo shirt or Remain's turtleneck piece (and complete your outfit with the roomiest blue jeans we've ever seen). And outerwear fanatics: Your transitional wardrobe shouldn't be without Stamm's super size pink leather jacket.
Take Flight
Baum und PferdgartenGetty/Matt Jelonek
GestuzMatt Jelonek/Getty Images
The U.S. Army Aviation Clothing Board initially created the bomber jacket, aka flight jackets, in 1917 to keep WWI pilots warm. Since then, the style has become part of the fashion lexicon, coming and going with the trend cycle. (It also had a moment in street style in the 2010s.) For Spring 2024, the outerwear is officially back en vogue and feels cooler than ever, ranging from preppy leather options and cropped silhouettes to classic black toppers.
Double Duty
Paolina RussoCourtesy of Paolina Russo
Saks Potts Courtesy of Saks Potts
LovechildCourtesy of James Cochrane
In the early 2000s, stars like Ashley Tisdale and Miley Cyrus were wearing skirts over everything, from jeans to leggings. Now while you may want to keep the look buried in the past, Danish designers are proving the combo does have legs in 2023 — especially if the piece is tailored and chic like Lovechild's bottoms. Try choosing a skirt and pants made to match (taking the guesswork out of styling them) or play around with textures like sequins with denim (look at Saks Potts for ideas).
Sensory Experience
A. Roege HoveMatt Jelonek/Getty Images
Rotate Courtesy of James Cochrane
Rolf EkrothMatt Jelonek/Getty Images
Designers were very much focused on incorporating different textures into their Spring 2024 creations. At A. Roege Hove, founder Amalie Røge Hove debuted a hairy scallop-knit dress, and Rolf Ekroth followed a similar train of thought with a rug-inspired top. Guests were in for a treat at Rotate, where designers Thora Valdimars and Jeanette Friis Madsen sent models down the catwalk in tufted tulle underwear and accessories. The outfits provided the ultimate sensory experience.
Pep(lum) Rally
HelmstedtMatt Jelonek/Getty Images
Mark Kenly Domino TanMatt Jelonek/Getty Images
OpéraSPORTCourtesy of OpéraSPORT
The rumors are true: peplums are back. They've been percolating in the fashion space for about a year and if you tried to ignore them at first, you won't be able to much longer. The Spring 2024 collections further confirms the silhouette's return, so it's all but a sure sign you'll own a peplum piece or two come next season. Luckily, the unique options from Helmstedt, Mark Kenly Domino Tan, and OpéraSPORT — to name a few — all feel worthy of a spot in your closet.