The 2024 Met Gala Theme Was Just Announced & It's So Different From This Year's
The exhibit will span over 400 years of fashion history.
Raymond Hall/GC Images/Getty Images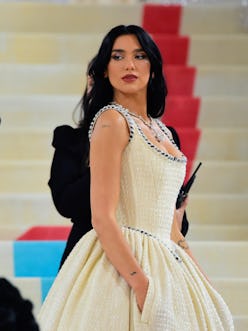 Anyone else feeling a fashion overload this week? (In the best way, of course.) It all started last weekend when the Hollywood set blessed our timelines in a plethora of glamorous looks at the 2023 LACMA Art + Film Gala. Then, on Monday, after the industry's biggest designers, stylists, and celebrities walked the red carpet at the 2023 CFDA Awards (Anne Hathaway deserves your applause), they did a quick outfit change for Odell Beckham's birthday bash. And believe it or not, there's still more breaking style news ahead: Just a few hours ago, the Met Gala theme was finally shared by the Costume Institute, and it has us counting down the days until that illustrious first Monday in May (it's 180, if you're curious).
Earlier this morning, Anna Wintour, co-chair of the annual event, and other industry tastemakers headed to the work studios at The Metropolitan Museum of Art, where a collection of historical garments were displayed, which hinted at the yet-to-be-announced theme. Shortly after their private showing, the news spread on social media: Vogue has shared next year's exhibit will be titled... (drumroll, please) "Sleeping Beauties: Reawakening Fashion."
If you immediately pictured the beloved Disney princess, you're not alone — that's what the TZR team thought of as well. While this Disney-inspired focus would make sense, given the upcoming Snow White live-action remake and the film company's 100-year anniversary, upon further research, we learned Zendaya's Cinderella moment from 2019 in fact won't be the exhibit's blueprint.
While the dress code for the event is TBD, we do know the exhibit itself will feature 250 rare pieces from the Costume Institute's private collection that span over 400 years of fashion history — think designers like Schiaparelli, Dior, Givenchy, and Stella McCartney.
Wondering what the "Sleeping Beauties" are exactly? Well, according to Andrew Bolton, Wendy Yu Curator in Charge of The Costume Institute, they're the "50 historically significant and aesthetically beautiful pieces from the collection that are far too fragile ever to be worn again — such as a silk satin Charles Frederick Worth ballgown from 1877." Instead of a traditional mannequin display, these creations will be showcased "via video animation, light projection, AI, CGI, and other forms of sensory stimulation," which is where the event's lead sponsor, TikTok, will come into play.
Bolton also shared that the exhibition will be divided into three main "zones" — Land, Sea, and Sky — which he says are an "ode to nature and the emotional poetics of fashion." So it's possible that sustainable practices will play an important role in next year's presentation, both inside the exhibit and on the infamous Met Gala steps.
The star-studded co-host lineup has yet to be announced (it'll be hard to top last year's roster of Penélope Cruz and Dua Lipa), but it was reported that Loewe will provide sponsorship for the A-list affair. That means it's quite possible a few of the Spanish brand's ambassadors, like actor Taylor Russell, might find themselves up for the job. After making quite a splash in the front row at recent Fashion Month festivities, we could see the actor pulling out all the sartorial stops for the Super Bowl of fashion, decked out in the newest designs from Loewe, of course.
While we still have five months until one of the most sought-after nights in fashion (sigh), there are lots more announcements to come, so tune into TZR to stay up-to-date on everything Met Gala related. The night is sure to be a fairytale to remember.