Kylie Jenner's Cozy, Cocoa-Colored Nail Polish Is Here To Rule Winter 2023
@kyliejenner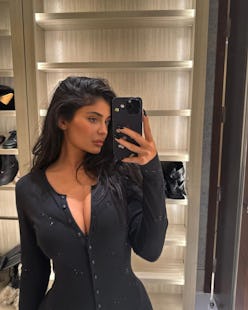 We may receive a portion of sales if you purchase a product through a link in this article.
While the internet and fashion industry are consumed with the announcement of her new clothing line, Khy, don't forget about Kylie Jenner's true origin story. She might be expanding to a whole new arena of influence, but she cut her teeth in the makeup world — and as such, will always be a beauty icon. Jenner's aesthetic appeal reaches beyond just cosmetics, though, as she easily demonstrated on Nov. 1 at the WSJ Magazine 2023 Innovator Awards. Jenner's brown nails were a perfect match for her dark, cocoa-colored leather gown, only serving to cement the shade as this fall and winter's singular it-color.
Jenner's entire look at the awards ceremony falls in line with her shift toward a more natural, pared-down approach to her hair, makeup, outfits, and even her manicures. The deep, chocolate brown polish she wore to the event was applied to what look like her own nails, rather than gel extensions or acrylics. They're short and gently squared-off, barely peaking over her fingertips for a more subdued appearance. When coupled with her softly smoky makeup, also done up in fall-friendly shades of brown, her look lands firmly within the viral "coffee beauty" craze, which includes micro-trends like "latte nails" and "espresso makeup." Here, she hits all of them at once, a supermarket sweep of social media-favorite beauty movements.
Perhaps Jenner was so carefully coordinated partially because of who else was in attendance at the event. Though she and beau Timothée Chalamet walked the red carpet separately, they were photographed sitting inside, laughing and talking together. Regardless of whether Chalamet's part of the impetus behind her shift toward a subtly sophisticated vibe, the big change did occur around the time they reportedly first linked up.
While a few different shades of brown are enjoying their moment in the sun, Jenner's hue of choice is an especially popular one. Neither too warm nor too deep or cool-toned, it's that perfect color of just-unwrapped-Hershey's-Bar chocolate, an ideal neutral to pair with cozy winter fleeces, cashmeres, and — as Jenner demonstrates — leathers.
To get the look, try out some similar shades below. Take another page out of Jenner's book and apply them to your natural nails, too. Her newfound quiet luxury aesthetic is just a few coats away.