Kylie Jenner Adopted A New Hairstyle To Match Her 'Quiet Luxury' Rebrand
@kyliejenner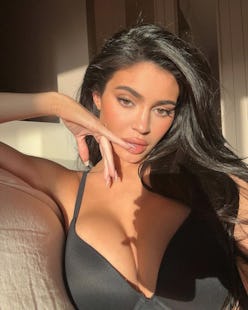 We may receive a portion of sales if you purchase a product through a link in this article.
To fully appreciate how big a feat the Kardashian-Jenners' multi-decade dominance truly is, you have to understand just how many times the women in that family have staged a full-fledged image reinvention. Kim Kardashian's pivot from the world's preeminent bandage dress ambassador to a full face covering at her upteenth Met Gala should be studied by McKinsey — actually, that's probably where Kris Jenner got her playbook. Even the brood's youngest sister has seen several eras of her own, but her latest might be the best. To match a new wardrobe and makeup philosophy, Kylie Jenner's Dyson Airwrap'd hair is the final piece in her "quiet luxury" rebrand, a return-to-basics approach that has some fans seeing the star in an entirely new light.
Many of Jenner's followers started to notice an aesthetic shift around the release of The Kardashians season two trailer. In the clips, she can be heard telling her older sisters that she wants to rethink the "beauty standard" they're all setting, even sharing that she regrets "touching" her face with tweakments. Ever since, Jenner's been spotted with pared-down makeup, softer clothing silhouettes in neutral colors, and gently-waved blowouts that feel at once totally natural and incredibly polished. One thing about Jenner that hasn't changed, though, is her open-book approach to social media. On her popular TikTok account, she shared a brief get-ready-with-me video that showed exactly how she nailed the hairstyle: with her trusty Dyson Airwrap.
In the TikTok, Jenner is seen using one of the viral hair tool's attachment, a pronged brush that dries hair while shaping rounded, bouncy waves that simulate the look of a traditional blowout with a hint of natural shape. She followed up the hairstyling with a coat of mascara (applied to non-extension enhanced lashes) and just enough lip liner to maintain her signature look.
In the TikTok's comments, fans were all about Jenner's refined new look, some remarking that she should keep this era forever. Regardless of her next steps, at least she's got all the Dyson attachments necessary to suit whatever aesthetic comes next — King Kylie 2.0?