Kylie Jenner Is The Youngest Sister, But Her Aesthetic Impact Is Unmatched
@kyliejenner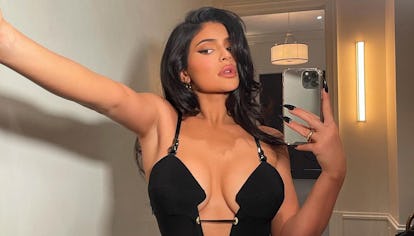 In a way, the chips of relevance were kind of stacked against Kylie Jenner — what were the odds a fifth daughter in the family could achieve the same level of fame and influence as her now-legendary sisters? The Kardashian family's direct link to Gen Z, original fans of the E! series have watched Jenner go from the precious youngest sibling to the empire-commanding A-lister she is today. Jenner's beauty evolution is as varied and era-filled as any actor or pop star, stuffed with experimental wigs, trend-setting makeup looks, and bold, avant-garde choices that helped make her one of the most attention-commanding people alive.
Even in her earliest days on-screen, Jenner was a scene-stealer and established a reputation as a fan favorite. As she grew alongside sister Kendall Jenner, she immediately started branching out with her beauty and fashion choices, using teen-adjacent red carpets to test out bourgeoning trends and assorted ideas. But while Jenner's always marched to the beat of her own aesthetic drum, though, there's no doubt she was influenced by the extremely stylish women who helped raise her. Below, see if you notice her picking up on hair and makeup moments seemingly inspired by Kim Kardashian — not to mention Kris Jenner, the one who started it all.
Her Television Debut In 2007
When audiences first met Jenner, she was a package deal with Kendall as the plucky little sisters. Already, they seemed inspires by the ever-glamorous Kardashian, their long glossy curls a mirror of her own.
Her Age-Appropriate Side-Bangs In 2009
A newly-minted teen in 2009, Jenner had already adopted some of the year's signature beauty trends: smudgy waterline eyeliner, illuminated inner corners, and a pair of layered deep side-bangs.
Her Extra-Long Curls In 2011
Jenner and her sister only gained visibility as their family TV show exploded into a full-fledged phenomenon, and her red carpet game rose to the occasion. She's always seemed to have a thing for smoky eye makeup, but her hair, through either patience or extensions, grew all the way to waist, falling here in spiral curls.
Her Trendy Matte Makeup In 2013
Around 2013, fans start to pick up on what makes Jenner distinct. Breaking away from Kendall for her own appearances with growing frequency, her increasingly-edgy, always extremely-trendy hair and makeup choices — like the stark ombré hair color and vampy lipstick seen at the Catching Fire premiere — helped cultivate her a massive Tumblr following.
Her King Kylie Era In 2014
Behold: the official start of the so-called King Kylie era. Marked by her blue hair, legendary Coachella presence, and brand-new lip fillers, it would help skyrocket Jenner to mainstream fame and kickstart her soon-to-be-established beauty empire. Her go-to lip color from 2014 sent fans on a multi-week quest to find out the exact nude-pink liner she loved so much.
Her First Met Gala In 2017
For her first-ever Met Gala, themed Manus x Machina: Fashion in an Age of Technology, Jenner went for a timeless hairstyle to pair with her jewel-encrusted Balmain gown. The sharp, side-parted bob and nude, matte makeup helped all eyes stay focused on the dress.
Her Retro-Inspired Ponytail In 2019
By 2019, Jenner had welcomed her first child with Travis Scott — and named an entire makeup collection after her. Around this time, many of Jenner's looks took on a cheery, retro feel as she opted for high ponytails and flipped ends.
Her Pregnancy Glow In 2021
Jenner was a little less private about her second pregnancy in 2021, but still kept things pretty low-key for much of the year. Still, the times when she did step out were marked by her palpable glow and chic, efficient updos perfect for a day stuffed with to-dos.
Her Experimental Streak In 2022
As much as Jenner loves a trend, she's not afraid to get a little more artistic with her beauty choices. Throughout 2022 and into the next year, Jenner used her hair and makeup like extensions of her outfit, like the swooped, gelled bangs she wore with a fluid-looking dress at the CFDA banquet.
Her 'Quiet Luxury' Rebrand In 2023
Jenner's latest era might be among her most impactful. Followers noticed Jenner taking a more restained approach to hair, makeup, and clothing, which makes sense considering the wide-ranging reach of the "quiet luxury" trend. Accordingly, she's been favoring bouncy blowouts and muted lip colors for a crispy, summery feel.