Kylie Jenner Made This Casual Hair Accessory Feel So Date-Appropriate At The U.S. Open
@kyliejenner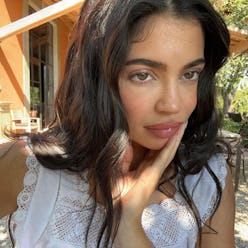 Even those not especially into athletics in general can admit it — something's just in the air at the 2023 U.S. Open and it's not even over yet. Already, it's doubled as the premiere venue for celebrity-spotting, nearly edging out Fashion Week as New York's see-and-be-seen spot of the month, and as such has delivered more than a few pop culture lightning rod moments. Right there at the top of the list is one newly-minted power couple's most overt PDA moment so far — and it was facilitated by an all-time great hair accessory. Kylie Jenner's claw clip, spotted nestled in her updo while exchanging kisses with beau Timothée Chalamet, is more than just a cool-girl way to throw long hair up when things get too hot or unbearably windy.
Everyone with hair longer than a few inches understands the absolute necessity of having an elastic, clip, or pin nearby to get it all out of your face. Jenner came to the tennis tournament more than prepared, even taking care to ensure that her large-sized claw clip matched her glossy, raven-black hair. Though she arrived with her hip-length waves flowing freely, Jenner near-immediately tamed them with a loose, low twist. It's all the easier to kiss with, lest any strands get stuck in her lipgloss.
Gotham/GC Images/Getty Images
Gotham/GC Images/Getty Images
Gotham/GC Images/Getty Images
Call it conspiracy, call it 20 years of studying Kris Jenner's every move, but this reporter thinks that clip is what really made the pair's lip-lock feel so viral. Up until now, the most information fans got on the romance came through cryptic Instagram caption clues, anonymous sources "close to the family", and a quick video of the smooch captured at Beyoncé's Renaissance World Tour. The U.S. Open is like their formal debut as a couple, which means the perfect photos for all those post-kiss articles (ahem) are essential. And as such, Jenner would need her hair pulled back so her face could be front and center. Right?
But sometimes a cigar is just a cigar, and a claw clip is simply a hair accessory — one that keep it all out of your face with minimal pulling, damage, or leaving behind unnecessary bumps and bends at that. If you thought the claw clip trend reached critical mass in 2020, it's certainly enjoying a spirited revival now. In fact, Chalamet's curls are getting rather long as well — surely Jenner has a chestnut-brown clip in her collection for him, too.