Let Hailey Bieber's 'Espresso Makeup' Be Your Everyday Look For The Rest Of The Year
@haileybieber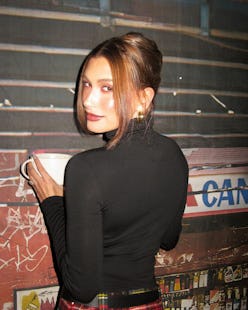 We may receive a portion of sales if you purchase a product through a link in this article.
If you thought Hailey Bieber's "strawberry girl" summertime aesthetic was pretty, get ready to meet its fall-friendly sibling. If her warm-weather vibe was all about a sweet, happy-go-lucky innocence complete with dainty bows and soft shades of pink and red, Bieber's espresso makeup is like the proverbial older, cooler sister who left for the big city only to come home for the holidays in a swirl of fur, leather, and martini glasses. Similar trends — you might be familiar with latte makeup already — have been trending on assorted social media platforms for weeks now, but Bieber's moodier, deeper take will undoubtedly be every it-girl's go-to look for the rest of fall and straight into winter.
Bieber first unveiled the look over on her popular TikTok page, her venue of choice for all things beauty, her tutorials included. While this video wasn't as detailed as some of her previous how-tos, the upload hits all the points needed to fully understand this look's appeal. Ultimately, it's about that rich, dark coffee bean shade taking center stage somewhere, be it on the eyes or lips. In Bieber's case, she's all about bringing the trend to life with a cool brown liner and one of her new, colorful Rhode Peptide Lip Tints to match.
The one-minute tutorial, set to an Aliyah's Interlude banger, starts the way all of Bieber's makeup lessons do — it's all about prepping the canvas for the rest of her products. She first lays down some of her own Rhode products, including the new Glazing Milk, before correcting and contouring out her complexion with a Kylie Cosmetics concealer, a Tom Ford cream bronzer compact, and a faint dusting of Bare Minerals Gen Nude Powder Blush. With her base in place, it's time for her to go in with the sumptuous brown makeup — the stars of the show.
She carefully sweeps on some MAC eyeshadow in the shade Wedge, a matte, pale shade of earth that's been among the brand's most popular colors for well over a decade. Interestingly, Bieber uses the shadow to set her contour as well as define her lids, grabbing a little more of the powder on her finger and manually rubbing it into her lower ash line. She gels her eyebrows into place, curls the upper lashes and shellacks them in some mascara, then gets ready for lips.
Another cool move to consider: Bieber uses two distinct shades of lip liner here, one a lighter caramel color by Kylie Cosmetics, and a dark brown (now discontinued) by Lady Gaga's Haus Labs line. The softer shade helps subtly re-shape the lips, smoothing out any uneven or asymmetrical zones while simultaneously creating a wax barrier that helps prevent her gloss from sliding around. The darker color then acts as an outline for said gloss and also makes the whole area look even plumper — Bieber takes care to gently fill in just a bit of skin below her cupid's bow and at the very center of her bottom lip. From there, it's just a coat of Rhode Peptide Lip Treatment in shade espresso — what else? — and you're out the door.
Considering Bieber's finished product is such a brilliant mix of natural, trendy, and glam, just take one more thing off your plate and consider this your go-to everyday look for fall and winter. And it make it even easier, shop all the essentials for nailing espresso makeup at home just below. Cheers, huh?