Gigi Hadid Found A Modest Way To Wear Low-Rise Jeans
We're trying this for fall.
@gigihadid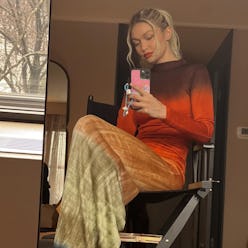 We may receive a portion of sales if you purchase a product through a link in this article.
Low-rise denim can evoke various emotions. If you partook in this hip-baring trend in the early aughts, you may now cringe at the thought of your jeans always sliding down your waist. For those who missed out on the fad — oh hi, Gen Zers — you may be excited to lean into the nostalgic look come fall. Gigi Hadid, for one, is already embracing the style's resurgence with vigor this season, as Hadid's worn low-rise jeans on numerous off-duty outings. Her most recent hip-grazing denim sighting came on Aug. 10, when the Guest In Residence founder donned a wide-leg iteration while out and about in New York City.
Though many low-rise looks tend to reveal some skin, that wasn't the case with Hadid's outfit. By tucking a snuggly white cable knit pullover into the aforementioned pants, she was fully covered up. Hadid's approachable styling technique proves you can wear the denim in a modest way, especially if you're not fond of showing your backside. To add some personality to her autumn-ready outfit, Hadid carried Prada's pastel blue crochet tote. Her jewelry game, too, was on point as she layered on a medley of quirky statement necklaces. Last but certainly not least, a pair of high-shine black loafers completed Hadid's understated city-chic look.
In addition to Hadid, other celebs who have recently showcased their affinity for the 2000s denim style include Rihanna and Emma Roberts. As it happens, Roberts chatted with TZR on this topic back in the spring and revealed she's come around to embracing the low-rise silhouette. In the interview, she said: "I mean, I will say my jeans are getting lower. When I was in my twenties, it was all about mom jeans and I'm having a hard time letting them go. [But] the button of my jeans is no longer above my belly button, so that's new for me."
Has Hadid (or Roberts) convinced you to welcome low-rise jeans into your own closet? If yes, tap into the model's fall-approved outfit formula by shopping all the required pieces below.