The Spring 2023 Denim Trends Experts Predict Will Take Off
Here's what's new on the jean scene.
@closedofficial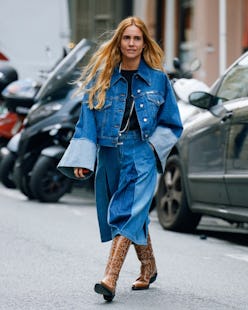 We may receive a portion of sales if you purchase a product through a link in this article.
Denim will always be timeless, but its silhouettes aren't exactly immune to fashion's trend cycle either. Season after season, there's continuous excitement and curiosity surrounding what specific looks will enter and exit the chat. Are low-rise jeans back? Are skinny jeans dead? Well, consider these and the rest of your burning sartorial questions for 2023's spring denim trends answered: TZR tapped industry experts to get the low-down on which styles are worth investing in for the season.
For starters, CLOSED's Denim Designer Johanna Czepalla says "effortless" is the best word to summarize the season's true blues trends. "The coolness and ease of the late '90s are one of the key drivers for denim at the moment," she explains.
Meanwhile, Fletcher Kasell, co-founder of genderless fashion label Tanner Fletcher, says the latest styles center on novelty. "This means that consumers are seeing denim as more than the everyday basic than it once was," he explains. "People are, of course, still in the market for that one great fitting pair of everyday jeans, but they're also looking for something unique and special that they can mix into their everyday rotation." Thus, Kasell is banking on styles beyond basic straight-leg silhouettes to soar in popularity this spring — think denim jackets, vests, and tops. Tim Kaeding, creative director and co-founder of MOTHER, echoes Kasell's predictions, saying its customers are looking for dresses, jumpsuits, skirts, shorts, and oversized jackets within the denim category.
Now, when it comes to styling said trends, it's all about playing with proportions, according to Kaeding. "We're seeing opposites attract in cut and styling preferences — low rise and wide legs, short shorts and big jackets, short inseam and a high waist." You could also shake things up and opt for an oversized topper and skinny jeans, if you dare.
What other denim trends will you see over the next few months? Keep scrolling to find the nine sought-after spring styles, according to the pros.
Low Rise
Whatever your stance on low-rise jeans is, the silhouette isn't fizzling out of the fashion scene anytime soon (sorry, I'm just the messenger!). "There's been such an evolution lately, especially when it comes to the rise of a jean, which has been exciting to see," AGOLDE's Design Director Erin Meehan tells TZR. "While high rises are still so flattering and relevant, we're seeing low rises continuing to uptrend."
Czepalla agrees with Meehan: "Baggy fits are super important as we definitely see a shift from high to a lower waist due to the Y2K trend, but now with a simple yet elevated straight leg like our new style Nikka."
Miniskirts
Sarah Ahmed, CEO of DL1961, forecasts the early aughts will remain at the forefront of fashion, which goes for the blue jeans arena, too. "Denim trends for the season lean heavily in the nostalgic Y2K sentiment," the fashion insider explains. She adds the resurgence of '00s-inspired trends has brought back many looks, including mini skirts. Try wearing the itty bitty bottom with a breezy spring blouse and luxe knee-high boots.
Baggy Silhouettes
Sonia Mosseri, co-founder and creative director of Still Here, notes her customers are requesting oversized bottoms. "They want baggy [styles]; they want their jeans to drag on the floor and to scrunch by their sneakers and boots." She sees these ultra-roomy silhouettes as a casual, slightly grungy approach to denim. Pro tip: Offset the larger-than-life bottoms with a body-hugging top.
Major Volume
Over the past few seasons, voluminous silhouettes have taken over every corner of our closets. Brigette Deshais, VP of women's design at AYR, confirms billowy shapes indeed are prominent in the denim department this season too, specifically by way of pleats and wider hems. "Bigger bottoms just feel so cool for spring because you can wear them with feminine or fitted tops and strike a really nice balance," she adds.
Long Shorts
Deshais points to longer inseams as a popular denim look this season. "Our Day Off Short sits lower on your waist and has a 6 1/2-inch inseam; we based them off a vintage short we searched high and low for at a flea market," she says. "The longer length makes them easy to style with a big button-up shirt and flat sandals, or [you can rock it with] a fitted cardigan and a little kitten heel."
In addition, Mosseri believes shorts silhouettes are trending this spring because consumers want a bottom to wear with knee-high boots. And, spoiler alert: Still Here is releasing a knee-length short this May, named the Lola, and it's poised to be just as beloved as the brand's other looks.
Cargo Styles
Meehan says cargo jeans are back in a big way this season, so much so that AGOLDE recently expanded its range of offerings in this area. [We're] putting our own elevated twist on an average pair, such as the Cooper Cargo and Cass Baggy Cargo," she says. The Cooper features a straight-leg silhouette and eye-catching stitching, while the latter boasts a baggy fit and exaggerated pockets. Likewise, Mosseri says Still Here has been offering cargo jeans for the past year and a half now and can't keep its styles in stock. The consensus? You need a pair of pocket-heavy pants this spring.
Vests
Kasell notes that non-jean styles like denim vests are on the rise this year. He cites everyone's current obsession with '90s fashion as a popular driving force in this look. In fact, even his own brand, Tanner Fletcher, leans into this decade's denim vest design with its Beverly style.
Maxi Lengths
Yes, mini and maxi hemlines are en vogue this season. Still Here created maxi skirts last spring, and due to the high demand from shoppers, the label went for an even longer length this season. "It's just really feminine and beautiful on the bottom. It pairs well with a crop top," Mosseri says about the leading skirt silhouette.
Embellished Looks
Time to shine! Embellished denim is an easy way to achieve a look with pizzazz when it comes to your jeans. "This includes everything from studded denim to bedazzled denim," Kasell says. For this trend, look to Tanner Fletcher's Connie Riveted Jeans or Retrofête's pearl pants.