What Does Wardrobe Dressing Look Like Through Gen Z's Maximalist Lens?
It's definitely not the minimalism you remember from 2014.
@broookeff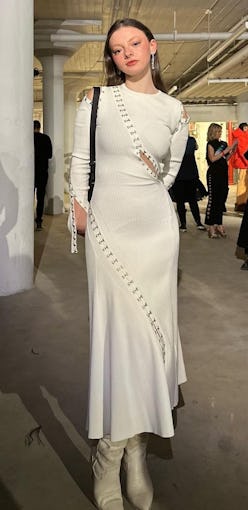 We may receive a portion of sales if you purchase a product through a link in this article.
Last March, as fashion month came to an end, it was clear that the majority of major designers had created their collections with a shared ethos in mind: a return to wardrobe dressing. And while recent seasons have prioritized pieces with clickbait-y gimmicks (read: pretty much every Y2K trend to re-emerge over the last few years) in hopes of appealing to a younger audience and winning favor on social media, it feels like functional, classic silhouettes are finally winning out — at least if influential brands like Proenza Schouler and Miu Miu have anything to do with it. Still, Gen Z holds a tremendous amount of power in the ready-to-wear market — and for them, nothing boring will do.
I can't speak on the generation as a whole without getting an eye roll from Brooke Frischer, 22-year-old writer and Fashionista contributor. "I feel like Gen Z style is very generalized within the media. As with any demographic, there is so much diversity, and there's no world in which everyone dresses the same," she points out. "Still, I do think the notion that Gen Z is more willing to explore their style is accurate. We have been raised in a world where self-expression is encouraged and accepted more than ever before."
So, how do designers get Gen Z on board with trading trendy for timeless? The answer, it seems, lies in utilizing texture, color, detail, and structure. This new era of essentials feels modern and bold but also quite wearable.
"I think fashion for Gen Z has become more abstract," says Emma Marciano, the 25-year-old co-founder of Mimchik, an emerging label that focuses on sustainable going out staples with a certain It girl factor. "It's finding the fantasy within fashion. And Gen Z loves to be wowed with unconventional styles they've never seen before." While her creations are full of sandblasted finishes and deconstructed details — one low-slung midi skirt features a tiered double leather belt accent — they are surprisingly easy to mix and match both with each other and additional pieces in one's wardrobe. A customer could imagine wearing her cropped houndstooth blazers, for instance, with a matching mini skirt from the collection or a favorite pair of jeans.
Fellow Gen Z designer Tia Adeola, the 25-year-old founder of her eponymous label, meanwhile, approaches hero pieces like they are basics. "I do strongly believe we [of Gen Z] have this confidence that maybe previous generations don't," she notes of her core client base, whom she caters to with room-commanding silhouettes like a ruffled crop top and mini skirt or simple maxi dress with a provocative graphic at the bottom. "There are no limits when it comes to being bold and risqué. That definitely plays a part in my design process." The way she sees it, statement styles are wardrobe essentials in a modern fashion lover's wardrobe.
Of course, we can't pretend every person younger than 26 thinks about clothing in the same way. But according to Frischer, you can't deny the influence social media has had on her peers' personal style development. "When you're constantly fed images of celebrities in new outfits on the street or the red carpet, or influencers at a different event every single night on your feed, you're going to adopt the idea that you need something eye-catching and new-seeming to make a splash on your own social feed or at your next occasion," she points out.
Brands have been catering to this younger, newness-hungry audience for awhile now — specifically, one might say, since early 2020. Spurred by TikTok and youthful shoppers with too much time on their hands during lockdown, the already rapid trend cycle undeniably increased when everyone was pent up at home with nothing to do.
"Gen Z's IDGAF attitude when it comes to coordinating outfits has worked over the last few years because of the virality of it all," notes Vanessa Powell, an L.A.-based celebrity stylist, citing the exhaustive parade of -cores and aesthetics to emerge from TikTok over the last three years and change. "It's fun, fantasy-like, and looks cute in videos — something the world was craving after living in sweatpants through lockdown."
Sharing Powell's sentiment is Sarah Brody, the styling director at Tibi, a brand known for creating understated designs that can be combined in incredibly inventive ways. She notes that Gen-Zers may be open to more exploratory fashion because the Internet allows them the resources to shop beyond the limited stores in their local mall. "I think accessibility is what Gen Z has going for them," she says, pointing out that teenagers and young adults from all eras don't mind taking a fashion risk or two. "That just goes with being young and bright-eyed."
However, modern-day access to all things fashion also comes with the curse of knowing too much, which can often lead to overstimulation. "It's a struggle," says Brody of the younger generation's tendency to sometimes get lost in the sartorial sauce, occasionally prioritizing maximalism at all costs. Fads like the weird girl aesthetic and unhinged fashion girlies encouraged creativity and exploration, but those without a defined personal style to build on often opted for "more is more" above all else.
This isn't to say Gen Z is floundering when it comes to finding their fashion niche — quite the opposite. They are perhaps the only generation to produce top trendsetters at such young ages, proving just how important their say truly is. Powell cites Ella Emhoff, Emma Chamberlain, and Bretman Rock as some of the fashionable front-runners able to "do the Gen Z thing at a high-fashion level" (with the help of their stylists, of course).
Now that the runway tides are turning back toward a more considered way of dressing — and shopping — Marciano feels her brand, Mimchik, really speaks to the bevy of Gen-Zers starting to seek pieces that last. "I went down a path of very trendy loud designs, and then I had a complete change of heart: I don't want to make pieces that are just a statement of the moment; I also want them to be timeless," she says. "It's really finding a balance of what is going to catch my generation's attention and also be a lasting piece in their wardrobes."
Major fashion houses, too, are also tackling the challenge of creating practical and versatile options with a certain Gen Z je ne sais quoi. Take, for example, the Prada Fall/Winter 2023 show: The collection struck a balance between pragmatic and playful with its mix of simple suiting, A-line skirts, and sweaters (layered bright dickey collars in lieu of traditional shirting) — all paired with shoes adorned with origami-like leather sculptures resembling florals. Meanwhile, Paco Rabanne focused on wool manipulated to resemble fur to spice up understated tops and trousers. And Ferragamo went for an elegant yet youthful combination of a crisp white maxi skirt and cropped zip-up hoodie that felt like something lifted from Hailey Bieber's closet. Without such a deft approach to small and delightful details, many of these looks might've come straight from the millennial's "elevated basics" playbook — but there were enough refreshing surprises to entice a rising generation looking to a build out a closet that can usher them further into adulthood.
Prada Fall/Winter 2023Victor VIRGILE/Gamma-Rapho/Getty Images
Paco Rabanne Fall/Winter 2023Francois Durand/Getty Images
Salvatore Ferragamo Fall/Winter 2023Victor VIRGILE/Gamma-Rapho/Getty Images
That said, Frischer is skeptical that the runway's recent shift to restrained styling is unlikely to completely diminish her generation's maximalist tendencies. Their sartorial habits may, however, be revamped to co-exist alongside more sophisticated staples.
"I think the part of Gen Z that is devoted to maximalism will continue to shop those pieces and dress in that way, but perhaps with more aspects tailored to wardrobe essentials," says Frischer. As an example, she describes a friend who typically wears eye-catching and colorful looks. Lately, they have been gravitating toward neutral iterations of stand out items to better integrate them within their closet.
One thing's for certain: if some form of minimalism really is back, Gen Z will certainly give it far more personality than ever before. "When I think of [that term], I think of normcore in 2013/2014 because that's what I associated it with for so long," Brody says with a laugh. "I think of a white Stan Smith sneaker, a Levi's 501, a black maxi skirt. And while those are all closet staples, I believe we have really embraced individuality merged with that, versus just being minimal, because that's what's going on right now."
Powell agrees that wearable fashion need not feel muted or boring, but is quick to note it should help slow down the exhaustive speed with which we've been hit with trends these last couple years. "I've never been more excited for the return of wardrobe dressing," she admits. "Keeping up with all the micro trends of Gen Z has not only made seasonal reporting far more difficult, it's been a goose chase for young people to define their personal style."
Naturally, the core ethos of wearable dressing shouldn't require you to splurge on whole new wardrobe. It's all about fine-tuning what you have and slowing building on it to create an assortment of items you can style an infinite number of ways. And after a few years of fashion's manic mixed-messaging, it's a welcome shift — yes, even to the 20-something set.
"Fashion has always been cyclical," says Powell. "What's here now will eventually spiral out. Since the pendulum has swung so far in the micro-trend world of chaotic colors and prints, it's only natural for it to come back towards cool, modern minimalism. But it's not going to be the same minimalism millennials are used to." I couldn't agree more — in so many ways, it's better.