Jennifer Lopez's Crystal-Studded Pedicure Is Somehow Both Luxe & Low-Key For The Holidays
The year's best color trend carries on.
@chrisappleton1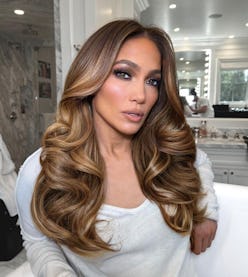 When Jennifer Lopez tries on a trend, she likes to go all in — it's often an all-over affair. And in the case of her penchant for ultra-popular brown nail polish, her head-to-toe commitment is quite literal in the best way. Jennifer Lopez's brown pedicure, topped with gold-tinged crystals, is at once firmly on-trend and captures all the gilded opulence of the holiday season. In other words, it's the perfect seasonal pedicure, especially for anyone with an aversion to novelty nails or holiday nail art. It can be assumed that Lopez's luxe new look was created for Thanksgiving based on an (honestly, pretty fun to watch) highlights reel she posted to her Instagram. Decked out in bronze makeup with matching furs and knits, Lopez's brown pedicure — not complete without the flecks of gold crystals in the corners — is a perfect fit in her autumnal aesthetic for Thanksgiving.
Naturally, Lopez's pedicure comes courtesy of Tom Bachik, the top-of-the-line celebrity manicurist and her go-to guy for all things nails. Over on his own Instagram page, the ever-generous Bachik was kind enough to share a photo of his work along with an exact recipe for getting Lopez's brown toenail polish look to life. Bachik says he used Aprés Nails polish in punny shade Feeling Sedimental for the all-over color, garnished with Swarovski nail crystals on Lopez's big toes.
Though the photos were shared a few days apart, Bachik also uploaded a post of Lopez in long, square-shaped nails dressed up in a glossy nude polish — presumably the other (top) half of her holiday nail look. Aptly dubbing the manicure "rich girl nails", they're a sophisticated and subtle pairing option with the deeper brown pedicure.
Beauty fans know just how big the brown nail trend is this year, with Lopez herself already known as a documented fan. Fellow stars like Hailey Bieber, Rihanna, and Lily James have all been spotted in their versions and takes on the trend, and it's never once looked anything but chic on anyone — or anywhere, as J.Lo's toes have now proven.