All Of The Celebrity Beauty Looks From Paris Fashion Week Worth Recreating Right Now
See every hairstyles, lipstick, and manicure.
WWD/Getty Images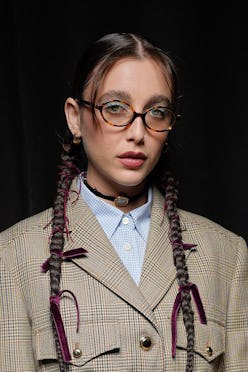 To say that celebrities are pulling out all the stops for this week might be something of an understatement. You'd think that a full month of models, runways, industry parties, street style photographers, and glittering red carpets would mean most A-listers have run out of aesthetic steam — but have you seen the beauty looks at Paris Fashion Week Spring 2024? It's like every major star in the world was just saving their best hairstyles, makeup techniques, and manicures for this very moment. And fortunately for those watching the festivities from home, that means the most premiere beauty inspiration of the season is unfolding in real time — all that's left to do is pay attention and possibly take some notes.
Usually, it's a few days into Fashion Week that the glamour really kicks into high gear, but celebrities really hit the ground running this year. Almost immediately, the stars took to the streets, dashing off to appointments and presentations, but taking care to show off their best angles for the hordes of photographers camped out on every corner. So far, standouts show it's all about detailed hairstyles right now, like Issa Rae's brilliant ponytail braid on her way to the Marni show, or Maya Hawke's elaborate pile of upswept curls over at Dior. On the makeup front, luxe, coffee-colored lip looks from Yara Shahidi and Jennifer Lawrence cement one of the season's most beloved trends, while Hailey Bieber intensifies it with her sultry take on "espresso eyes."
Ahead, the coolest celebrity beauty looks from Paris Fashion Week.
Sydney Sweeney
Looking like a beam of sunshine at the Miu Miu show, Sweeney added some extension-enhanced curls that show off her buttery hair color. The entire thing is a one-night-only look by Glen Oropeza, but just speaks to her willingness to experiment and have fun, even in Paris.
Emma Chamberlain
And speaking of extensions — Chamberlain's extra-long pigtail braids would be excellent on their own, but the tiny velvet ribbons punctuating each plait are the perfect accessories. With her eyeglasses and prim belted blazer, she fully leaned into "dark academia" at Miu Miu.
Penelope Cruz
Sleek and chic at the Chanel show, Cruz's stick-straight hair helps show off all he dimensional tones in her gradient-style highlights. Meanwhile, her rose-colored lipgloss is an exact match to that rosy blush for a warm, blended finish.
Amandla Stenberg
Not only did Stenberg nail the most coveted night-out makeup of the moment with her long, spiky lashes and waterline eyeliner, but she kept the trendiness going with milk bath nails and the glossiest braids-curls combination at the Chanel show.
Nicola Peltz Beckham
Bold, cat-like eyeliner is everywhere right now, including Paris Fashion Week's big YSL party for the launch of the new MYSLF fragrance. There, Peltz Beckham demonstrated just how sultry some stiletto-style liner really is, especially when paired with a softer, glossier lip look — in this case, she used the YSL Rouge Volupte Shine Candy Glaze in Flashing Rose.
Riley Keough
Just a hint of cool pink blush is worked into Keough's complexion for a classic English Rose makeup style, warmed up all the more by her waterfall of auburn waves at the Chanel show.
Kim Kardashian
Joined by mother Kris Jenner (and Corey Gamble, too), Kardashian pulled out some of her all-time favorite beauty tricks at the Victoria Beckham show. Her big, glossy curls and bright pink cheeks are a combination she would have happily worn in 2010.
Zendaya
Perfection has a name: Zendaya. Between that extra-long hair styled by Tai Simon, glistening body makeup, and warm, dewy makeup by Ernesto Casillas, she was a highlight of the entire Louis Vuitton
Emily Ratajkowski
Trust Ratajkowski to make a Tinkerbell topknot feel downtown-cool. The secret might just be her split-center bangs, fanning out around her sunburnt blush and intense, smoky eyeliner at the Coperni show.
Eva Longoria
Longoria's been everywhere this Paris Fashion Week, but looked especially glamorous at the special L'Oréal Paris show held right in front of the Eiffel Tower. Her medium-length waves got the sultry, beachy treatment, while her lip gloss-eyeliner pairing is a failsafe combination.
Venus Williams
When in Paris, a red lip moment always makes sense. Williams went all-in on French girl beauty staples, opting for a sleek, sophisticated black-and-white outfit that let her ruby-red lipstick grab the focus.
Florence Pugh
One of the best things about Pugh's buzzcut is the way it adds tons of edge to even the sweetest outfits, like this baby pink Valentino suit. You'd think pastels and bows would necessitate equally-soft beauty choices, but Pugh punked it up perfectly with a dark mauve lipstick applied by Alex Babsky and spiked hair, courtesy of Peter Lux.
Viola Davis
Does evening makeup get any better? Davis' sumptuous blend of thick, voluminous lashes with a classic oxblood lip color make the ideal late-night look at the L'Oréal Paris fashion show. Of course, what really cinches the whole thing is how glossy and full her Afro is — it only heightens the elegance and drama.
Jodie Turner-Smith
Bright, color-blocked makeup creates the coolest — and fresh-from-the-runway trendiest — take on glamorous '80s-style makeup. Turner-Smith is always up to experiment, and she saved some of her best looks for Paris.
Kylie Jenner
Once again sporting extra-long, side-swept bangs, Jenner looks so futuristic perched next to the runway at the Acne Studios show. Only her lips and brows are visible beneath those oversized shades, but she made sure to maximize them both with careful sculpting up top and a shiny lip liner-gloss combination just beneath the glasses.
Issa Rae
This is not just a hairstyle, it's a self-contained work of art. When Rae showed up outside of the Mari show in a cheerful yellow suit and her cinnamon-color hair twisted into an elaborate, cascading braid, fans knew it was likely the work of hairstylist Felicia Leatherwood — she's behind nearly all of Rae's best hair moments.
Jennifer Lawrence
Showing off a frosted lip look and practically reflective gold waves at the Dior fashion show, Lawrence embraces a sultry-meets-structured aesthetic. For the occasion, she worked with makeup artist Hung Vanngo and hairstylist Rebekah Forecast, who joined forces to create one of the most striking yet low-key looks of the week. Her milky lipstick fits right in with those ongoing, coffee-inspired beauty trends.
Zoë Kravitz
Know this right off the bat: Kravitz is already the queen of baby-bangs and incorporating them into pretty hairstyles — so is Nikki Nelms, the celebrity-favorite creative behind this look at the Saint Laurent show. But by pairing the super-short fringe with a simple, glossy blowout, the bangs are a true centerpiece.
Jenna Ortega
Ortega always does it her own way, and it always works out beautifully. Bucking the trends in favor of her signature style, Ortega's smoky tightline and waterline eye makeup, as well as the delicate ombré color technique melted into her curtain bangs, are a perfect choice for a night with Dior.
Hailey Bieber
Speaking of waterline eyeliner — you've heard of latte makeup, but get ready for its even more caffeinated sister: espresso makeup. Bieber debuted the look at the Saint Laurent show, pairing the sultry, intense makeup with some flipped-out styling on her long bob. The key here is in the colors makeup artist Leah Darcy used, a combination of rich tans and intense, espresso bean-colored black.
Rosé
Braids of all types have been spotted everywhere around Paris this week, but Rosé's ethereal plait at Saint Laurent proves the look doesn't have to be especially elaborate to still make a major impact. Notably, though, her long, thick side-braid is palpably smooth and frizz-free, crucial for this elegant fashion show moment.
Kendall Jenner
With so many different shades of brunette trending for fall, Jenner's cool-girl ombré looks like she's incorporating nearly all of them into her long, tousled waves as she walks to The Row show. Her roots start as a rich mahogany before fading into softer, warm-toned browns and eventually ending with her caramel-colored tips. The technique offers so much extra dimension.
Yara Shahidi
There's a reason Shahidi was cast as live-action Tinkerbell — she might be the most effortlessly ethereal star around. Captured just outside of the Dior show, her low, looping bun is actually a series of intertwined braids by celebrity hairstylist Sherri Ann Cole, while pretty, pared-down makeup by artist Nikki Wolff shows off her breathtaking natural beauty.
Charlize Theron
Theron put her best face forward at Dior, for which she's a longtime brand ambassador and muse. Thanks to Adir Abergel pulling her blonde-streaked hair back into a very trendy slicked bun, that much more attention is on her incredible cheekbones, peachy-pink lip gloss, and her fluffed-up eyebrows by makeup artist Kate Lee.
Anya Taylor-Joy
It doesn't get chicer than an elegantly undone bun and feature-highlighting makeup on Taylor-Joy. While her long, silvery hair is usually left free-flowing, Gregory Russell swept it back into a soft, low bun that still features plenty of loose, dreamy tendrils around the face. To complement the updo, Georgie Eisdell delivered a cool, spiky-lash look that TikTok would flip for.
Rosalía
Fittingly, Rosalía made rose-toned lips the focal point of her sleek black-and-white look at the Dior fashion show. While the rest of her soft, sophisticated makeup plays supporting roles, the pinky-red lip stain acts as a pop of color that doesn't threaten to overwhelm or even outshine any of her other features.
Maya Hawke
Toggling back to the more elaborate side of things, Hawke showed off a towering, artfully mussed tangle of curls when she arrived at the Dior show. The John Nollet-styled curls all brilliantly blend in with her bangs, falling down around her cheekbones for a retro-inspired, pseudo-half-up look that's worth recreating.
This article was originally published on