Dakota Johnson Traded In Her Beloved Moody Makeup For TikTok's Biggest Trend
Amanda Edwards/Getty Images Entertainment/Getty Images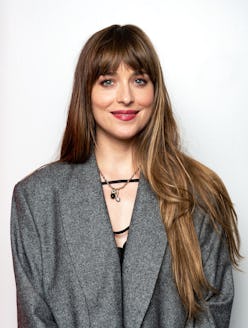 It's an undeniable reality that Dakota Johnson's calling card is her set of retro-inspired bangs, which is just inevitable when they hang that perfectly all time. But beyond a few notable color tweaks, the actor's commitment to her signature hairstyle just means more room to play with her cosmetic choices — and true fans know that's one arena in which she's utterly unafraid to get experimental. Dakota Johnson's "latte makeup" is a hard 180 from the smoky, moody colors she frequently gravitates toward, but that's part of what makes the style so excellent. Not only does the Am I OK? actor look fantastic in the warm, brown-toned shades of eyeshadow, complexion makeup, and lipstick, but she also happens to be nailing one of the moment's most viral trends.
Defined by frothy, earthy tones with a natural-looking, smudged-out finish, the so-called latte makeup is wallpapering Reels and TikTok For You Pages, and for good reason. The cozy shades of brown glorify every skin tone and hair color, while the perfectly-imperfect application style makes the entire look feel so lived-in and authentic. Johnson tried the trend out for the Martini 160th anniversary party in Milan, a star-studded event that invited celebrities to indulge in their most summery outfits of the year. Together with her minimalist, strapless dress and loose waves, Johnson's shimmery, bronze makeup more than fit the bill.
Celebrity makeup artist Valeria Ferreira created Johnson's look for the big party, sharing a behind-the-scenes closeup on her Instagram page. While she didn't share the exact products that went into the sultry, smudged-out look, her firsthand photos captured everything that makes the makeup style so unique. Johnson's upper and lower lash lines are packed with the same intense, smudged-out eyeliner usually favored by the star, but lighter, warmer shades of brown seen above and below the lashes soften the entire effect. From that same color palette of browns, bronzes, and taupes, Ferreira swept on a cloud of glossy blush over minimal complexion makeup, allowing Johnson's freckles to peek through.
Finally, Johnson's famously full lips appear to be lined and filled in with a soft, frosty nude that seamlessly ties together every shade and tone in the look. TikTok is full of tenuous trends and what's-going-on-here crazes, sure, but every now and then, something legitimately great rolls around — and gets the ideal celebrity co-sign.