Gabrielle Union Just Wore The Season's Most Sought-After Braids At The Burberry Fashion Show
Peak fall glamour, right this way.
Gotham/GC Images/Getty Images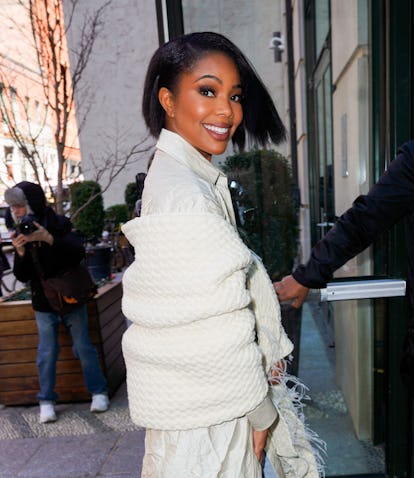 Celebrities have their work cut out for them come Fashion Week. With so many industry names, models, muses, and fellow A-listers all crowding the front rows, it takes a truly special look to cut through all that glamour — but standing out has never been an issue for the utterly singular Gabrielle Union. At London Fashion Week's Burberry runway show, Union's ponytail braids paired perfectly with her head-to-toe plaid ensemble and some particularly sharp eyeliner. For years now — decades, even — Union's penchant for sleek-meets-sultry hairstyles, manicures, and makeup choices have made her a perennial beauty icon, but even longterm fans have to admit that this look really is the gold standard of fashion show attendees.
Even Union's peers are hyping up her Burberry appearance over on Instagram, with gushing comments left by Tracee Ellis Ross, Quinta Brunson, and Sophia Bush (among others) exclaiming what all of her near-22 million followers were thinking. Captioning her photo carousel "Crossed the pond for Burberry" and shouting out house designer Daniel Lee, Union shared several shots that just lend an even greater appreciation for her look. Celebrity hairstylist Issac Poleon slicked her hair back into a tight, shiny ponytail before weaving in at least three long, glossy braids.
With the low, relatively minimalist ponytail and her all-over plaid, Union evokes the currently-trending "dark academia" aesthetic so beloved by studious teens over on TikTok. To get the full picture, think of media set in the prep schools of yesteryear — it's all about late-night library time, pouring over your books by candlelight, and maybe even linking up with a secret society or two. It's moody, it's vintage, it's more than a little cozy, and Union totally nailed it likely without even trying.
To round out the vibe, celebrity makeup artist Esther Edeme used a slew of Pat McGrath Labs, Dior Beauty, and Lancôme products to make Union's complexion glow and her eyes a focal point. The lashes are especially applicable this time of year, with much of the volume concentrated at the outer corners for more lift.
Union's looks are always noteworthy no matter the season, but something says this fall will be an extra-great one — she's already off to an ideal start.