Of Course Emma Chamberlain Would Have The Coolest Haircut Of The Season — And In Chocolate Brown, Too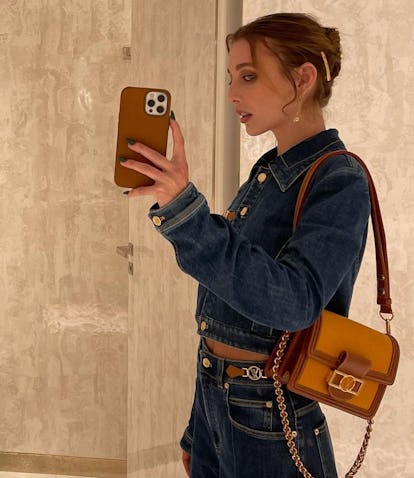 It seems almost counterintuitive for a celebrity to debut a dramatic new aesthetic change at a fashion show. Won't the focus primarily be on the runway-walking models? But adopting the hush cut isn't an ordinary celebrity makeover — discretion is right in the name. Defined by the soft, subtle way it shapes and blends feathered layers, the look is so popular because of its low-profile impact that works on virtually any length. When she appeared at the Gucci Spring/Summer 2024 presentation with her own hush cut, Emma Chamberlain just helped further seal its fate as the it-girl chop of the season — and maybe, ultimately, the year.
Just as the name describes, all of the hush cut's allure is tied up in the layering. Chamberlain's version falls a few inches past her collarbone, tapering as the hair hits her shoulders in sculpted layers that start way up at her bangs. Though the sudden increase in volume and length suggest extensions or hairpieces were used for the Milan Fashion Week event, Chamberlain's actually been working a variation on the hush cut for quite some time. Even earlier this spring, when her chocolate brown hair was in its post-mullet grow-out phase, its layering was precise and gentle for a well-blended look.
Victor Boyko/Getty Images Entertainment/Getty Images
Vittorio Zunino Celotto/Getty Images Entertainment/Getty Images
Chamberlain's tried classic mullets, micro-bobs, and shaggy wolf cuts over the past few years, but the hush cut is decidedly more delicate. "At its core, this cut is characterized by its soft, face-framing layers that melt together as opposed to sitting on top of one another," Jae-Manuel Cardenas, senior stylist at Sally Hershberger Salon in New York City, told TZR just a few weeks ago. "This cut is meant to be super easy to wear and style," Cardenas added, which might help explain why Chamberlain's so drawn to it. Gen Z's consummate cool-girl, she parlayed her social media success into mainstream fame thanks to a savvy combination of relatability and genuine quirk — and her diverse range of hairstyles speaks to both points.
Chamberlain's loved layered looks for a while now.
When considering Chamberlain's Gucci show look, though, it's worth noting that while the hush cut is undoubtedly both very trendy and cool, her hair is actually pretty traditionally glam. She's staying locked into that cozy brunette shade she's been loving, and by combining it with big, brushed-out curls, it's a hairstyle that would look at home on most any A-lister at most any event. That's Chamberlain, though. She'll always do the last thing you'd expect.