Dark Academia Is Taking Over Homes For Fall
Give your space a goth girl makeover.
@fineanddandyco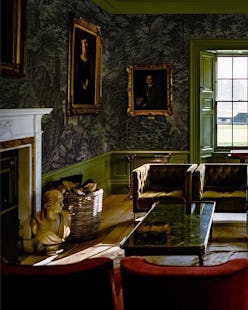 We may receive a portion of sales if you purchase a product through a link in this article.
Five billion. That's how many views the hashtag #darkacademia currently has on TikTok (at time of publication, that is). For that past two years, the gothic, moody aesthetic trend has been slowly cooking, simmering in the shadow of Barbiecore. But now with fall in full view, it is at a pronounced boil, poised for imminent takeover. In fact, data research from Bathroom Deal has revealed that over the past month there has been a surge of over 20% in Google searches for 'Dark Academia,' with the term being searched a some 60,000 times every month. And while fashion has already fully embraced the trend (as evidenced on recent runways this year), it seems the home decor space is just now jumping on the bandwagon. So, if you're looking to refresh your space for the cooler months ahead, a touch of dark academia could be just the ticket.
"True to its name, the dark academia aesthetic is traditionally characterized by deep, moody and shadowy colors," says Carla Morano, co-founder and chief marketing officer of Toronto-based wallpaper brand, Fine & Dandy Co. "The look does require some boldness — for example, applying these hues to the walls with a striking wallpaper that's rich in color and pattern."
Morano recommends a deep damask or murky toile works well for this trend, or a gorgeous landscape mural like Fine & Dandy Co.'s Babylon wallcovering, which she says "resembles a rich Belgian tapestry, or our Vapour – Storm mural, any and all of which will instantly create a distinctive and dramatic yet elevated space."
David Samuel Ko, the Los Angeles-based interior designer behind studio Maison Ko agrees that walls are the best way to start when tackling the dark academia look. "You will definitely want to paint your space in a darker shade of what you are leaning towards," he tells TZR, noting key colors like plum, bordeaux, charcoal grey, walnut brown, and of course, black. From there, "you can also adjust your lighting and only use lamps or decorative fixtures, versus overhead."
In addition to the cool, sophisticated atmosphere, Warren Kinloch, bathroom interior expert at Bathroom Deal says a darker, dimly lit room can make for a sleep-friendly space, making this aesthetic ideal for a bedroom or bathroom. "These dark colors create a unique ambiance that can actually help you unwind after a long day," he says to TZR. "The association between darkness and nighttime can contribute to a healthier evening routine, setting the stage for a restful night's sleep."
As for furniture, rich dark woods and leathers, antique gold and copper finishes, and Baroque-style pieces can help you drive the look home. If this feels a bit too off-brand for your space, you can always embrace the trend in more subtle ways. "Putting your art and prints in more of an antiqued and ornate frame is also a way to incorporate this look without going all in," says Ko. "Mixing and matching throw pillows and blankets that are of more luxurious fabrics (velvet, corduroy, plaid wool, etc.) will also easily bring the dark academia style to life."
Now, a colder season lends itself nicely to a gloomy — and spooky — aesthetic such as this, but what if you want to make it work year round? Ko ensures it can be done, although it's important to choose a wall color that doesn't seem too seasonal and work around that. "Also bringing life to the space with personal touches, books, and other memorabilia will make the space feel more lived in versus a current trend that you're into," he reasons. "This isn't necessarily the time to be neutral, but you definitely don't want your space to feel like one big Halloween decoration, so balancing this gothic and moodier style with elements that still feel like you [is crucial]."