The 10 Haircuts Everyone Is Requesting At Salons This Summer
@matildadjerf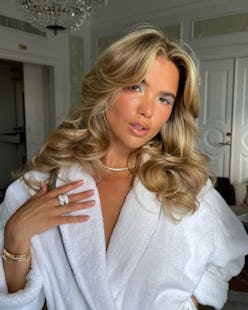 If you find yourself longing for a new haircut come summer, you're not alone. Like clockwork, the arrival of warm weather begs for hairstyles that are light, breezy, and most importantly, effortless. Fortunately, there is no shortage of inspiration to inspire your next seasonal style. Whether you're in the market for a drastic or simple change, the summer 2023 haircut trends are low-maintenance versions of classic looks and are even easy to style at home.
Still, deciding on the best haircut for your face shape and texture can be challenging. When choosing a summer cut, Alex Brown, Chicago-based celebrity hairstylist and owner of Space By Alex Brown salon, always suggests clients consider how their hair reacts to humidity and warm weather. "Textures that are prone to frizz in muggy temperatures might want to steer clear of certain styles, such as bangs," she says. While those with fine hair will find that sweeping curtain bangs can bring new life to an existing look.
Regardless of whatever haircut you decide on, Brown assures that updating your products and hair tools come summer will be key to keeping your look fresh. To help narrow down the selection, TZR chatted with a few stylists to find out the season's top trending cuts. Ahead, they share their tips for styling, maintenance, and more.
Eye-Grazing Bangs
Good news for those who took the plunge and got blunt bangs, only to quickly realize they require too much upkeep. Your long, grown-out bangs are now a bonafide trend. Seen on celebrities like Ciara and Rihanna, as well as the stylish women you follow on Instagram, this lived-in style of bangs is piecey and hits below the eyebrows, gently grazing the eyelids. While it looks great with any hair length or cut, this fringe also adds an early '00s vibe to ponytails and updos.
Ghost Layers
Looking to add fullness and body to your hair without sacrificing length? Enter ghost layers, a technique that adds definition and bounce to any existing cut. Think of this technique of subtlety layering your stands as the haircut equivalent to a "your-lips-but-better" shade of lipstick.
Butterfly Cut
Big, bouncy hair is in, and if you're influenced to amp up the volume after seeing looks allover TikTok and Instagram, make the butterfly cut your summer look. Consisting of short layers at the top of the head to create the illusion of volume, "the butterfly haircut is a very layered feathered haircut," says Jenna Spino, stylist at Maxine Salon in Chicago, previously told TZR. "It has short layers on top, through the crown, that are blended through to longer layers on the bottom."
The butterfly cut also features face-framing pieces, which help draw attention to the eyes and cheekbones for a soft, sculpted look. Another benefit of this viral trend? Since the style of the cut is dependent on layer placement, it can be adapted to various lengths. Even better, this is exactly why it grows out flawlessly.
Blunt Bob
True, the bob haircut transcends seasonal trends, but as Brown states, "this summer we'll definitely be seeing more of the blunt versions thanks to Hailey Bieber's recent haircut." She continues, telling TZR that unlike the razor-sharp styles or layered looks of spring, this blunt cut is perfect for a range of hair types and textures. "People with thick hair are often hesitant to choose a style like this because they're worried about it looking bulky, but when cut to the right length the blunt ends can actually frame the face in a unique way," she says.
That said, if you do have thicker hair it's best to talk with your stylist to find the products that will keep your bob looking smooth in the heat. Depending on your texture, Brown recommends using a hair oil such as Gisou Honey Infused Hair Oil or anti-frizz cream that can be used to combat humidity as needed.
Mid-Length With Long Layers
The Met Gala may have spring-boarded the loose wave trend, but according to Justin McKay, pro-stylist for Covet & Mane, the slightly undone look is here to stay. But the core of this flowy style lies in a great cut with lots of long layers.
"I always recommend that my clients with a shorter or mid-length cut elevate their look with layers starting at the top of either their collarbone or their shoulders," he says. This way the waves will look much more natural. To get the tousled style at home, he recommends using Covet & Mane's silk Sleep set to easily create heat-free waves while you sleep.
French Bob
According to celebrity hairstylist and TRESemmé global stylist, Justine Marjan, this chic cut is highly requested because it includes two of summer's biggest hair trends: the bob and bangs. "Blunt bangs cut straight across the forehead are timeless when paired with a short-length bob," she says. But for a look like this, the hair needs to be properly moisturized in order to keep frizz at bay.
"Summer weather and activities can quickly make hair feel dry," says Marjan. So to keep the cut looking fresh, she recommends using a shampoo that is formulated with Vitamin E, like Tresemmé Rich Moisture Shampoo and Conditioner, to optimize hydration and nourish the hair.
The Modern Rachel
In that vein, all three stylists agree that '90s-inspired layers are also having a major moment this summer. Think Jennifer Aniston's iconic "The Rachel", but with softer falling layers similar to spring's popular butterfly cut. "'90s looks are always trending, but this summer it's about taking elements of those looks and elevating them to feel modern," says Brown. To keep the cut light and bouncy, she likes to suggest adding a hydrating hair mask, such as Vegamour's Hydr-8 Deep Moisture Repair, to your typical hair care routine.
'90s Bob
Along with "The Rachel", Brown assures that other '90s staple styles like the chin-grazing bob will also reign supreme this summer. To recreate the look at home, she recommends investing in a good blowdryer and a round brush you can use comfortably.
Cool Curtain Bangs
If you're not exactly ready to pull the trigger on a short haircut just yet, you can quickly refresh your existing style with sweeping curtain bangs. "Unlike blunt styles, curtain bangs are ideal for a number of hairstyles and can frame the face without adding the weight of a full layered cut," says Brown. Not to mention, they require little to no effort to style, meaning your morning routine doesn't have to adjust too much.
Cropped Natural Curls
"Summer is a great time to embrace your natural hair texture with a cut that is tailored to your curls," says McKay. In that vein, he suggests working with your stylist to determine the shape that will best fit your curl pattern. You'll also want to consider how you plan to style your hair once it's been cut. If you're aiming to stay away from hot tools, layers can add versatility to your look as it air dries. "The result is a gorgeous style that will enhance your natural waves without looking fussy," he says.
This article was originally published on