Camila Morrone's Laid-Back Style Is Inspired By This '90s Rom-Com Queen
Spoiler: It's Julia Roberts.
@camilamorrone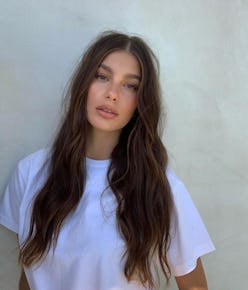 We may receive a portion of sales if you purchase a product through a link in this article.
Amidst the glittering disco micro-mini dresses, crochet ensembles, and neon cowgirl looks that gathered at weekend one of the 2023 Coachella Valley Music and Arts Festival, it was the understated denim-clad style of Camila Morrone that seemed to make the strongest statement. The actor's classic combo of belted light wash denim, fitted white t-shirt, squared black boots, and jean jacket topper oozed an easy, laid-back elegance. Despite her rapidly rising star status, the 25-year-old model and actor doesn't rely on flashy outfits or maximalist trends to get noticed. Instead, she clings to a "low-maintenance" style mantra, inspired by equally effortless predecessors.
"I love Jane Birkin. I love Brigitte Bardot. I love '90s Julia Roberts. I love Claudia Schiffer. I love Kate Moss," says Morrone at TZR's annual ZOEasis event in Thermal, California on April 15, nodding to the aforementioned Roberts and a "Cindy Crawford airport look" for her denim-on-denim weekend formula.
"I'm low maintenance with all my stuff: my makeup, my hair, my clothes," says The Daisy Jones & The Six star. "You can see I'm very casual. I like to be comfortable. I like to make things easy."
Speaking of easy, when she's not donning the extravagant vintage '70s-era outfits that ruled the Daisy Jones set, Morrone says she reaches for tried and true staples when putting together an off-duty look. And, shocker, they consist of a lot of denim. "I love Levi's," says Morrone. "There's nothing quite like a pair of vintage 501s. These [I'm wearing] are RE/DONE, a version of Levi's that I love. I love a '90s fit. I have about five or 10 great jeans in my closet that I rotate and will own for the rest of my life. And I think there's nothing like a great pair of denim in your closet as a staple."
Another staple of Morrone's worth noting is her signature long, layered waves — which were noticeably shorter on that especially hot day in the desert. The actor explains her cut, which hit just below her shoulders, was a result of damage done from filming her upcoming film Marmalade, in which she had to bleach her hair to achieve a pink shade. "I am not comfortable with my short cut, but I am trying to own it and make the best of it," she says with a smile.
Hair damage is a small price to pay for the bevy of headlining projects coming her way. In addition to Marmalade, a crime romance that places Morrone opposite Stranger Things actor Joe Keery, the Los Angeles native also landed a starring role in the film adaptation of Cheryl Della Pietra's novel Gonzo Girl, directed by Patricia Arquette.
At the mention of the latter project and its director, Morrone's calm and collected face becomes noticeably animated. "Patricia, as we know her, is one of the greatest actresses of her generation, my generation, an absolute Hollywood legend, and [she's] now adding this new facet of her life in being a director," she says. "This is her directorial debut. She is so passionate about this project and brought me along for it, which I'm so eternally grateful for. And our cast is incredible. The book on which it's based is incredible and I'm excited for everyone to see and I'm excited for everyone to see Patricia as a director. She's just a very multifaceted artist. She's capable of anything."
It seems, so is Morrone. With Daisy Jones and several highly anticipated upcoming films under her belt, the actor says she's enjoying the ride onward and upward, staying grateful and self-aware every step of the way. And, just like her easy, breezy denim-filled style, she's sticking to what feels comfortable and right for her. "I'm open to reading scripts and just finding the right one for me and taking my time and choosing something that I really, truly, authentically want to do."