We're Calling It: Stitch Braids Are This Summer's Hottest Protective Style
@pearlthestylist_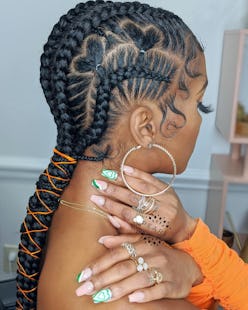 Protective styles are a must come summer for shielding hair against humidity, sweat, hot tools, and most importantly, the season's many water activities. In the past, a protective style used to simply refer to box braids and cornrows. But today's definition is much more vast and encompasses a number of options, including knotless braids, mini twists, butterfly locs, and a modern take on traditional cornrows called stitch braids. And while you could opt for something trendy like flowy boho braids this season, stitch hairstyles offer a wide range of versatility, require little maintenance and upkeep at home, and deliver next-level protection for your natural hair.
Much like traditional cornrows, stitch braids can be the base for a number of looks like ponytails, updos, classic straight-back styles, or even feed-ins. But the stitch technique, which involves creating a tightly cornrowed braid in a horizontal pattern, is what makes the look so unique. Whether created with natural hair or with braiding hair for longer lengths, this edgy take on the signature summer style is an ideal way to keep hair nourished and protected during the hot weather. Plus with a shorter wear time, you can easily try a few different variations of the technique all summer long. Below, 10 stitch braid hairstyle ideas to inspire your own looks.
Half-Up, Half-Down Waves
The beauty of braids is that they can also be used to accessorize and enhance other hairstyles. With just a few placed at the crown of this half-up, half-down style with flowing waves, the classic look feels effortless. In other words, it's perfect for beach vacations.
Stitch Knotless Braids
If you love knotless braids and are looking for a new way to wear your go-to style, why not try a stitch-braided version? The intricate horizontal parts will add a unique finish to typical single braids and are sure to catch more than a few eyes this season.
Mini Twists Updo
Not only do two-strand twists ease the tension on delicate hair at the scalp, but they also feel sophisticated and embracing of natural textures — especially flat hairstyles. For this chic updo, the stitch technique is used to create mini horizontal parts for individual twists which are then fed into a chic French roll.
Fulani Braids
One of the great things about Fulani braids is the hybrid nature of the style. Part cornrows, part braids, this hairstyle blends the two for a look that is rooted in culture and expresses the history of plaited styles. The main aspect of this look is the cornrows which sit at the crown and feed into the braids that cascade over the shoulders for a fuller appearance. With the addition of the stitch technique to the cornrows, the tribal style feels fresh and artistic.
Stitch Braids With Heart Design
You've probably seen a few of these heart-shaped designs pop up on your FYP or even on your Instagram feed as of late. The trendy design is both romantic and edgy and the ideal statement-maker for stitch braids.
Sleek Top Bun
There's no denying the appeal of a sleek top knot bun. Besides the extra low-maintenance styling, the look is an ideal contender for summer weather. However, with a hairstyle like this, it is important not to neglect the extension braids which will also need some TLC and a daily spritz or two of conditioning spray to keep the tucked-away hair moisturized.
Low Bun
Similarly, a slick low mini bun can also be an excellent option for warmer weather that offers little daily upkeep. But investing in a solid edge control or styling gel will be crucial to keep the mini bun looking fresh.
Bantu Ends
For the ultimate summer staple upgrade, opt for this ultra-cool style which features stitch braid cornrows with bantu knotted ends. Best suited for those who prefer shorter protective styles, this look can easily be done with natural hair and you can even incorporate artsy designs.
Long French Braids
Even if you're not a fan of cornrows you can still take advantage of stitch braids with a French braided style. For this classic hairstyle, which features braids crossed under instead of on top of the head, the horizontal parts are placed on the outside to create a sweeping look.
Rose Design
If you're in the market for a show-stopping look, this intricate stitch floral design is for you. Featuring a rose on each side and one on the back of the head, this blooming braided hairstyle is almost too perfect of an accompaniment for the season's eclectic festival looks.