How I Refresh My Knotless Braids & Maintain A Lived-In Look As An Adult
It's a whole new routine.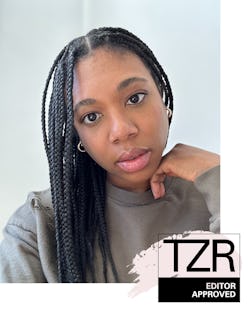 We may receive a portion of sales if you purchase a product through a link in this article.
Like most Black women, my relationship with braids began in grade school. Growing up during the Brandy Norwood era, I saw the versatility of hairstyles box braids could provide, and wanted nothing more than to test them out for myself. So at the beginning of each summer, I'd sit for hours to have my hair braided and spend the rest of the season switching between half-up styles and ponytails — each with my signature two braids left out in front. However, as I got older, braids took a backseat to other hairstyles. Which is why coming back to knotless braids as an adult has been an exciting learning curve. Needless to say, weekly pool visits with less wash days are no longer my top priority. Instead, learning how to refresh knotless braids and maintaining the health of my hair and scalp take precedence. This time around, I'm enjoying wash days and utilizing a regimen that is completely different than what used to be my normal routine.
As an adult, I've only had my hair braided a handful of times (this being the third). Each time, I've learned new ways to manage and achieve my preferred look. For me, that means braids that are soft and easy to maneuver, and a little bit of regrowth showing at the root of the braid. Not that I don't enjoy fresh parts and smoothed baby hairs, but I'm partial to a more lived-in look. However, the overall goal is to have each braid appear and feel moisturized. And in order to achieve that, I rely heavily on a range of products including hair oils, scalp serums, and most importantly conditioning sprays. Not only have these products prolonged my style, but I've found my hair to be much more enriched once the braids are taken out.
While the middle school version of me cared very little about braid maintenance, today, my method puts hair health first. Ahead, see the products I use to keep my braids looking healthy and moisturized.