These NYW Street Style Beauty Looks Are Too Good To Miss
Jeremy Moeller/Getty Images Entertainment/Getty Images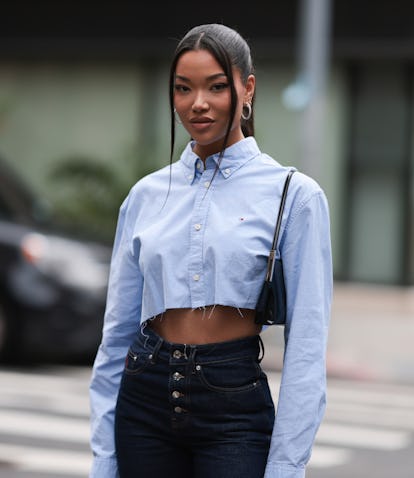 The first days of September in New York hold great value for the fashion and beauty crowds. At this very moment, the city is buzzing as stylish attendees flock to fashion week events. Whether heading to designer shows and presentations or making their way to an after-party, the guests never disappoint the cameras catching their outfits. And true to form, the NYFW Spring/Summer 2024 street style beauty trends are also delivering inspiring looks at every turn.
Soft locs and wispy bangs are a few examples of the top hair looks seen outside the shows thus far. With the unseasonably hot and humid weather in the city, it's not hard to see why variations of these effortless hairstyles are prevalent. Colorful hair is also in full effect, with shades ranging from icy blonde to pink and fall's newest favorite hue, copper. While the weather may be keeping makeup looks pared down, red lipstick is ensuring the guests are looking chic in the heat.
With NYFW in full swing, there are countless looks to catalogue for your mood boards. Below, a rundown of the very best beauty moments of NYFW thus far. Be sure to check back throughout the week for updates on the latest look.
Butter Blonde Hair
In case you were wondering, you can match your hair color to your wardrobe. Just take a cue from Maria Regina Tahan who paired her golden blonde hair with a sunny yellow dress.
Summer Walker donned a nostalgic blonde updo to the Tommy Hilfiger Fashion Brunch that was giving major '90s vibes.
Super Slicked-Back Hairstyles
Given the humid and hot weather in the city, it's no surprise many guests opted for slicked-back hairstyles. Here, Emily Ratajkowski keeps cool with a sleek and stylish wrapped ponytail.
A slicked-back bun is another hairstyle that's timeless, and forever chic. Not only is it ideal for fussy weather and quickly moving through the city, but it's also a great way to show off your best facial features.
The wet hair look never fails to be stunning, especially when paired with a sultry off-the-shoulder dress. Whether you have short or medium-length hair, it's an easy style to achieve and wear throughout the day.
Goth-Inspired Lips
Gothcore isn't going away anytime soon, and the streets of New York are loaded with lots of inspiring ways to wear the trend via lipstick. To fully embrace the look, try a greige lippie and accentuate it with a deep brown liner.
This vampy eggplant lip screams fall and is even more ravishing when worn with minimal makeup. While the color alone makes a statement, bare shoulders and tightly pulled-back hair make the look a true show-stopper.
If you've been on the fence about black lip liner, consider this ultra-cool look an invitation to give it a try. Paired with a berry lip color, the look is as alluring as it is trendy.
Y2K Tendrils
Face-framing tendrils are a Y2K beauty trend that continues to be adored at every age. Here, Ming Lee Simmons showcases the classic way to wear the look.
The tendrils get an elegant update when paired with a sleek top bun and one-shoulder ruffled dress. To keep the style from feeling too stiff, subtle waves were added for a touch of movement.
Blending a few Y2K styles like micro braids, tendrils, and sheer sunglasses make this look cool and effortlessly classic.
Cherry Red Lips
It just wouldn't be NYFW without a few red lip sightings. A swipe of a cherry shade is all that was needed to bring this guest's look together.
Some may argue that nude is the perfect everyday shade, but this blurred cherry red lip begs to differ. Simple and soft, it adds a natural flush to the lips and is great for trekking through the city on a hot day.
Soft Faux Locs
The beauty of soft locs is that they can easily be manipulated into a handful of unique hairstyles. This blonde look features both pinned-back and free-flowing locs, resulting in a gorgeous statement.
Justine Skye might just be starting a new wave of soft loc hairstyles. Her look blends faux locs with another popular trend, boho braids, to create a cool mash-up of the two. The result? A free-flowing style that's completely her own.
All Sorts Of Bangs
Wispy bangs keep this shaggy mullet cool and carefree. They also make a great addition to a number of styles, such as the cub and wolf cut, that are still trending on the streets of New York.
In case you didn't already know, soft, textured bangs a-la Jane Birkin are having a major moment right now. The classic style paired with shoulder-grazing straight hair continues to be a favorite combination, as demonstrated by this guest.
Jane Birkin isn't the only icon whose bangs are beloved right now. These micro-bangs seen on a guest outside of Collina Strada are giving full-on Bettie Page vibes.
Statement Brows
Bold brows are an easy way to amplify your look. Whether your going bare-faced or full-on glam, some extra fluff can go a long way.
Bold doesn't always have to mean fluffy, as this guest shows. The trick is using a micro-fine pencil to make them look precise and intensified.
Copper Hair
As one of the breakout hair colors for fall, copper hairstyles are popping up all over the city. This sleek, straight look shows just how wearable the hue can be with minimal styling.
Curls of any kind showcase the full range of copper hair. In the sunlight, each coil shines brilliantly for a multi-dimensional look.
Natural copper waves create a luscious and elegant look. Here, Nikki Lilly sports a romantic half-up, half-down style that's easy-going and carefree.
This article was originally published on