Here's How To Create A Swoon-Worthy Loc Style At Home
Expert tips straight from the salon.
@therealcholey2.0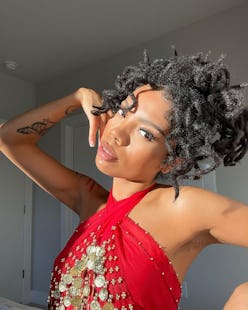 One of the beautiful things about Black hair is that it can do so many things. From twist-outs to curls, box braids, and cornrows, the sky's the limit when it comes to creating interesting hairstyles. And when it comes to locs, the possibilities are even more limitless thanks to the uniqueness of the style itself. "Locs aren't just a hairstyle, they're a representation of culture and identity that tells a story about each individual who wears them," says Annette Roche, hairstylist and co-owner of NappStar salon in New York City, which specializes in loc care and maintenance. Whether you've just begun the process or have been growing them for years, there are lots of creative ways to style locs. Just look at celebrities like Chlöe and Halle Bailey, who provide a range of inspiration, or Ciara who is known for her ombré and colorful looks with faux locs.
But the route to achieving a unique look, whether at the salon or at home, is much different than that of any other protective style. As Roche notes, "loc styles differ from other styling methods because the locs themselves have distinct shapes and sizes that will ultimately determine the outcome of your look." This is why trusting your stylist, and more importantly, knowing what the process entails is key. Ahead, TZR chatted with two experts on both natural and faux loc styling for the scoop on creating and maintaining a salon-worthy look at home.
What To Know Before Having Your Locs Styled
As is the case with any look, beginning with clean and healthy hair is essential to making your style last. But when it comes to locs, there is another step that is just as crucial for longevity. "Before doing any type of style, it's always important to have your locs retwisted," says Roche. For her clients, she provides a comb and re-twisting service that refreshes the roots and moisturizes the scalp. "Not only is this step crucial to prolonging the style, but it will also help it look better as the locs are more likely to stay in place and maintain their hold when freshly twisted," she says.
In a similar instance, scalp health is also at the forefront of styling when it comes to creating a look with faux locs. Celebrity stylist and Toppik brand ambassador, César DeLeön Ramîrez tells TZR that you'll want to ensure that your scalp and hair are in a very healthy state before having the extensions installed to make certain the style keeps and doesn't impart any damage such as breakage.
What To Know About Styling Natural Locs
The process of styling locs tends to be a bit more involved, but it is truly a culmination of creativity and understanding. "For me, it's important that each style showcases the beauty and diversity of locs in the most authentic way possible," says Roche. In that vein, she notes that booking an initial consultation to discuss the specifics of your desired style can go a long way. Once decided, the stylist will begin creating the look using a range of products to moisturize and, most importantly, hold the style in place.
Products are bound to vary from salon to salon, but knowing exactly what to use on your locs is vital to prolonging your style. "Locs don't do well with heavy creams or waxes as they can get trapped in the loc and cause build-up over time," she says. "A loc style means your hair will be more tucked away so using the right products will ensure that they are healthy and happy throughout the duration of the style."
What To Know About Styling Faux Locs
You've probably noticed a lot of celebrities rocking faux locs as of late thanks to a method known as loc wrapping. According to Ramîrez, loc wrapping is a technique where extension hair is used to wrap a braid in order to create the look of locs. "This technique can be seen with different looks like soft locs and butterfly locs," he says.
Similar to other extension hairstyles, such as weaves, the type and quality of the hair used will determine how your overall style will look and how long it can last. "There are a number of hair textures that can be used for wrapping, each that will yield a different finish, so you'll want to be sure to ask your stylist what kind of hair they suggest for the style," he says. For a style that is long-lasting and natural-looking, he recommends using hair with a looser curl pattern similar to what is used for passion twists.
How To Maintain Your Style At Home
Regardless of whether your look was created with natural or faux locs, maintaining the style with regular conditioning habits and nighttime protection is important for the health of your hair. According to Roche, keeping your style covered with a silk scarf or bonnet when sleeping not only cuts down on frizz, but also helps prevent friction and moisture loss. As far as moisturizing goes, she suggests using a nourishing spray made with rose water to hydrate the locs and soothe the exposed scalp. "The key here is to minimize build-up and retain moisture in order to keep your style looking great and hair healthy."