Matte Eyeshadow Is The One Controversial Fall Makeup Trend I'm Defending
Courtesy of Erin Lukas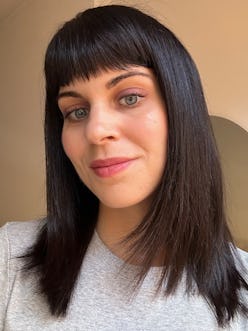 We may receive a portion of sales if you purchase a product through a link in this article.
Is the "glazed donut" era coming to an end? After a little over a year of wanting my face to look as shiny as possible, I suddenly find myself gravitating towards rich textures void of any light-reflecting particles or glitter in my makeup routine. Maybe it's because we've reached peak dewiness. Before the internet started naming extreme takes on the look after desserts, being glowy meant your skin had a subtle, lit-from-within radiance. Now, it's about being as shiny as a greased-up cooking pan. While I can't say I'll ever fully return to the full-coverage looks that reigned supreme in 2016, this fall, I'm embracing matte eyeshadows paired with natural base makeup.
I'll admit, the thought of matte eye makeup conjures up images of extreme cut creases from the heyday of beauty YouTubers. However, it's a versatile product that can be worn in myriad of ways. A few options I plan on trying? A sheer wash of terra cotta on my lids to make my blue eyes pop, a smudgy charcoal shadow along my upper and lower lash lines for a grungy smoky eye, and a sharp navy wing instead of an inky black one.
Whatever your makeup style, the shine-free look can easily be adapted to your routine. Below, I've compiled my favorite matte eyeshadow products to get you inspired. Plus, the tools I use to achieve them.