Kourtney Kardashian's 'Hourglass Manicure' Will Make You Believe In Nail Art Again
@kourtneykardash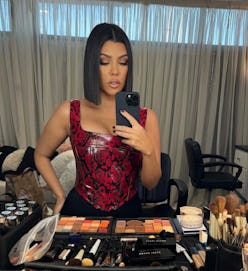 If the past few years have made you give up on nail art altogether, you're definitely not alone. Between ever-changing micro-trends, 3D floral accents, glow-in-dark polish, and mind-bendingly tiny illustrations all jammed into a single nail, it's enough to make a minimalist's head spin. But what do those less-is-more types do when the mood for something a bit more detailed than solid polish strikes? Forget the tried-and-true French manicure and set your sights on something a little more creative, like Kourtney Kardashian's new "hourglass nails."
Just revealed on Instagram ahead of Valentine's Day, you can liken the hourglass nail look to a French manicure — it's just a more vertical take on the style. Combining interesting, artistic shapes with plenty of clean negative space, it's ideal for those who want a little something different for a special day. Kourtney Kardashian has always enjoyed a more low-key aesthetic than her four famous sisters, and that extends to her manicure choices, too. Sure, Kardashian will occasionally go for something a little bolder — check out her crystal-covered Christmas nails — but largely sticks to a pared-down look. The new hourglass manicure definitely aligns with her aesthetic, concentrating all of the blood-red polish color along the sides of her almond-shaped nails, with glossy nude nail beds front and center.
Created by celebrity nail artist Kim Truong, the hourglass manicure features just the thinnest stripe of color across the tops of the nails to create a closed loop. The cutouts occupy much more space than the colored polish so, regardless of what shade is used, it's never overwhelming. It's not dissimilar to the technique used in colorful French tips — keep the bold colors in one spot, and suddenly any shade is appropriate for anywhere. In fact, this new manicure style might just be the death knell for 2020s French manicures — which Kardashian and Truong helped popularize — altogether.
If you're soft-launching a new partner on Instagram for Valentine's Day the way Kardashian did with a sweet hand-holding pic back in 2021, consider the hourglass nails for your announcement.