Dakota Johnson's Extra-Long Manicure Is Sporting Spring's Chicest Color Combo
Danny Martindale/WireImage/Getty Images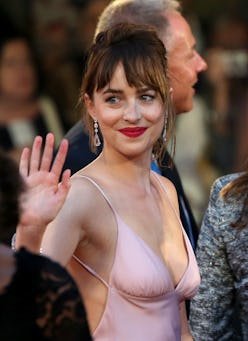 Even a celebrity so freewheeling as Dakota Johnson is willing to make room for the right beauty craze. Because Johnson typically helps ignite trends — especially as it relates to her creative clothing choices, vintage-tinged decor style, and trademark bottleneck bangs — her co-singing an existing one means it's worth paying some serious attention to. Dakota Johnson's milk bath nails not only endorse one of spring and summer's most in-demand manicure colors, but length and style, too.
A low-key departure from her usual look, the long, almond-shaped nails add some understated elegance to her '70s-inspired outfit, captured by photographers as Johnson ran errands with beau Chris Martin. The milk bath nail trend is defined by the combining of creamy pinks and tans with whites to create a custom, just north-of-nude shade. The color itself isn't so unexpected on Johnson, considering she favors classic, matches-anything reds, blacks, and soft pink polishes, but the length is a fresh choice for the Am I OK? star. Even on the red carpet, Johnson's nails are virtually always shellacked in a straightforward polish, skipping the acrylics or gel nail extensions so popular among the rest of Hollywood — and the world, for that matter — right now.
Plenty of Johnson's stylish celebrity peers have joined in on the milk bath nail trend in recent months, including Jennifer Lopez, Selena Gomez, Kaia Gerber, and Blake Lively. Either left plain to show off the cloudy color combination or decorated with a shimmer-finish, floral detailing, or French tips, the style is surprisingly versatile for being so minimalist. Of course, while Johnson's nail color is very trendy, it's the almond-shape and impressive length that's the real shakeup here — though it makes sense that this would be her entry point to more "extreme" nail looks.
As emphasized in TZR's guide to all things almond manicures, the pull of the shape is in just how natural they appear, simulating long, healthy natural nails. Though far from the more experimental looks of her fellow stars, here's hoping this be a harbinger of Johnson's nail-fluencer era.