Kourtney Kardashian's Three Weddings All Had Their Own Distinct Bridal Hairstyle
@kourtneykardashian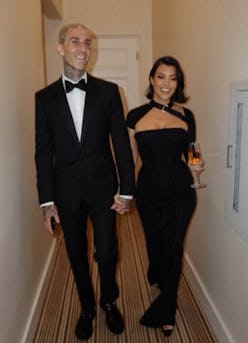 It's the moment everyone was been waiting for since that first fateful Instagram photo of their hands intertwined, his tattooed and hers daintily manicured. Yes, Kourtney Kardashian and Travis Barker finally got married — three times actually, but varying in their legality. The so-in-love couple first "wed" in Las Vegas immediately after the 2022 Grammys without a license but made it official at the Santa Barbara county courthouse just a few weeks later, only to follow that up with their grand finale: a lavish ceremony and reception on the Italian Riviera. Of course, Kourtney Kardashian's wedding hair was completely different for each set of nuptials, all of which were tailored to suit the assorted venues. If Kravis fans have learned anything from their PDA-filled courtship, it's that this couple loves to celebrate love — and will take any opportunity to express it in the most opulent way possible.
Just in time for Hulu's 'Til Death Do Us Part: Kourtney & Travis special highlighting the famous couple's impossibly glamorous Italy wedding, take a look back at each of Kardashian's bridal hair and makeup moments, all distinct and, in some cases, very polarizing. Ahead, Kourtney Kardashian's bridal beauty looks for all three weddings.
Kourtney Kardashian's Vegas Wedding Hair
Kourtney Kardashian's Las Vegas wedding might not have carried any legal weight, but it hardly mattered to the couple, who turned up at the Little White Chapel at 2 a.m. Unable to obtain a marriage license, the couple decided to make the Elvis impersonator-officiated wedding their practice round.
In accordance with the off-the-cuff ceremony, Kardashian's glossy black hair was pulled back into a simple, sleek ponytail, elevated and polished-looking thanks to a few key touches. By wrapping strands around the ponytail elastic to obscure it and framing the face with a few free-flowing tendrils, the casual ponytail feels so much more romantic.
Kourtney Kardashian's Santa Barbara Wedding Hair
In their only legally-binding ceremony, Kravis exchanged vows on the Santa Barbara courthouse steps in a very intimate ceremony. In fact, the guest list was so tight that not even Kardashian's sisters made the cut. But while the actual wedding was short, simple, and sweet, trust the eldest Kardashian to stun regardless. Kardashian's wedding hair and dress were perfectly suited for the wedding's pared-down style, opting for a white mini-dress and a romantic, delicate updo obscured by her traditional veil.
Kardashian's hair, while mostly hidden by her gauzy white veil, is an all-time classic bridal style. Brushed back into a loose updo (most likely a little bun or chignon), the voluminous side part gives way to delicate, face-framing tendrils that skim her jaw. While the few and far between high-quality photos mean it's difficult to see much of Kardashian's bridal makeup, it appears to be equally simple and sophisticated to match her traditional hairstyle.
Kourtney Kardashian's Italy Wedding Hair
Finally, for the couple's last and most luxe ceremony, Kardashian went in a rather unexpected direction: a minimalist bun. Considering her love for cartoon characters, quirky outfit combinations, and punk-inspired motifs, did anyone expect something so traditional for the big wedding?
Fans first caught a glimpse of the bun, created by celebrity hairstylist Irinel de León, beneath her blue-trimmed black veil for a boat party, then again at the actual wedding draped in a cathedral-length white veil.
Don't you just love love? And extravagant, international, multi-event declarations of love, too?
This article was originally published on