Crystal Greene Is The New York Facialist Beauty Editors Swear By For Sculpted Jawlines
A slow, intentional approach trumps bells and whistles.
Courtesy of Crystal Greene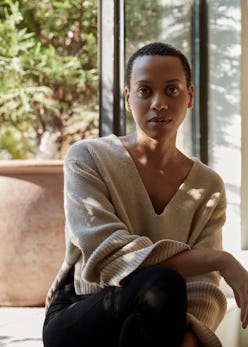 We may receive a portion of sales if you purchase a product through a link in this article.
Microdermabrasion, lasers, dermaplaning — there are a number of high-tech bells and whistles estheticians add to facial treatments to address common skin concerns like fine lines, wrinkles, and hyperpigmentation. But similar to mailing an old-fashioned greeting card rather than sending a text, going back to the basics can be just as impactful, if not moreso. For facial treatments, that translates to mechanically massaging and sculpting the face with the hands. This is a method Crystal Greene, a facialist with a beauty editor following and namesake studio in Soho, is known for in New York City.
After growing a loyal clientele at CAP Beauty in the West Village, Greene branched out on her own in 2021 after the cult-favorite boutique shuttered during the pandemic. "My treatments are intentional and less focused on beauty trends, Greene says of her facial method called La Sculpture. "Each treatment is tailored to treat and improve the client's skin health. It's not a quick and fast approach, but one that's designed to treat and improve the skin with facial massage and topical skin care products."
Greene says the facial massage takes up the bulk of her treatments because she spends time analyzing the structure of each client's face, then working on the areas of concern, whether that be tension around the jawline due to TMJ or loss of firmness around the eyes.
"It's common for people to experience tension in their jaw, but right between the brow is another spot because people tend to furrow their brows from staring at their computer monitors for too long," Greene tells TZR. "People can often show premature signs of aging around the eyes. So I'm always analyzing these areas of the face, where I may want to spend more time when I'm massaging and stimulating someone's skin."
In order to stimulate one's skin, Greene prefers to use her entire hand while massaging the face — a technique that creates more pressure than the average light touch of many facialists. "I think people can really feel a difference when the whole hand is used," Greene shares. "But it's also a practical method. Certain parts of the face, like the masseter muscle, which is where we clinch and often have TMJ, is a really big muscle. So using most of my hands in that section really creates pressure, which helps to manipulate the skin and work the muscle."
The facialist says her rhythmic technique was born out her dance background combined with the experience of analyzing so many faces while working at CAP. "I love to use my hands as a tool of expression and that's why my approach focuses a lot of massage technique," Greene says. "I used to also dance for many years, so I love the rhythmic element of massage. It brings me such great peace and joy and it's like my meditation – I'm always trying to offer that to my clients as well."
Greene's intentional massage treatments also include slow skin care products to help address each client's specific concerns. "It's really about understanding skin health and what a client needs at that moment," the facialist says in regards to how topical products complement a massage. "Also, determining what's possibly causing these skin conditions, and then understanding how their skin functions. I'll give a client an overview of why they might be experiencing these concerns, then create a treatment plan."
While clients won't find a ton of high-tech machines in Greene's studio, the facialist is a fan of the Lyma laser, a handheld device that helps improve skin elasticity as well as the appearance of fine lines and wrinkles and minimizes acne; she offers it as an add-on to her sculpting facial. This choice of module is just as intentional as her sculpting method and choice of topical products.
"I test everything before introducing it into my treatments," Greene says. "I was really astounded by the results and that there is no downtime with using it. It's important to me that people feel like they can step out of the studio and look like their best self. If they have an event, I want them to be glowing, radiant, and look refreshed."
And for those who want to maintain their massage results in-between appointments or don't have a ticket booked to NYC in the near future, Greene has some advice on how to sculpt the face at home.
"Create movements; stimulate your skin; pinch your skin," Greene says, noting it's important not to be afraid to use a little bit of pressure. "Think about the places where you hold tension and give them some attention. Get in there to create movement in your skin and don't be afraid to see a little bit of pinkness and blood increase in the skin. The more you get that heat going, you'll get the circulation going, and the results will be better."
Luckily, anyone who books a treatment with Greene can be confident they'll get a treatment customized to them rather than what's currently trending in the skin care and aesthetics space.
I think beauty can really become about standards or trends, and that's not a place that I operate from," Greene says. "I'm always thinking about why I do something and things have to resonate and speak to me."