Jennifer Lopez Opens Up About Motherhood In Coach's Latest Campaign
Courtesy Of Coach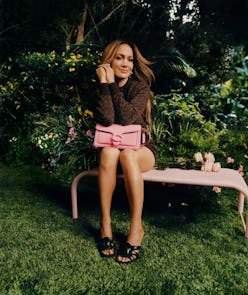 We may receive a portion of sales if you purchase a product through a link in this article.
Not to get too sentimental here, but moms (aka superheroes, if you will) deserve the world — and, at the very least, a day dedicated to acknowledging and celebrating everything they do. Coach agrees, and its Mother's Day campaign, which stars Jennifer Lopez, couldn't be more special. The Shotgun Wedding actor has 15-year-old twins Emme and Max, and is now a stepmom to Affleck's three children, Violet, Seraphina, and Samuel.
In the video, Lopez credits her parents for instilling important life characteristics in her as a child. "Everything about my upbringing informs me as a person and as a mother today," she said in the clip. "The things I learned about working hard and being a good person and following your dreams and all of those things that I learned when I was little and that my mom and dad tried to teach me, I try to pass on to my kids as well." She continues speaking about being a mother in another video, saying, "It's not the easiest thing, that balance of being a partner, a friend, a parent, to be able to know when to comfort them, when to be firm with them, when to set boundaries, and that's really kind of the trick of motherhood."
The spring imagery, which features Coach's Rogue and Tabby bags in cherry pastel shades, was shot and directed by Joshua Woods, a photographer who works with fashion and beauty brands like Gucci, Byredo, and RE/DONE. Below, Lopez is pictured holding the Rogue 25 style, which boasts 3D flowers. In addition to the bag, the actor wore a bright floral top and sleek black sandals. The other images showcase the Tabby bag, a carryall the 53-year-old actor is a fan of IRL, too, as she's toted it around in the past.
This isn't the first time Lopez has shot an advert with Coach. She's been one of its celebrity partners since November 2019, when she was named a global ambassador. Over the past few years, the actor and entrepreneur has starred in numerous shoots with the brand, including its Mother's Day 2022 campaign. "I got my attitude from my mom 💕," Lopez wrote back in April 2022.
If you haven't picked out a gift yet for the mother figure in your own life, perhaps you'll feel inspired by Coach's new campaign. Treat her to one of the label's playful spring bags below (and maybe snag one for yourself, too).