If You Have Pesky Dark Spots, Add Kojic Acid To Your Skin Care Routine
The ingredient is gentle yet effective.
The Zoe Report; Shutterstock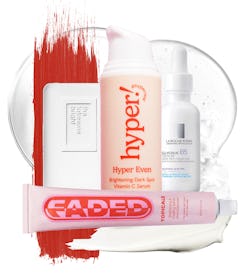 We may receive a portion of sales if you purchase a product through a link in this article.
With new products, brands, and categories popping up every day, beauty can be a bit overwhelming. Back to Basics is our rudimentary beauty series that serves as your crash course on the science behind some of the best formulations in the game. This week, we're taking a look at kojic acid for your skin.
Of the many concerns that plague skin, hyperpigmentation is one of the most tricky to deal with. Whether due to acne scarring, sun damage, or genetics, darkened areas of the skin are sore spots that generally require expert help to lighten the discoloration. However, there are a handful of topical ingredients, such as kojic acid, that can help brighten the concerning areas without the fear of damaging surrounding healthy skin cells.
Originally discovered growing on steamed rice, kojic acid is frequently utilized in Japan to break down starches used to make alcohol. But among the beauty set, this interesting natural byproduct is an effective ingredient that is frequently recommended by dermatologists to treat hyperpigmentation. "I often propose products containing kojic acid as opposed to those with hydroquinone which can sometimes irritate the skin and produce inflammation increasing pigment production," says Philadelphia-based board-certified dermatologist Dr. Nazanin Saedi, M.D.
With its gentle yet potent brightening properties, kojic acid has become a popular ingredient in a range of skin care products. Ahead, TZR spoke with two leading dermatologists to break down the basics of kojic acid, including how to use it in your daily routine.
What Is Kojic Acid?
Kojic acid is an active that is naturally derived from a few different species of fungi. However, it's most commonly produced by a mold named Aspergillus oryzae. Found in East Asia, this particular type of mold, best known by its Japanese name koji, is regularly used to make alcoholic beverages like sake and shōchū. As a metabolic byproduct, koji acid works as an inhibitor to block enzymes most specifically those needed for the production of melanin.
What Are The Skin Care Benefits Of Kojic Acid?
According to Dr. Sarah Sawyer, M.D., a board-certified dermatologist and founder of Dermatology & Laser of Alabama, "the primary benefit of kojic acid in skin care is to visibly lighten areas of the skin that have darkened due to sun damage, aging, or scars." She continues, telling TZR that as a natural inhibitor that discourages the production of excess pigment, it's a useful tool for combatting marks left by common conditions such as acne.
Kojic acid can also be used as an exfoliant. However, unlike alpha and beta hydroxy acids, this fungi-derived ingredient is strictly meant to lighten and can not be used to resurface the skin. "For those dealing with hyperpigmentation kojic acid acts as a gentle exfoliant that can lighten over time," says Dr. Saedi.
What Are The Side Effects & Who Should Use It?
As a gentle acid, kojic can be used as a brightening agent for any and all skin types dealing with discoloration. But both Dr. Sawyer and Dr. Saedi agree that you should err on the side of caution if you have sensitive skin. "Depending on how sensitive your skin is, use of kojic acid can lead to contact dermatitis with symptoms like itching, rashes, or dry patches," says Dr. Sawyer. If you typically steer clear of chemical exfoliants and harsh actives, Dr. Saedi recommends spot-testing an area of concern first.
How To Incorporate Kojic Acid Into Your Routine
Gentle enough to be used daily, kojic acid can be found in a variety of products — which makes incorporating it into your routine pretty easy. From serums to cleansing bars, it can be added to morning and nightly regimens with little concern. For her patients, Dr. Sawyer recommends using a serum, like SkinCeuticals Discoloration Defense, twice a day. "After cleansing and use of an antioxidant, apply three to five drops of the product to the face and follow with an SPF," she says.
While sunscreen is integral to any skin care routine, its use is extremely important if you are utilizing kojic acid for its brightening capabilities. "Due to its propensity to prevent melanin production, kojic acid makes the skin more susceptible to sunburns and damage," says Dr. Sawyer.
Shop Kojic Acid Skin Care Products