Bread Beauty Supply's Hair Gel Is My New Staple For Wash & Gos
Lightweight and flake-free with serious hold.
Courtesy of Khera Alexander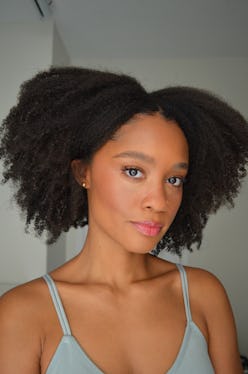 We may receive a portion of sales if you purchase a product through a link in this article.
In our series Trial Run, TZR editors and writers put the buzziest new beauty products to the test and share their honest reviews. This week, beauty writer Khera Alexander is testing Bread Beauty Supply's Hair-Gel Curl Capturing Gloss.
As much as I love my natural hair, I don't love styling it — truthfully, I contemplate going back to the curly pixie cut I had for years on a regular basis. The level of ease and airiness I had when my hair was shorter was glorious — I could wash, condition, and style it in an hour or less. As I grew my hair out and began to work with more length, I realized that I just don't have the skill or patience to experiment with different styles on my own. My low-porosity type 4 curls require a lot of hydration, drying time, and gentle manipulation, which in turn, often leave me feeling tired, overwhelmed, and ill-equipped to manage my hair's volume and density. So when I discovered that Bread Beauty Supply launched the Hair-Gel styler, I knew I had to try it.
Dropped earlier this year, the Hair-Gel is the latest addition to the brand's lineup of treatment and styling products, which aim to simplify natural hair care and infuse a sense of ease and enjoyment back into hair maintenance for natural textures.
Sometimes viewed as arduous and time consuming, wash days can be challenging. Personally, inexperience and the wrong product choices have complicated my hair routine. So with a product like Hair-Gel, Bread Beauty Supply is looking to change that by going back to the basics with its products. The promise of more defined curls, added shine, and the achievement of sleek styles intrigued me to learn how the gel could work for me. Keep scrolling through to read more about my experience with the fan-favorite brand's latest launch.
Fast Facts
Price: $26
Size: 6.2 fl. oz./185 mL
Clean/Cruelty-Free? Yes
Best for: Defining curls and locking in natural hair patterns, slicked-back styles, and smoothing edges.
Ingredient Highlights: Red algae, snow mushrooms, sea moss, yuzu fruit
What we like: Weightless, keeps hair in place without feeling hard; defines curls
What we don't like: A little pricey for the size
Your rating: 5/5
How TZR Keeps Score: 1/5: Making a return; 2/5: Keeping as a backup; 3/5: Finishing to the last drop; 4/5: Recommending to my group texts; 5/5: Already on auto-replenish
The Formula
Bread Beauty Supply's Hair-Gel is a water-based curl enhancer made for all types of textured hair. Formulated to lock in your hair's natural curl pattern, this gel will also hydrate strands. Capable of doing more than just defining curls, the gel is ideal for creating slicked-back styles and smoothing down edges, and the key ingredients are red algae, a red algae-based polymer, and snow mushrooms.
The polymer is used to provide hold and accentuate texture. Maeva Heim, founder of Bread Beauty Supply, says the ingredient defines hair and locks in moisture without making it look or feel overly coated. "The algae-based polymer naturally enhances texture without causing build-up, unlike more commonly found ingredients such as silicones or heavy types of oils," she says. "It keeps moisture locked into the hair, which textured hair types need so desperately due to naturally being drier."
Red algae extract and the amino acids serve as supporting ingredients to intensely moisturize so hair is more manageable while also protecting it from breakage. Heim says that the extract "also helps to smooth the cuticle down on damaged and wet hair, which is when it's the most susceptible to even more damage."
Rounding out the gel, snow mushroom also adds moisture, but more importantly helps hair maintain it. A particularly impactful ingredient, Haim mentions that it "can hold 500 times its own weight in water, forming a gentle hydrophobic film over both hair and skin like a silicone would, except it's easier to wash off." More manageable hair and hydration with just one product? Needless to say, I was incredibly intrigued.
My Typical Hair Care Routine
When I style my hair myself, I split my wash day into two. I use the first day for washing, detangling, and deep conditioning, and the second day to do a twist out or a blow-dried style. Realistically, I could probably fit all steps of my routine into one day, but I don't always have three or four hours in to spend on my hair in a single sitting. Wash days aside, I leave the majority of my hair maintenance to my trusted stylist. I visit her for protective styles (usually cornrows or knotless box braids) and silk presses a handful of times a year.
My Experience & Results
Starting with freshly washed, soaking-wet hair, I split my curls into eight sections with four on each side and apply the Bread gel to each section. Using one to two pumps per section, I coat my hair with product from ends to roots, raking it through. Once evenly distributed, I use my detangling brush to smooth the product through my curls a bit more, and then I let my hair air dry when finished.
If I'm short on time — or patience, which is absolutely more likely — I take my blow dryer and use the cool setting on my scalp to speed up the drying process. My shrinkage is pretty significant, so I also take this time to stretch my springy curls with the dryer to retain more length.
After using Bread's Hair Gel a couple of times over the past three weeks, I noticed my hair had definition, hold, and the frizz was at a minimum. I even managed to use the gel for a sleek low ponytail which was also a success. Heim explains the gel's versatility, noting that it can provide hold without damaging hair. "A lot of goopy gels give great hold but dry stiff and crunchy, and we're often having to switch between a lighter one for wash and gos, twist outs, and braid outs, and a heavier duty one for slicked back styles," she says. "Hair-Gel is a cross between your lightest, water-light pick, and the big gun's glue that works across whatever style you choose."
The Gel made me look forward to styling my hair because of how much time I saved doing it, but also because of how simple my routine became. In the future, I'd probably find a lightweight leave-in conditioner to use before I go in with the gel for an added layer of moisture.
Is Bread Beauty Supply's Hair-Gel Worth It?
Uninterested in a bunch of trial, error, and half-used products I will never touch again, I will gladly invest in — and repurchase — a product that makes my hair happy. For $26 and 185 mL, Bread's Hair-Gel is expensive for the amount of product you get, but for me, it's an investment that yields results.