A Hair Oiling Wardrobe Is The Key To Growing Strong, Healthy Hair
They're no longer just for massages.
@myceremonia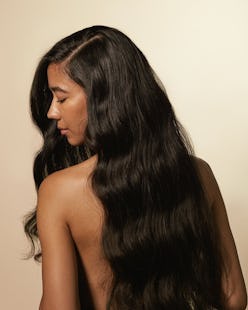 We may receive a portion of sales if you purchase a product through a link in this article.
Hair oiling is in its 2.0 era. In the past five years, Google searches for 'hair oiling routine' have increased by 250%. Based on this stat alone, it's not surprising that the ritual has become an essential step in many hair care routines exclusive of texture.
While using oil as a pre-wash remains an incredibly beneficial way to deploy some fatty acids in your hair, there's still more about the treatment to explore. The product can used for a variety of benefits, such as to invigorate the scalp to promote healthy hair growth and heal issues such as flaking and dandruff. It can also nourish and protect strands pre-shampoo, and add strength and shine after sudsing up. And combining different oils can turbocharge their follicular benefits, helping you make the most of the time you spend oiling.
To fully customize your oiling experience, brands now have a variety of options in their portfolio specifically tailored to common concerns, ranging from treatments to styling, even going as far as protecting strands from heavy metal build-up.
With the hair oil category continuing to gain momentum, TZR tapped a handful of experts to learn the ins and outs of hair oiling for your specific texture and concerns.
The Primary Benefits Of Hair Oiling
First, here's a quick primer on the benefits of hair oiling. The process involves gently massaging the product into the scalp and strands, and has been a method of hair care for centuries in many cultures because of the very tangible results it yields. Dr. Kiran Mian, M.D., a board-certified dermatologist based in New York City, says vascular stimulation and moisturization are oiling's two key benefits. "The process of massaging the scalp stimulates blood flow which brings fresh nutrients to the area and helps with lymphatic drainage. So, just massaging the scalp can be helpful," she says. But, the addition of an oil can help by introducing fatty acids. "Oil has different proteins and lipids in it that are beneficial for the hair because our hair cuticle is essentially made up of lipids and proteins. So, adding that to the scalp and letting it sit there for a couple hours can be really helpful to maintain the strength and structure of the hair," she says.
Why You Should Look Beyond Single-Ingredient Oils
As the ritual has become more mainstream, many single-ingredient hair oils (as the name suggests, extracted from one ingredient, such as coconut, mustard, or sesame) have seen a rise in popularity. For instance, Dr. Mian has her favorite oils for different concerns. "If someone comes to me with an itchy scalp, and it's unclear if it's dandruff or dryness, or maybe it's a combination of both, I really like castor oil. It's anti-inflammatory, antibacterial and antifungal, and helps to normalize the microbiome of the scalp," she says. Dry hair would benefit from coconut oil as "the fat in coconut oil helps to maintain the thickness of the hair and helps with breakage," while the antioxidants in sesame oil makes it her top pick for damaged hair. And she's also a fan of rosemary oil which can help the hair grow longer by increasing its antigen phase.
While single-ingredient products offer many of the benefits Dr. Mian describes, above, think of them as an introduction, or a first-step to the hair oiling lifestyle. If fixing specific issues is your goal, channeling a whole army of ingredients is the way to success. What you need to build, in essence, is a hair oil library. Concerns such as hair loss, flaking, dandruff, thinning, and dryness are complex and multifactorial, and expecting one oil to fix all the reasons that cause them is unrealistic. That's when a strength-in-numbers approach comes in handy.
Since many experience multiple scalp and hair issues, spending time self-cocktailing single-ingredient oils would necessitate a regimen that requires a complex flowchart to help you keep track of your application schedule. There's an easier way, thankfully, since some brands are doing the work for you by creating pre-mixed oil blends that target specific concerns.
The South Asian Origins Of Multi-Ingredient Hair Oils
Hair oiling has been associated with the South Asian subcontinent for centuries, and in those cultures, families have their own concoctions of oils spiked by hair-friendly herbs and spices. Female members of families labor for years to fine-tune and perfect their oil blends. In the beauty space, several hair care brand founders have been spurred to build their brands around these cocktails that have been handed down in their families over generations.
Diipa Buller-Khosla, founder of Indē Wild grew up watching her mom infuse oils with a variety of herbs, maturing the concoction on their kitchen counter. They lived in India and moved cities often, and that offered her mom Sangitha Khosla, who is a dermatologist and an Ayurvedic doctor, the chance to learn about local, indigenous ingredients grown in different parts of the subcontinent, and add them to her hair potion as she saw fit. When they lived in south Indian cities, hibiscus flowers, amla fruit, and neem and tulsi leaves were steeped in castor and sesame oils, a stint in New Delhi added marigold, licorice and fenugreek seeds to the mix. The mountainous region of the Nilgiris was responsible for bringing in brahmi and bhringraj, and rosemary joined the club after a final move to Holland. This potent brew is responsible for her mom's lush, hip-length hair. Buller-Khosla used most of those same ingredients to create the Champi Hair Oil.
At Fable & Mane, one of the first products co-founder siblings Akash and Nikita Mehta launched was the HoliRoots Hair Oil, packed with castor, coconut, jojoba, and olive oils, in conjunction with a bunch of Ayurvedic herbs like ashwagandha (increases hair strength), dashmool (promotes scalp circulation for healthy growth), bhringraj (prevents hair loss), and amla (stimulates hair growth and aids scalp health), many of which were ingredients their grandma used in homemade hair care remedies. Nikita experimented with them when she struggled and overcame hair loss a few years ago, and HoliRoots was born. But a lesser-known product in Fable & Mane's lineup is directly inspired by a hair oil their mom grew up with. The leave-in HoliRoots Hibiscus Hydrating Hair Oil Mist has the same ingredients she used: a base of coconut oil with hibiscus and amla. "My grandfather used to bring this oil for my mom from Bengal. Red hibiscus is said to be the most potent flower for hair growth, and it reminds me of the women in Bengal whose hair sometimes touches the earth," Nikita says.
For sisters Shaz Rajashekar and Kiku Chaudhuri of haircare brand Shaz & Kiks, growing up in Houston, Texas, meant that store-bought coconut oil was the easiest to access. But during the summers they spent in Darjeeling, India, their grandmother would make a unique oil blend using hyper-local ingredients from her garden. "She would pick specific leaves, dry them in the sun, steep them in a blend of coconut, sesame, and amla oils, add in more herbal extracts and leave it out in the sun for a full day. It was then ready to use," Chaudhuri says. Many of those oils and other ingredients were the building blocks for both varieties of their bestselling Scalp+Hair Prewash, a creamy mask enriched with over 25 oils, herbs, roots, and flowers — an all-star Ayurvedic lineup.
Why Blends Work Better Than Single-Ingredient Ones
The reason an oil composed of a variety of plant oils and other ingredients might work better is simply a case of stacking benefits — just as a skin care product containing multiple actives might be more effective than one with a single ingredient.
"I love the idea of oil blends for a multi-targeted approach. Much like compounded medications, combining oils with varying benefits allows patients to obtain all the benefits while taking away the physical stress on the hair from oiling too frequently," says Dr. Mian.
She likes the blend of antioxidant and growth-stimulating oils like castor and sesame seed in Indē Wild's Champi oil, as well as the nourishing and moisturizing effects of coconut and amla oil. Squigs Beauty's hero Gooseberry Delight Hair Oil, similarly blends coconut, castor, apricot, sesame, and olive oils, plus an unsung hero, nigella sativa seed oil aka black seed oil.
How Brands Are Creating Innovative Hair Oils
Modern hair care technology has also been a game-changer for brands, allowing them to modernize their old recipes in ways that make them accessible and appealing to newer generations. Shaz & Kiks' pre-wash takes a blend of oils which would have typically needed some heavy massaging to effectively spread through the hair, and converts it into an easy-to-spread scalp mask. Their latest launch, Moringa Anti-Breakage Serum with Peptides, takes a lightweight, serum-like approach, infusing hydrating and nutrient-rich moringa oil with a bunch of peptides to repair weak or damaged hair cuticles. "The peptides bond themselves into weak spots on the hair cuticles and the moringa oil seals it in. We wanted to create the perfect blend of an Ayurvedic oil with a clinical active and tried to push ourselves to create an innovative experience while keeping the traditional Ayurvedic ingredients as the foundation of the product," says Chaudhuri.
The Mehtas too have been playing with oil viscosity and texture to create products that target different areas of the hair, from scalp to shaft to tips. "With the endless amount of amazing plants and Ayurvedic herbs, we wanted to be able to introduce a curated wardrobe of hair oils, both pre-wash and post-wash, that you can curate based on your individual hair and scalp health needs," says Akash. After HoliRoots oil became a bestseller, their community expressed the need for a pre-wash that targeted more serious scalp concerns, leading to the SahaScalp Amla Soothing Serum. "It's an alternative pre-wash treatment to HoliRoots and more soothing for a problem scalp," says Akash. It's loaded with aloe to calm and nourish, bakuchi for cell turnover and regeneration, and amla for some antioxidant action.
Earlier this year, the brand launched MahaMane Smooth & Shine, a heat-protectant oil designed for post-wash styling, their first product in the styling category. It has a cocktail of plant butters and oils like castor, babassu, buriti, açai, passionfruit and pataua to mend damaged ends, plus shikakai, an Ayurvedic herb for shine, and ashwagandha for strength.
Even mainstream brands are looking beyond the obvious uses to build oil products with unique benefits. L'Oréal Professionnel recently announced an extension to their Metal Detox line, a range of in-salon and at-home products meant to neutralize the hair damage done by heavy metals which accumulate in strands from exposure to water from old shower pipes, chlorinated pools and even natural water bodies. The Metal Detox Concentrated Oil is a post-wash protectant that propels glicoamine, a small, synthetic active ingredient into the hair fiber to neutralize metals, resulting in less damage, breakage, and long-lasting hair color.
Biotech powered bond-building brand K18 into mass popularity, and oil has been on its mind, too. The latest launch, Molecular Repair Hair Oil, also contains the brand's proprietary bond-building technology that repairs damaged strands. The oil, which doubles up as a heat-protectant, gives customers an easy way to build K18 into their routine if the original leave-in mask isn't a fit.
How To Successfully Start Hair Oiling
As beneficial as hair oiling can be, Dr. Mian says that it is one area where the "too much of a good thing" principle does apply. Doing it more frequently is not necessarily better for your hair because oil is thick. "It sits on the scalp and to get it out we really have to massage and lather that shampoo in," she says. "I even suggest double shampooing to my patients to make sure they're getting all the oil out. That's quite a lot of kind of mechanical trauma for the hair to go through, so I don't suggest oiling too often." Dr. Mian's rule of thumb is to oil every two weeks and definitely no more than once a week. "If you do it more often you're just going to end up with more damage rather than a benefit. Just be patient and you'll definitely see results," she says, noting that you should give any hair treatment a least three months to show results because hair needs to go through its growth cycle.
When massaging oil into your hair, the right pressure and duration is key. Dr. Mian likes to use the fat pads of her fingers to gently massage the scalp for five to seven minutes. "Don't be too aggressive. People often think they need to really rub it in to get faster results, but that's not the case," she says.
For her acne-prone patients, she advises using a cloth headband or an exercise band on the forehead, so that oil doesn't drip onto those areas of the face and clog the follicles, potentially leading to breakouts. "And if you're going to bed with it [an oil], I usually put a T-shirt or old pillowcase over my pillow and make sure to wash that the next day. Going to sleep on your regular pillowcase and then putting your face back on that same pillowcase means you're going to end up breaking out on the face," she cautions.