Lip Gloss Nails Have Taken Over NYFW F/W '23
Ahead, all of the must-see beauty trends from the runways.
Courtesy Of Kiss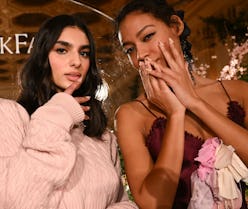 After six days of providing a sartorial feast for the eyes of fashion show guests and enthusiasts on the internet, the New York Fashion Week Fall/Winter 2023 season is coming to a close. While the bad news is that the next set of shows won't take place for another seven months, there is a silver lining: the NYFW's latest presentations have churned out a number of stunning beauty trends that you don't have to wait until fall to try.
This season's runway makeup, hair, and nail moments include options for both beauty maximalists and minimalists alike. For those who like to go big with their looks, Rodarte's gothic fairy winged eyeliner, Christian Siriano's sleek twisted buns, and PatBo's colorful mosaic French manicures are worth noting. For anyone who likes to stick to simple, effortless looks, Tory Burch's thin, clean cat eyes, Proenza Schouler's air-dried hair, and Jason Wu's lip gloss nails are the runway trends to note.
Ahead, TZR has compiled all of the standout makeup, hair, and nail trends from NYFW F/W '23 that will inevitably end up on everyone's beauty mood boards in the months to come.
Pops Of Pink
Carolina HerreraTheo Wargo/Getty Images Entertainment/Getty Images
Anna SuiGilbert Carrasquillo/GC Images/Getty Images
Pink eye makeup for fall? Actually a groundbreaking look. While the chilliest time of year is usually associated with dark, vampy makeup shades like charcoal smoky eyes and oxblood lips, many designers went against the status quo, sending models down the runway with baby pink eyeliner and eyeshadow looks — a refreshing, mood-lifting trend for fall. A few examples to note: Carolina Herrera showed clean pastel pink cat eyes, makeup artist Marcelo Gutierrez added painterly strokes of matte pink eyeshadow to models' lids at Palomo Spain, and Dame Pat McGrath created a color block pink, turquoise, and navy look for Anna Sui.
Out-The-Door Hair
Proenza SchoulerArturo Holmes/Getty Images Entertainment/Getty Images
SimkhaiAstrid Stawiarz, GETTY Images for TRESemmé
Easy, natural hair is the equivalent to dewy no makeup-makeup on the NYFW runways – both looks have become designer mainstays in recent years. For F/W '23, a number of shows sent models down the runway with styles that enhanced their natural hair textures. A few examples include the curls and bends at Ulla Johnson, air-dried hair at Proenza Schouler, and tousled strands at Simkhai.
Bold French Tips
Proenza SchoulerCourtesy of JinSoon
LoveShackFancyCourtesy Of LoveShackFancy
White tips aren't the only option when it comes to the French manicure. For fall, why not inject a pop of bold color into your looks with one of the vibrant, eye-catching takes on the classic manicure from the F/W '23 shows? A few options to try: nail artist Jin Soon Choi's matte black ombré tips from Prozena Schouler, Gina Edwards' mosaic French for PatBo, or her glitter tips for LoveShackFancy.
Smudgy Eyeliner
Prabal GurungRodin Banica/WWD/Getty Images
AltuzarraGeorge Chinsee/WWD/Getty Images
Smudgy, lived-in liner is slowly making its way to the forefront of makeup trends, which is good news for anyone who can't manage to draw two even cat-eye wings. The almost effortless eye makeup look was spotted at shows like Prabal Gurung, L'Agence, and Altuzarra, to name a few.
Lip Gloss Nails
Tory BurchCourtesy of TenOverTen
LoveShackFancyCourtesy of KISS
Jason WuCourtesy of Deborah Lippmann
The average person many call sheer pink or beige nail polish a nude manicure but, to TikTok, it's lip gloss nails. The viral glossy, barely there neutral nail look made its way to the NYFW runways, providing even more inspiration for your own take on the trend. Lip gloss nails can lean more pink or nude, and shows like Tory Burch, LoveShackFancy, and Jason Wu offer a handful of reference material for next fall's manicures. The exact shades seen on the runway? TenOverTen's Anne Polish, KISS imPRESS x LoveShackFancy limited-edition press-ons, and Deborah Lippmann's Brand New Day.
Winged Liner
Tory BurchSlaven Vlasic/Getty Images Entertainment/Getty Images
LaQuan SmithMegan Cencula
RodarteLexie Moreland/WWD/Getty Images
While '90s grunge-inspired eyeliner was the runaway makeup trend of NYFW F/W '23, winged liner held its own. Tory Burch opted for a clean, classic cat eye, while other designers remixed the classic look to complement their collections. At LaQuan Smith, makeup artist Raisa Flowers crafted a Dynasty, '80s-inspired double wing with a Huda Beauty liner, while artist James Kaliardos gave models bold, graphic goth liner with a NARS liquid liner at Rodarte.
Slicked-Back Buns
Christian Siriano Dave Kotinsky/Getty Images Entertainment/Getty Images
PatBoAlbert Urso/Getty Images Entertainment/Getty Images
Jason WuCourtesy of Olaplex
The slicked-back bun continues to surge in popularity, thanks to TikTok and the NYFW F/W '23 runways. Hairstylists breathed new life into the effortless updo by creating versions of it with elevated details. The rose-inspired twists at Christian Siriano, the center parts at PatBo, and the neat, hairnet-covered buns at Jason Wu are just a few standout examples from the shows.