The Biggest Spring 2023 Makeup Trends Are Upgrades To Your Go-To Looks
There's a little something for everyone.
@walker_ash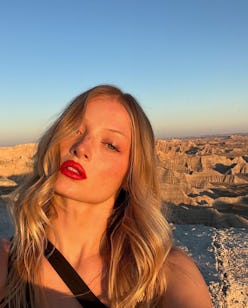 We may receive a portion of sales if you purchase a product through a link in this article.
With each season comes new makeup trends. Some are easy to replicate while some require a mini tutorial to master. Regardless of your skill level, it's always fun to know what looks are bound to go viral and what they're inspired by before trying any of them yourself. So what makeup trends will be in for spring 2023? Top makeup artists predict the season's biggest looks will appeal to both minimalists and maximalists alike.
Regardless of whether you prefer subtle or bold makeup, this season's looks won't require you to invest in an extensive makeup kit in order to nail them. "The spring 2023 makeup trends will allow everyone and anyone to create looks that are trendy with minimal products that don't require a ton of time to execute," Randi Orlinsky, makeup artist and regional manager of education & artistry at MAKE UP FOR EVER shares. As far as eye makeup goes, she says that overall, there's "a lot more freedom with less structure and graphic lines this season."
For complexion makeup, celebrity makeup artist RaeDawn J Brooks says the focus is all about hydrated and polished skin — with a bit of flare. "While in previous seasons we saw full-coverage [foundation trending], spring 2023 is a great mix of both minimalism and maximalism," Brooks says.
And Charlie Riddle, celebrity makeup artist and head of artistry for Stila Cosmetics agrees. "Spring 2023 is all about minimalist with maximum impact pops where the skin is really clean and modern, and lips and eyes are intensely played up with more drama, rich, and bold pigments," he says. Think one totally unique makeup detail (like a red lip) upon an otherwise nude or minimal face.
For all of the inside intel on the heavy-hitting spring 2023 makeup trends, TZR reached out to a handful of celebrity makeup artists for a guide on each look, plus the products they use to create them.
Bold Blush
The easiest (and perhaps prettiest) way to enhance a glowy no-makeup makeup look is adding a dramatic swipe of blush into the mix. Inspired by the '80s draped blush trend, this modern take on the technique is features blended blurred edges for a more natural finish. Achieve a flushed complexion with a power blush and brush.
Color Wash
Good news for makeup minimalists who have been eyeing 2023's bold eyeshadow trend with trepidation: Seasonal pastel shades are an easy way to tip-toe into breaking out of your comfort zone this way. You can opt for a wash of a single shadow all over the lids or add some shimmer for a little sparkle.
Monochromatic Rose
Just like in fashion, beauty girls are seeing red this spring, too. The shade is manifesting itself as a pop of color on this lips this season, paired with rosy tones on the rest of the face. For naturally flushed cheeks, opt for a cream pink blush. Then, add a swipe of vibrant red lipstick to the lips for a spring-friendly pop of color.
Classic Cat Eye
While grunge eyeliner looks are on the rise (more on that later), the classic cat eye is another popular eyeliner choice. This spring, the eyeliner technique takes shape as a clean cat flick rather than a dramatic wing. Pair with a high-shine lip gloss for a look that transcends decades.
No-Makeup Makeup
The no-makeup makeup look is on trend for spring 2023. "Less is more for foundation and only concealing where it's needed is the vibe this spring," says Riddle of the blurred but natural complexion look. For those that want skin to be the star of the show but might need more coverage, Orlinksy recommends MAKE UP FOR EVER HD Skin Foundation and Ultra HD Concealer. The HD Skin formula gives medium yet buildable coverage allowing you to customize the finish while simultaneously letting your skin still look like skin. For seamless application, he recommends applying one to two pumps for medium coverage or mixing it in with your favorite moisturizer or primer to make your own skin tint. "You can apply it with fingers using a tapping motion, a sponge, or a small brush for controlled blending," Riddle tells TZR.
Metallic Eyes
Inspired by the Y2K era, Orlinksky says metallic eyes are all about combining glitter and grunge. "Sweep your favorite eyeshadow all over your eyelid. Then, with your finger, tap and sweep on a powder on top to transform into a metallic eye," the expert tells TZR. Complete the look with your favorite eyeliner and mascara.
All-Out Brows
Celebrity makeup artist and co-founder of BAKEUP Beauty, Jo Baker predicts bleached and colored brows will become even more popular this spring. "We're breaking boundaries right now with color and experimenting through beauty in Spring 2023," Baker tells TZR. "We're being given full permission to dive in because color isn't as 'crazy' as previously received." You can expect to see color, embellishments, and electric arches all over your social feeds.
Grunge Throwback
Messy, lived-in eye makeup will have a strong resurgence this spring. Imperfection is the key to the '90s grunge aesthetic, characterized by smudgy eyeliner, heavy mascara, and dark lipstick. "This trend is perfect for so many as this look calls for a done yet undone effect," Orlinksy shares. "While graphic eyes or cat eyes may require more patience and perfection, this trend is meant to look imperfect." Meaning, a quick, on-the-go application is all it takes to master this trend.
Hyper Glow
According to celebrity makeup artist Remi O. Odunsi, spring 2023 is all about letting your skin take a deep breath. But that doesn't mean you need to sacrifice a dewy glow. Think radiance-boosting tinted serums, moisturizers, and SPFs in place of matte concealer, foundations, and chalky powder highlighters for achieving this look. "Try swapping out heavy coverage foundations and high voltage highlighters for skin-loving sheer foundations and multi-purpose hydrating face and body sticks," Brooks adds. The goal of the trend, Brooks says, is skin that looks finished without all of the pomp and circumstance.
'90s Lip Liner
From a nude lip to a brick red, the '90s lip liner trend adds definitions to lips by making them look fuller. To achieve the look, Brooks recommends buffing out the liner so it looks slightly diffused. And whether you opt for a neutral or bold base color, top off with a sheer gloss like the rest of the '90s girlies.
Barely There Brows
Take one out of Gigi Hadid, Kendall Jenner, and Sofia Richie's book and capitalize on the barely there brow trend that sees bleached brows at the forefront. An easy trick to recreate this without actually bleaching your hair is to use a long-wear, full-coverage concealer like the MAKE UP FOR EVER Matte Velvet Skin Concealer. Orlinksy recommends using a clean mascara wand or comb to pick up a minimal amount of concealer and begin combing against your brow hair — this will place an intense amount of product not only at the root of your brow hair, but also on the skin underneath for a cohesive application. Then, use the same mascara wand to pick up a bit more product, comb in the direction of the brow hair growth, and style brows after as desired. His pro tip: Don't forget to go a little warmer when picking your brow concealer shade to ensure it lightens and color corrects the shade of your natural brow hair.