The History — And Future — Of New York Fashion Week
What started as an intimate affair has blossomed into a star-studded global spectacle. Where does NYFW go from here?
Written by Maura Brannigan
new york fashion week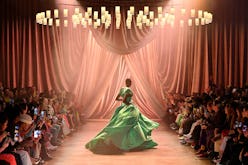 The year was 1943, and Eleanor Lambert was on a mission.
Lambert, America's so-called "first fashion publicist," had spent the previous two years establishing the New York Dress Institute, an organization dedicated to the U.S.'s growing legion of homegrown design power. And growing it was: While American clothing had long imitated trends originating from Paris, World War II placed a new emphasis on all things domestic. Within retailers, demand for French designers was rapidly giving way to names like Claire McCardell, Hattie Carnegie, and Norman Norell, who were just beginning to establish New York City as a fashion capital in its own right. Lambert wanted to cement it as such.
Enter "Fashion Press Week," a days-long event held in a centralized location, The Plaza Hotel, which Lambert organized to expose the American press to this latest crop of Yankee designers. The rest, as they say, was history: Not only did U.S.-based designers start to receive hard-won coverage in blue-chip glossies including Vogue and Harper's Bazaar, but they gained attention across the rest of the country, too, thanks to the cross-country journalists from Chicago to San Francisco whom Lambert paid to attend.
Fashion Press Week wasn't the only innovation of Lambert's. Throughout her career, she helped to create the International Best Dressed List, the Coty Fashion Critics' Award (which later became the CFDA Awards), and eventually, in 1962, the CFDA itself. But Fashion Press Week may have been her most influential, if only because of what it became: New York Fashion Week, of course.
Designer Norman Norell and two models in his creations, circa 1943New York Daily News Archive/New York Daily News/Getty Images
Eleanor Lambert circa 1966Bettmann/Bettmann/Getty Images
Today, NYFW reportedly generates a total economic impact of $887 million for the city, comparable to the GDP of entire nations. But NYFW isn't just about revenue. Through wars, social upheaval, and economic crises, it's remained a pinnacle of the taste and talent this country has to offer.
Yet, as NYFW has evolved more and more with each passing decade, it's strayed further and further from Lambert's original master plan to give American designers their due. The event has moved from a service, brokering relationships between American designers and the populace that can support them, to a matter of "hype." And that's not necessarily a bad thing. But NYFW has weathered such massive shifts in the last decade alone that it has left many industry players to question the utility of the shows today. With designer buzz occurring online anyway, is such an expensive — and admittedly wasteful — extravaganza worth brands' and editors' time?
From The Plaza To The FYP: A NYFW History
From the beginning, says Deirdre Clemente, a historian and curator of 20th-century American material culture, NYFW has served as an incarnation of broader changes occurring within the fashion industry at any given time. In the 1940s, when Lambert first introduced Fashion Press Week to the world, domestic manufacturing was the preeminent wartime priority. Consumers weren't just eager to support American designers, they were expected to.
By 1945, the concept of American-made had become a way of life. Fashion was no different: Fashion Press Week had become such a raving success that it had outgrown itself, both in form, physically moving out of The Plaza, and in function. It was growing so quickly, in fact, that things were starting to get messy. With a lack of coordination across a steadily increasing rush of designers, reporters, and retail buyers, Ruth Finley, a mentee of Lambert's, created "The Fashion Calendar," a printed schedule and reference guide still in use today. By the time Lambert founded the CFDA two decades later, American fashion was taken just as seriously as what was coming out of Paris, Milan, and London across the Atlantic. Come 1973, another of Lambert's productions — the Battle of Versailles, a fashion show which pitted French designers against American ones — helped announce to the world that the U.S. had arrived, and in a big way.
Fashion Week served a functional purpose back then: to help expose the global public to the work of American designers. That changed in the 1970s, when celebrities started joining fashion insiders in the front row. With the decade's larger-than-life icons at the forefront, the event was as much a cultural phenomenon as a step in the supply chain.
"Halston was hanging out at Studio 54 with Andy Warhol and Bianca Jagger," says Shawn Grain Carter, a luxury retail consultant and associate professor of fashion business management at the Fashion Institute of Technology. "The intersectionality of fashion, culture, music, film, and theater was really heightened in the 1970s and made Fashion Week fun. It was a curiosity for consumers, too."
Norma Kamali circa 1982Fairchild Archive/Penske Media/Getty Images
Ralph Lauren on the runway, circa 1994Rose Hartman/Archive Photos/Getty Images
This only continued into the 1980s, when the Reagan-era consumption and corporatization propelled the "Big Three" — Donna Karen, Calvin Klein, and Ralph Lauren (not to mention the likes of Willi Smith, Norma Kamali, and Betsey Johnson) — to new, public-facing heights. The buzzier Fashion Week got, though, the more decentralized it became, leaving organizers to grapple with the same problem Finley set out to rectify 40 years prior. Enter Fern Mallis, the CFDA's famed executive director from 1991 to 2001 who's responsible for creating the NYFW as it is known today.
"Designers were splintering into showing at different venues across downtown, uptown, and midtown," says Carter. "When Fern Mallis came aboard in the 1990s, she relocated NYFW to Bryant Park and rebranded it with sponsorship partners, so it became Mercedes-Benz Fashion Week."
Come the early aughts, NYFW got a facelift fit for the new millennium. In 2010, the shows moved from Bryant Park to Lincoln Center, a geographically significant move for a number of reasons. Bryant Park was an effective headquarters for the fashion industry, mere blocks from the designers' studios in the Garment District as well as editors' offices at the major publishing houses. Though slightly less centralized than Bryant Park, Lincoln Center provided designers with ample room to present their new collections — about 87,000 square feet, compared to the 70,000 square feet available at Bryant Park.
But the Lincoln Center dream was short-lived. Despite NYFW's plans to remain on the Upper West Side until 2020, when it would be permanently located to Hudson Yards, a lawsuit forced the event out. That same year, NYFW lost its Mercedes-Benz sponsorship, ushering in a brand-new era and a brand-new name, going from "Mercedes-Benz Fashion Week" to, more simply, "New York Fashion Week".
The front row was evolving, too, with bloggers and influencers displacing the celebrity set that dethroned press and retail buyers three decades prior. The once-analog world was moving online, and so were the forces shaping fashion.
For Véronique Hyland, ELLE's fashion features director and the author of the book Dress Code: Unlocking Fashion from the New Look to Millennial Pink, the widespread adoption — and prioritization — of social media from marked a turning point for NYFW.
The biggest change over time has been the audience," says Hyland. "Fashion weeks used to be for an industry crowd and a few hand-picked celebrities. Now, livestreaming and social media have removed the requirement for the audience to physically be there. That brings in more energy, and at times, more criticism — no one is showing in a bubble anymore."
Where NYFW Stands Today
No matter where or when in history, American fashion has always been more adept at marketing than its European peers.
"Although Americans design fashion in terms of utilitarian purposes, the French create fashion because they're elevating a lifestyle," says Carter. "That's really not why Americans create fashion. We're always thinking about the bottom line."
Today, Carter believes NYFW has a new purpose: to drive up that bottom line, often with the support of younger content creators. As the consumer focus shifts more toward Gen Z and its $360 billion buying power, NYFW has placed a heightened emphasis on how best to cater to those demographics. Casting directors are swapping once-enigmatic "Supers" for Instagram-beloved "nepo babies," some of whom are the children of top models themselves. They're applauded by 20-year-old TikTokers perched in the front row, who themselves have digital followings in the tens (if not hundreds) of millions, but may be unrecognizable to showgoers even a decade their senior. This is intentional.
"It's about creating partnerships with brands to sell stuff," says Carter. "We're partnering with people who have credentials just by how many likes they get, how many followers they accrue. And that has completely changed how NYFW operates."
In 2023, how does NYFW operate? Since the event was unceremoniously booted from Lincoln Center in 2015, its organizers have wrestled with finding a central location for the shows. IMG, the official organizer and operator of NYFW, hosts its programming at SoHo's Spring Studios, a perfectly capable venue for a capacity half its size. And in addition to the CFDA's official calendar, an expanded NYFW schedule has designers holding back-to-back-to-back events on opposite sides of the city — a predicament not seen in other fashion capitals. In 2018, all hell broke loose when Marc Jacobs' ever-punctual show ran late, forcing showgoers to leave before the presentation had even begun to get to Brooklyn for Rihanna's Savage x Fenty debut that same evening.
"When people have to rush from downtown to uptown to everywhere about town, you are decentralizing an important part of the Fashion Week experience," says Carter. "In Paris, you don't see people running all over the 16th arrondissement and the 5th and the 4th and the 3rd to go to a show. It's unheard of."
To be sure, there's no Lincoln Center equivalent at fashion weeks in Paris or Milan. Show locations aren't exactly centralized, either, but with the exception of one or two presentations, events are fairly accessible; fashion weeks in Copenhagen and London, meanwhile, offer shuttles.
But in a city like New York that, proverbially, never sleeps, that expected chaos may just be part of the NYFW DNA.
"There's always a push and pull between the designers wanting to show in new and interesting locations and the attendees wanting to be able to see everything," says Hyland. "This is just the eternal Fashion Week challenge."
In New York, Change Is the Only Constant
In business, the old adage to "evolve or die" exists for a reason. While an undisputed celebration of the arts, Fashion Week is, at the end of the day, a business, which means that change isn't just inevitable: it's necessary for survival. So in NYFW's latest iteration, just how worthwhile is it for brands to be present — and in what capacity?
"It really depends on the brand," says Hyland. "There are some labels that do fine without ever showing or presenting, or that don't need to do it every season, or that might be better served doing something like a fashion film or a creative campaign. Then there are those whose clothing is really enhanced by the theatrical backdrop of a traditional show."
Indeed, Fashion Week is more accessible than ever, for both consumers and designers looking to get in on the action outside the confines of the official calendar. According to Shelby Ivey Christie, a fashion and costume historian, this is to the credit of Black and brown designers like Telfar Clemens, Carly Cushnie, and Fe Noel who have chosen to show what they wanted when they wanted, either in-person or not. In the case of the latter, take Anifa Mvuemba's Hanifa, which produced a groundbreaking digital show in the thick of the pandemic, setting a new standard for how, and why, we present clothing.
"Black and brown designers were early adaptors to saying, 'No, we're going to meet our consumers where they are because the accessibility of luxury for an audience of color is different than for the traditional luxury consumer,'" says Christie, who specializes in the contributions of Black designers. "They're not refreshing a luxury closet five or six times a year."
Looking ahead, Hyland expects to see more and more designers reevaluate their relationship to traditional shows and find alternate ways to get their message across. ("I wouldn't be surprised if there are more guerilla shows, à la the protest Imitation of Christ did in lieu of a show last season," she says.) Christie is hopeful that the CFDA, now under the leadership of CaSandra Diggs, will continue to support American designers from all walks of life, regardless of how they choose to show.
"[Diggs] has been at the CFDA for 20 years, starting in the early 2000s when fashion looked so different," says Christie. "She's seen the evolution, and she's been a part of the evolution herself as the first Black president of the CFDA. That's a huge step, and I'm hoping to see more of her impact on the Fashion Calendar as she continues her tenure."
Is NYFW broken? No. Is it different from what it once was? Absolutely. Eleanor Lambert's extravaganza at The Plaza brought American designers to market at a time when the country needed them the most. Halston excited the general consumer; Calvin, Donna, and Ralph made brands into behemoths; Fern Mallis led advertising dollars to the forefront, allowing the industry to scale. As Clemente, the curator, says, "what NYFW is now is what it is now."
"People often talk about the 'golden age' of Fashion Week," she says. "There is no 'golden age.' Fashion is constantly evolving."
There's no going back to what NYFW once was, and why would we? Change is so very American, after all.
This article was originally published on